There are people in this world who can now go out and dink legal in the United States who have never known a season of television without David Boreanaz on it. From 1997 to 2004 playing a vampire with a soul on Buffy the Vampire Slayer and Angel, then taking a turn as a sniper turned FBI Agent on Bones from 2005 to 2017 and now as the head of SEAL Team. And the streak continues next season as CBS has announced early renewals for their top two freshman dramas, SEAL Team and S.W.A.T. These two, along with the already renewed Young Sheldon are 3 of the 5 top watched new shows of the season marking a good season for the network.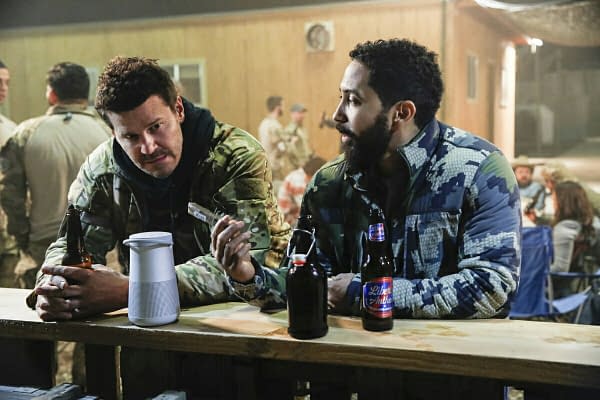 SEAL Team stars Boreanaz and follows the personal and professional lives of the Navy's most elite unit as they train, plan and execute some of the most dangerous missions are country has to offer. The series also stars Max Theirlot, Jessica Pare, Neil Brown Jr., A J Buckley, Toni Trucks and Judd Lormand. The series is CBS' top new drama pulling in 10.23 million total views. It's tied with S.W.A.T. for a 1.8 rating in the 18-49 group.
S.W.A.T., which pulls in 9.8 million total viewers, is a reboot of the classic series from the 70s and stars Shemar Moore as a local born hero made sergeant, tasked with running a special tactical unit that is the last line of defense in law enforcement. It also stars Kenny Johnson, David Lim, Stephanie Sigman, Alex Russell and Lina Esco.
Kelly Kahl, CBS president of entertainment. said:
"These exciting new dramas have been sensational additions to our schedule, are striking all the right notes creatively and really connect with our viewers. SEAL Team has strengthened our Wednesday lineup – routinely winning its time period with over 10 million viewers and allowing us to build an even more powerful night, while S.W.A.T. has improved Thursday's 10 PM hour by over 2.5 million viewers versus last season. Additionally, both are among the very top streamers on our digital platforms, including CBS.com and CBS All Access. We congratulate the talented casts and producers on an amazing year as we look forward to their return next season.
Source: Deadline
Enjoyed this article? Share it!