Cobra Kai Creators Eye "Expanding"; Karate Kid Film Different "Plane"?
President of Sony Pictures TV Studios Katherine Pope discussed Cobra Kai while implying that the "Karate Kid" film is on a different "plane.".
---
Last month, fans of the "Karate Kid" sequel series learned that Josh Heald, Jon Hurwitz, and Hayden Schlossberg's Ralph Macchio & William Zabka-starring Cobra Kai would be ending its run with its upcoming sixth season. But in a letter to the fans (check it out below), the trio mention that they hope to tell more "Karate Kid" stories in the future. That raises the question of what will become of Cobra Kai once the series ends, and it's a question that Deadline Hollywood asked Katherine Pope, President of Sony Pictures Television Studios, in a wide-ranging interview that was posted earlier today.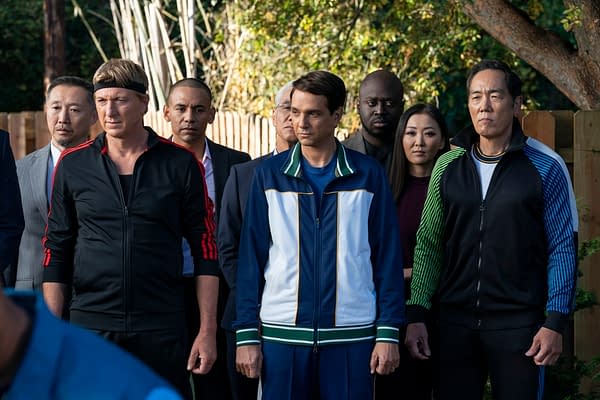 With the news that a new "Karate Kid" film was in development (which Heald, Hurwitz & Schlossberg say they are not involved with), Pope was asked if Cobra Kai would be living on through both films and series. Based on the response, the two takeaways are that there's definitely talk of more Cobra Kai universe content in the future and that the film is going to be in a different "universe" from the streaming series. "They [Heald, Hurwitz & Schlossberg] have some ideas in terms of expanding 'Cobra Kai' and coming at the 'Karate Kid' legacy in different ways," Pope shared, before bringing the film into the conversation. "But yes, the movie is a good example too. It's all of these. I think we've all learned these worlds can exist together, and they can feel cohesive, and they can feel additive, especially for the fans, and feel like big, big worlds that exist on lots of different levels; they don't necessarily all exist in the same plane. Audiences are so savvy now and accepting multiple levels of the IP, so the 'Cobra Kai' universe lives on, that's for sure."
Promising the "biggest" and "baddest" season yet, the show's creators penned a letter to the show's supporters thanking them for their support and explaining the importance of ending Cobra Kai "on our terms" when the news was first announced last month. Here's a look at the letter: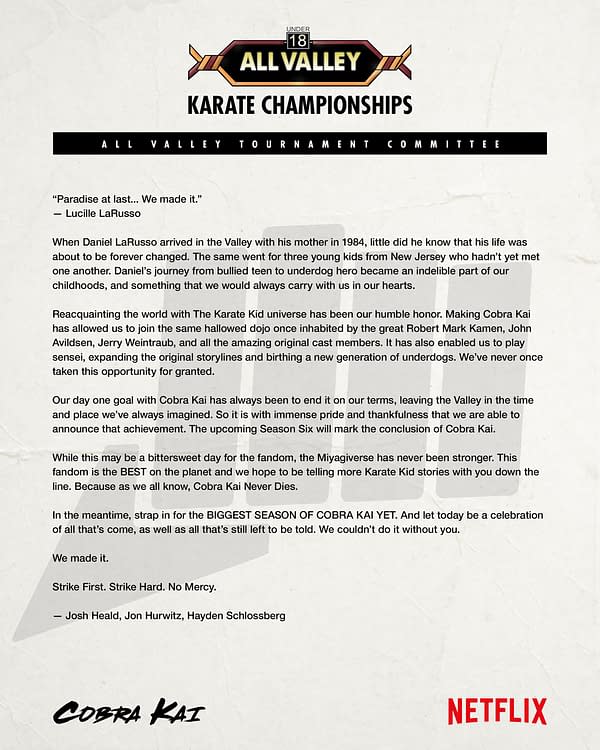 Ralph Macchio (Daniel LaRusso), William Zabka (Johnny Lawrence), Courtney Henggeler (Amanda LaRusso), Xolo Maridueña (Miguel Diaz), Tanner Buchanan (Robby Keene), Mary Mouser (Samantha LaRusso), Jacob Bertrand (Hawk), Gianni Decenzo (Demetri), Vanessa Rubio (Carmen), Peyton List (Tory), and Martin Kove (John Kreese) star, along with Dallas Dupree Young (Kenny), Oona O'Brien (Devon) and Thomas Ian Griffith (Terry Silver).
Alicia Hannah-Kim (Minx) portrays South Korean sensei Kim Da-Eun, who plays a major role in Terry Silver's expansion plans. Dallas Dupree Young's Kenny Payne had been promoted to series regular for the fifth season. In addition, Sean Kanan is returned to the franchise to reprise his role as Mike Barnes. Cobra Kai is written and executive produced by series creators Josh Heald, Jon Hurwitz, and Hayden Schlossberg via production company Counterbalance Entertainment. Will Smith, James Lassiter, and Caleeb Pinkett executive produce for Westbrook Entertainment along with Susan Ekins in association with Sony Pictures Television. Macchio and Zabka also serve as executive producers.