"Lowlife Lost Souls" Stephen Colbert, Jimmy Fallon, and Conan O'Brien Respond to Donald Trump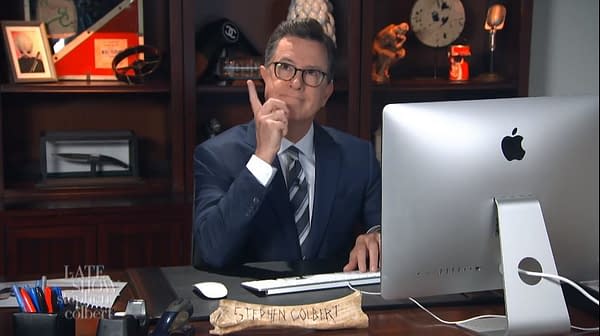 Donald Trump has found a way to do something that no other past presidential administration ever had any hope of accomplishing — but he might not be taking credit for it any time soon. In a show of late-night unity, hosts Stephen Colbert, Jimmy Fallon, and Conan O'Brien responded to tweets and comments made by the POTUS at a weekend rally in Columbia, South Carolina, with a sketch that served as the "cold open" to Tuesday night's The Late Show on CBS and The Tonight Show on NBC (O'Brien's TBS show is on hiatus).
You can check out the sketch below, followed with some highlights:
● Colbert congratulating himself: "It's surprising Trump is orange because, if you ask me, he is bananas! Great monologue!"
● Fallon and Colbert's use of "lowlife," "lost soul," "no-talent," "whimpering" and "be a man" as a direct callout to Trump's previous remarks; with Colbert taking particular exception: "Well, that's not right. That's Conan!"
● We're not sure if O'Brien's been living in an underground chamber or if time moves slower at TBS, but he seems a little surprised at the current state of political affairs: "Donald Trump? The real estate guy who sells steaks? He's president?! Wow! How's he doing?"
● Final joke might be an obvious one, but it's a good one — depending on where you work.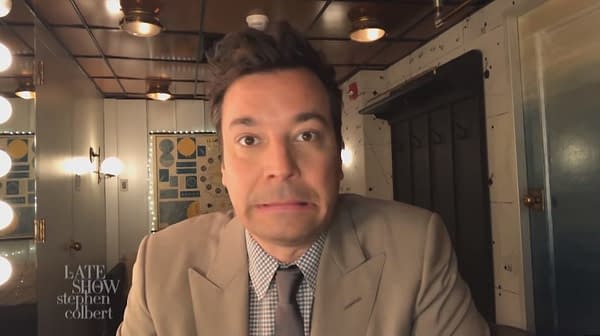 During a speech at a weekend rally for South Carolina Governor Henry McMaster in Columbia, S.C., Trump went after Fallon for an interview Fallon gave where he expressed his regret over not challenging Trump more on his views and the issues during his October 2016 appearance with the following comments and tweet:
"He looks like a lost soul. But you know what he's a nice guy. I agreed to do his show, and because I guess I was running at the time, he got tremendous ratings on that show. Killed everybody, right? He should be thankful. He shouldn't be upset and angry."
https://twitter.com/realDonaldTrump/status/1011036519812030467
Trump also referred to Colbert as a "lowlife" and to ABC late-night host Jimmy Kimmel as "terrible;" though interestingly enough, the POTUS chose to not address Colbert by name in those comments: "The guy on CBS, what a lowlife. Honestly, are these people funny? And I can laugh at myself. Frankly if I couldn't I would be in big trouble. But they have not talent. They are not talented people. Johnny Carson was talented."