Matt Ryan certainly seems to have made the character of John Constantine his own. After his 13-episode turn as DC's chain-smoking sorcerer on the short-lived NBC series Constantine, the actor was tapped to reprise the role on the CW with an appearance in season 4 of Arrow. That led to an appearance on DC's Legends of Tomorrow with two more appearances scheduled for this season of the show. He also voiced the character in the animated Justice League Dark movie and is voicing him in the upcoming Constantine animated series on CW Seed (Also part of the Arrowverse) that starts up later this month.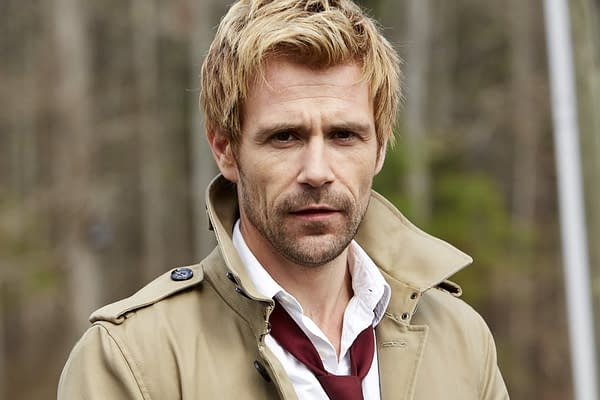 But there are other places that would make sense for the Constantine to pop up. Besides making his debut on The Flash or Supergirl, Ryan could show up over on a Fox series like Gotham or Lucifer. And while Gotham doesn't seem very likely, he would fit right in on Lucifer without really trying. It makes enough sense that people have been asking Lucifer showrunner Joe Henderson about it… a lot. Enough to make the writer talk about it on Twitter.
Honestly, now that he's a part of the Arrow-verse (which I think is so cool!), I'm not even sure if it'd be possible. Also we would need a story worthy of that combo. So not this season, but you never know! (super unhelpful reply, I know)

— Joe Henderson (@Henderson_Joe) March 8, 2018
Well, it's nice to see that he likes the Arrowverse, and while it doesn't sound like it's something they've thought much about, it's also something he won't rule out. And since all of these shows come from Warner Bros. Television, I think they could work it out if the writers really had the story to do it with. And who wouldn't want to see an hour of Tom Ellis matching wits and quips with Matt Ryan? So, could Ryan play Constantine on Lucifer? That seems to be a possibility. Will he? That remains to be seen.
Enjoyed this article? Share it!