Looks like AMC's horror and supernatural streaming service Shudder likes what it sees and doesn't want to take any chances, ordering a full set of scripts for a third season of showrunner Greg Nicotero's (The Walking Dead) Creepshow. Considering the timing of the move, the order is a very good sign for the series: the first season recently aired on AMC and the second season is still penciled in for this fall (though with the mid-March Atlanta shoot delayed by the COVID-19 pandemic, that may not be set in stone). In a statement released by Shudder general manager Craig Engler, moving ahead on scripts gives Nicotero and the team time to "get as far ahead" as they can before production resumes: "Although season 2 is on pause while we wait until it's safe to go into production, we wanted to use the time to start work on season 3 scripts to let Greg Nicotero and his amazing team get as far ahead as possible." (Variety exclusive)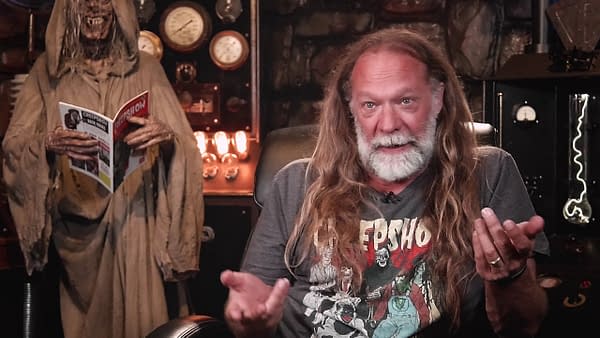 For Nicotero, the news keeps him on a project that's meant a lot to him both personally and professionally, and to keep the spirit of George Romero and Stephen King's work alive: "'Creepshow' continues to be near and dear to my heart and having the opportunity to continue the legacy by developing season 3 gives me the chance to work with some of the best storytellers and artists in the business. The stories we have in the pipeline for season 2 are even more outrageous, more fun and capture the spirit of what George Romero and Stephen King started in the '80s."
The experience Nicotero gained from the first season is allowing him to keep carrying the torch while also giving the series more of his own creative footprint: "I'll be honest; I felt the weight of the Romero legacy. This was my first opportunity to be a showrunner, to step out of The Walking Dead world for a minute. Being able to do something that was fully my own. But it also gave me my own sense of creative freedom. To create non-zombie related material, developing the scripts, and working with the writers and directors. I'm really excited about the stories we've come up with for season two, and I think I took everything I learned from season one and applied it into season two in terms of making sure that our scripts are refined but still have all the emotion, all the scares, and all the fun that they need to have."
Enjoyed this article? Share it!