Criminal Minds: Evolution Will Be Going Wheels Up for Another Season
Earlier today, Paramount+ confirmed that its hit streaming series Criminal Minds: Evolution will be going "wheels up" on a new season.
---
With a new episode currently streaming as you read this (as we're sure you're more than aware & probably screened it twice already), fans have an even bigger reason to celebrate today. That's because Paramount+ announced that Criminal Minds: Evolution will be back for a new season (Season 17 overall), with production on the new season expected to kick off sometime later this year. "We're thrilled to bring even more twisted storylines to our loyal fans of 'Criminal Minds: Evolution' with the order of another season," said Tanya Giles, chief programming officer of Paramount Streaming. "The series has always been a consistent top performer for Paramount+, and fans have quickly embraced this new season with its more serialized elements. There are still many dark twists and turns yet to come for the BAU this season, and we can't wait for fans to see what's in store."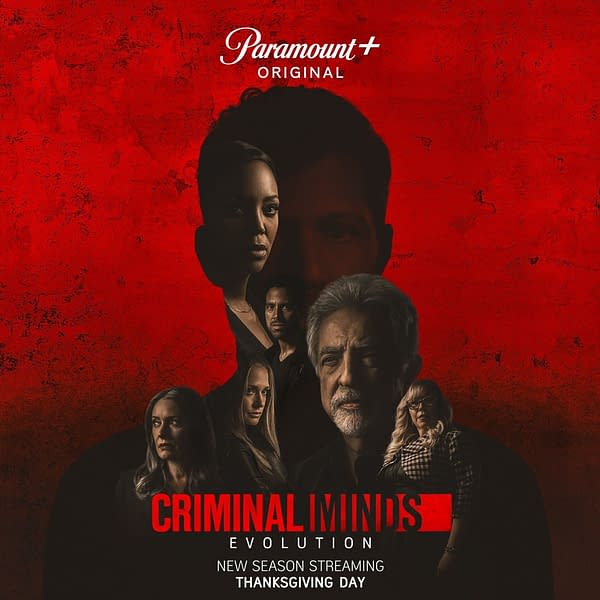 Our Preview of Criminal Minds: Evolution S16E06 "True Conviction"
Criminal Minds: Evolution Season 16 Episode 6 "True Conviction": Written by: Chikodill Agwuna and directed by Bethany Rooney, "True Conviction" picks up with the immediate aftermath of the midseason finale. The explosion looks to have exposed the true mastermind behind Sicarius, but all is not what it seems. Is someone taking the fall for these deadly actions? The BAU is determined to seek the truth. And now, here's a look at the preview images and sneak preview for "True Conviction":
And in the following previously-released featurette, the cast reflects on the paths that their characters have taken during the time between Seasons 15 & 16 and how that "Evolution" impacts the current season:
In Criminal Minds: Evolution, the FBI's elite team of criminal profilers come up against their greatest threat yet, an UnSub who has used the pandemic to build a network of other serial killers. As the world opens back up and the network goes operational, the team must hunt them down, one murder at a time. Joe Mantegna, A.J. Cook, Kirsten Vangsness, Aisha Tyler, Adam Rodriguez, and Paget Brewster are returning, with Zach Gilford joining the cast as global cyber-security firm operation analyst Elias Voit. In addition, Nicole Pacent (Westworld, Call Me Kat) joined the cast in the key recurring role of Rebecca, a lawyer with the U.S. Department of Justice who reveals some disturbing news about the BAU's fate. The streaming series is produced by ABC Signature and CBS Studios. Erica Messer (Criminal Minds, Criminal Minds: Beyond Borders) serves as showrunner, executive producer, and writer. Breen Frazier and Chris Barbour will serve as writers and executive producers, with Glenn Kershaw directing & executive producing and Mark Gordon also serving as an executive producer.