WWE Hall-of-Famer Dave Bautista continues to shoot on President Donald Trump on Twitter. Echoing the time DX imitated the Nation of Domination, except with less blackface, The Animal cut a promo impersonating the president talking about coronavirus tests on Twitter. "Said to me 'your tests are so beautiful!" Bautista tweeted, burying President Trump. "Not like Barack Obama's tests' and I said it's because my tests were made by great Americans who make beautiful tests right here in America. Then he said 'I can't believe you know so much about tests! You should've been a doctor!!' I said."
On the subject of tests, Bautista put over Democratic Congresswoman Alexandria Ocasio-Cortez, retweeting a tweet of hers that said, "The Trump admin is now projecting 3,000 daily deaths by June, and they are STILL pushing to 'reopen.' We are now careening towards one 9/11-scale death event *per day.* This was all preventable w/ tests, tracing,& policy. Instead the GOP showered their friends w/ bailout money."
But Bautista wasn't done running down Trump. Continuing his promo, he retweeted an article from a linguistic expert saying the president sounds like a drunk slurring words, adding, "This explains a lot! #FakePresident." Then Bautista retweeted an article by The Hill about Trump offering coronavirus aid to Russia to say, "Well how else is he supposed to win the next election??!!!" Bautista was referring to backstage rumors about the 2016 election angle that Russian President Vladimir Putin is secretly the higher power controlling Trump's actions.
Bautista took no prisoners in his promo, shooting on anyone associated with Trump. Responding to a video of White House spiritual advisor Paula White-Cain, who declared that a "divine intervention" stipulation would be added to Trump's match with coronavirus, Bautista wrote, "Why didn't you declare divine intervention before 74,000 people died? Just curious?" Bautista even said Trump doesn't deserve credit for the economy before the coronavirus pandemic, responding to a video of White House Press Secretary Kayleigh McEnany by tweeting, "Unemployment has been on a consistent decline since 2009. Only the most #braindeadmorons would believe @realDonaldTrump when he says he is responsible for the low unemployment rate. That fool just stepped in when it was declining and said, 'look what I did!' #FakePresident."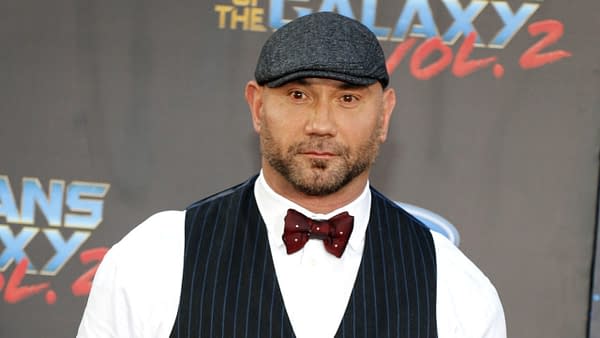 Bautista retired from wrestling after his WrestleMania 35 match against Triple H. Even so, he hasn't been able to stay out of the wrestling business, continuously feuding with fellow Hall-of-Famer President Donald Trump, also a WWE Hall-of-Famer whose wrestling career dates back to the 1980s. Trump continues a close association with the business, even after jumping ship to politics. The McMahon family has contributed millions to Trump's political campaigns, and Linda McMahon was appointed to the cabinet after Trump won the election in 2016. She later left to head up a Republican super PAC, which would later come in handy when the organization pledged to spend $18.5 million in Florida to promote Trump's 2020 reelection. This was the same day Florida Governor Ron DeSantis agreed to grant WWE an exception from state stay-at-home orders, declaring wrestling an essential business.
Enjoyed this article? Share it!