Dave Bautista is still cutting promos on fellow WWE Hall-of Famer and the "wrestlingest" president since Abraham Lincoln, President Donald Trump, and this time he's brought Trump's wife into it. Bautista has really stepped up his promos on Trump, going from cutting one every few days to basically cutting a nonstop promo for the past few days on the President. In this most recent, inspired promo, Bautista shot on Trump, his wife, and Trump marks as well. Even Bautista's girlfriend got involved in the feud, comparing Trump to Hitler, a sentiment Bautista echoed.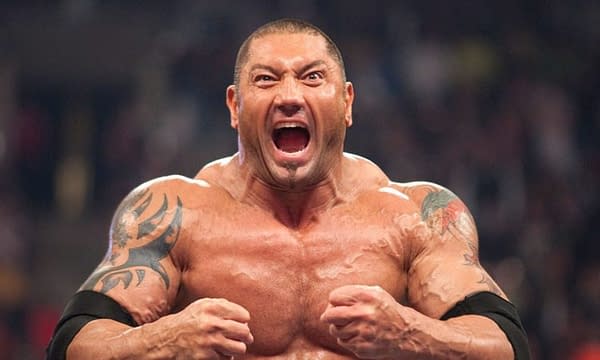 Bautista kicked off this latest promo by retweeting a video compiling various times Trump has claimed nobody knows more about a certain topic than him. "Such a [clown emoji]," Bautista commented. The Animal then turned his attention to Trump marks, retweeting an article about how Americans are "wasting freedom" to say, "Unfortunately the people who need to read this are too ignorant and self-righteous to actually read it. For everyone else, I think this is worth the time to read." Bautista then put over Bernie Sanders with a retweet, followed by Bill DiBlasio, responding to a video of DiBlasio saying Trump "forgot where he came from" with "#Truth."
"Lies, lies, lies! And double the testing doesn't reflect on the size of population," Bautista continued, responding to a video of Trump's new press secretary Kayleigh McEnany insisting Trump has always sided with experts. Then, responding to a video of the recent news conference where Trump had nurses in the Oval Office, he said, "W/O her seeing this I just asked my gf if she'd ever seen or heard of anyone else bringing people to press conferences to say great things about them? She responded 'yes. Hitler' then went on to say it's very common with dictators. May my dogs drop dead right now if I'm lying."
Next, Bautista turned his attention toward Trump's fixation on President Barack Obama, responding to a video of Trump saying he wants to end Obamacare by tweeting, "Let it go dude! @realDonaldTrump You're just telling on yourself! #insecure AF" Bautista took a brief detour to blast First Lady Melania Trump's video for National Prayer Day, saying, "So heartfelt and genuine. I can hardly hold back the tears. [neutral face emoji]" Then he hammered Trump on Obama again, replying to Trump complaining about Democrats by tweeting, "Still insecure about @BarackObama You're so transparent. Yes you've divided the country but you've also created a whole new army of democrats who weren't partisan. Now we're just Anti Trump. Anti #racist #misogynist #elitist #dictator #moron #whinybitch #liar #fakepresident"
Bautista ended his promo, for now at least, by responding to an article by The Hill about the GOP Chairman saying that millions of more COVID-19 tests are needed, "That's so weird because your grand emperor @realDonaldTrump just bragged the other day about how much testing we had. More than enough!! Then he went on to say something stupid like the "tests were beautiful" or some random shit like that 🤷🏻‍♂️"
It's unclear when or if this feud will pay off in the ring, but sometimes in pro wrestling, the journey can be more interesting than the destination.
Enjoyed this article? Share it!