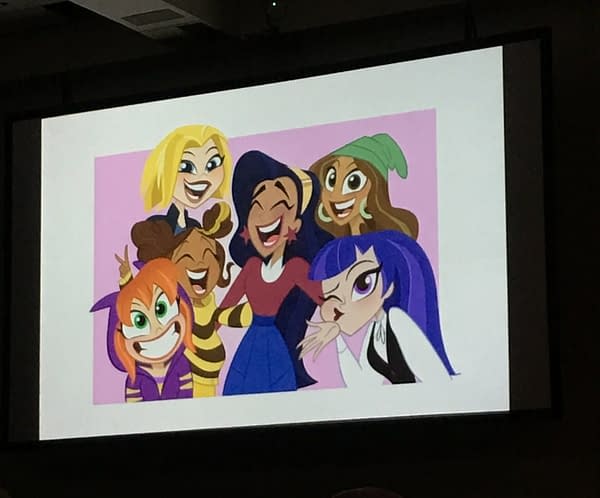 The DC Super Hero Girls panel at San Diego Comic-Con this year was simply super. It opened with a montage of the importance this franchise has had, and how it celebrates that girls can be super! Rosie Knight introduced our lovely panelists: Jennifer Kluska (Director of DC Super Hero Girls), Lauren Faust (executive producer), Grey Griffin (voice of Wonder Woman), Nicole Sullivan (voice of Supergirl), and Marie Javins (DC Group Editor).
They then jumped right in and showed us a short called The Late Batsby, which will appear before the Teen Titans Go! To the Movies feature film. The short revolves around Batgirl trying to sneak out of the house to fight crime. It's a great parallel to kids who try to sneak out of the house to see their friends, showing that these super hero girls are also human.
After, Faust talked about the new show coming out. The character designs are uniquely her own, and they reflect Faust's style well. She went on to discuss that these are multilayered characters with dual personalities. Batgirl is a fangirl, Wonder Woman is valedictorian, etc. They also draw from personal experiences to give the girls some extra meat to their characters.
They then showed up an unfinished clip from the four-part pilot, where all the girls find out they all have superpowers. It's a funny and engaging first episode, and the audience enjoyed it. They then opened the floor to questions.
Overall the panel was great and geared primarily for children and people with children. It's wonderful to see DC really step up their game with bringing young girls into the fandom via these SHG, and it's clear they'll be around for generations to come!
Enjoyed this article? Share it!