Doctor Who EP: New TARDIS Interior Is "Impossible, Logic-Defying"
Doctor Who Executive Producer Joel Collins had some very interesting things to say about how the new TARDIS interior design came about.
---
When it comes to our coverage of Showrunner Russell T. Davies, BBC & Disney+'s Doctor Who, we've been pretty much living in two worlds. Along with covering the upcoming three-episode 60th-anniversary set up for November, featuring the Fourteenth Doctor (David Tennant?!?) and Donna Noble (Catherine Tate), we've also been taking a look ahead to what's going on with Ncuti Gatwa's (The Fifteenth Doctor) & Millie Gibson's (Ruby Sunday) upcoming new series of adventures. But today's update is something that could impact both projects, and it doesn't come courtesy of Davies this time. Speaking with Doctor Who Magazine #587 (which you can purchase here), EP Joel Collins has some interesting things to share about another important player in the "Doctor Who" Universe… the TARDIS. Because you didn't really think we were going to get a new Doctor and a new companion without a new interior for that wonderful blue box, did you? In fact, not only is a new interior look on the way for the TARDIS, it's one that they thought would be "too ambitious and too impossible" to pull off.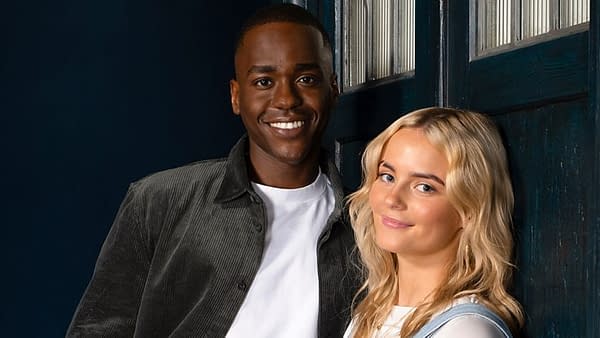 "We talked through various concepts with Russell, and there was one rough idea that was just too ambitious and too impossible – but which everybody loved," Collins shared with DWM. "Once I'd put it in front of Russell [T. Davies], he's just too visually bright to unsee it. I'd go, 'Yes, yes, but it's completely mad; it's never going to happen." Then we started to say, "OK, how do we make this impossible space possible?' Phil [Sims, production designer] brought in a brilliant engineer who spent months trying to solve the engineering riddle of this impossible, logic-defying set, which no one in their right mind should ever have even drawn in the first place. But that kind of sums up the show…" Well, if that's not a way to tease a new look for the TARDIS, I don't know what would be. But would it debut during the 60th anniversary or the newest series following that (maybe during the Christmas Special?)? Stay tuned…
Previously in Doctor Who Magazine, Davies confirmed the number of Series 14 episodes, the return of the Christmas specials, and how between-seasons waits aren't going to be as epic as they used to be:
Christmas Specials Are Back: "For the first time ever, I'm writing a Christmas Special… at Christmas!" Davies shared, adding that there will be at least a 2023 & 2024 special. "The 2023 script has been long since signed off. The new one is for end-of-year 2024!"
Series 14 Will Have Fewer Episodes… But Davies Has "Plans": Confirming that Series 14 will have an eight-episode run, Davies added, "OK, that's fewer episodes than the last full season. But give us time. We have plans, and that's a promise!"
After 13-Month Wait, Davies Promises "No Gap Years, Lots of Content": "It takes a while to get the empire in shape, but that's a serious plan: annual 'Doctor Who,' no gap years, lots of content, on and on."
And here's a look back to the ending of "The Power of The Doctor," as Jodie Whittaker's Doctor regenerates into… Tennant? Which makes him our… Fourteenth Doctor? Yeah, there are definitely a ton of questions that need to be answered. Following that, we're passing along the previously-released teaser for the 60th-Anniversary special event: