Doctor Who Epilogue Pompadour Reunites Steven Moffat, Sophia Myles
Doctor Who Magazine writer and BBC Radio producer Emily Cook was back on Wednesday with another edition of Doctor Who Lockdown, putting the 10th Doctor's modern classic episode, "The Girl in the Fireplace". In the episode, the Doctor met Madame de Pompadour in pre-revolutionary France and what resulted was an adventure quite unlike any we've seen before. With the global rewatch set for Wednesday, May 6, to mark the 14th anniversary of the episode's original air date, episode writer and former showrunner Steven Moffat as well as actress Sophia Myles (Reinette) joined in on the live-tweeting fun.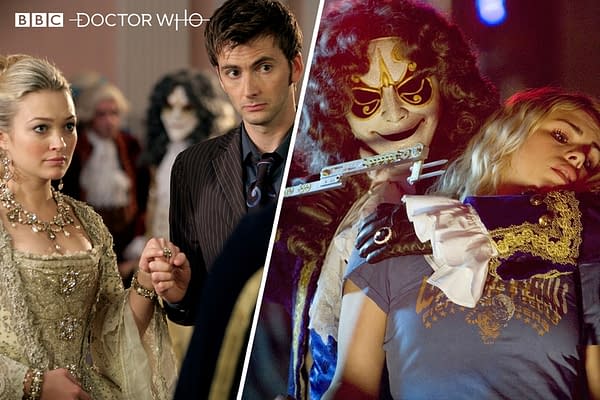 But of course, that wasn't all. As has been the custom with the previous Doctor Who Lockdown rewatches, fans were treated to some extra content that usually helps add a few extra layers to the episode (usually via a new prologue or epilogue). In the case of "Pompadour", Moffat and Myles reunite for a heartbreaking story that finds Madame de Pompadour yearning to see the Doctor's face again. To say any more would ruin the story, but just be ready for a sustained kick to "The Feels":
Last week, Mandip Gill confirmed to RadioTimes.com that Doctor Who holiday special "Revolution of the Daleks" was filmed at the end of production on Series 12, meaning that shouldn't be a delay in its seasonal airing. That gives the episode a major advantage over series that film their holiday specials the summer before, making the Doctor Who special even more of an "event" for fans, as Gill explains: "So yeah, Doctor Who's special is something to really look forward to this year –especially considering the amazing series we've just had as well."
As for the production timeline on Series 13, it was originally rumored to begin production this fall so the BBC is continuing to take a wait-and-see approach to final decision-making. For Gill, it's a matter of waiting until the guidelines get communicated from the top: "The conversations are probably happening somewhere else, and everyone is affected, so I guess we're just going to have to wait for guidelines. I've kind of not even asked, because I know that I'll get told when I'm supposed to. I'm quite laid back in that sense, it's going to come to me when it's supposed to come to me. As soon as they say, yeah or no, I'm going to know too. And as soon as they know, they're going to want to tell us."