'Animal Kingdom' & 'Sons of Anarchy': The Ultimate SAMCRO/Cody Clan Crossover [OPINION]
If you were given the chance to pitch a single episode of your favorite show, what story would you strive to tell? I'm taking that challenge to heart by pitching you an episode of one of my best shows crossed over with one of my all-time favorite series. No, this isn't a CW superhero event; it's TNT's Animal Kingdom meets FX's Sons of Anarchy.
Makes perfect sense, right? Of course it does! Here's why…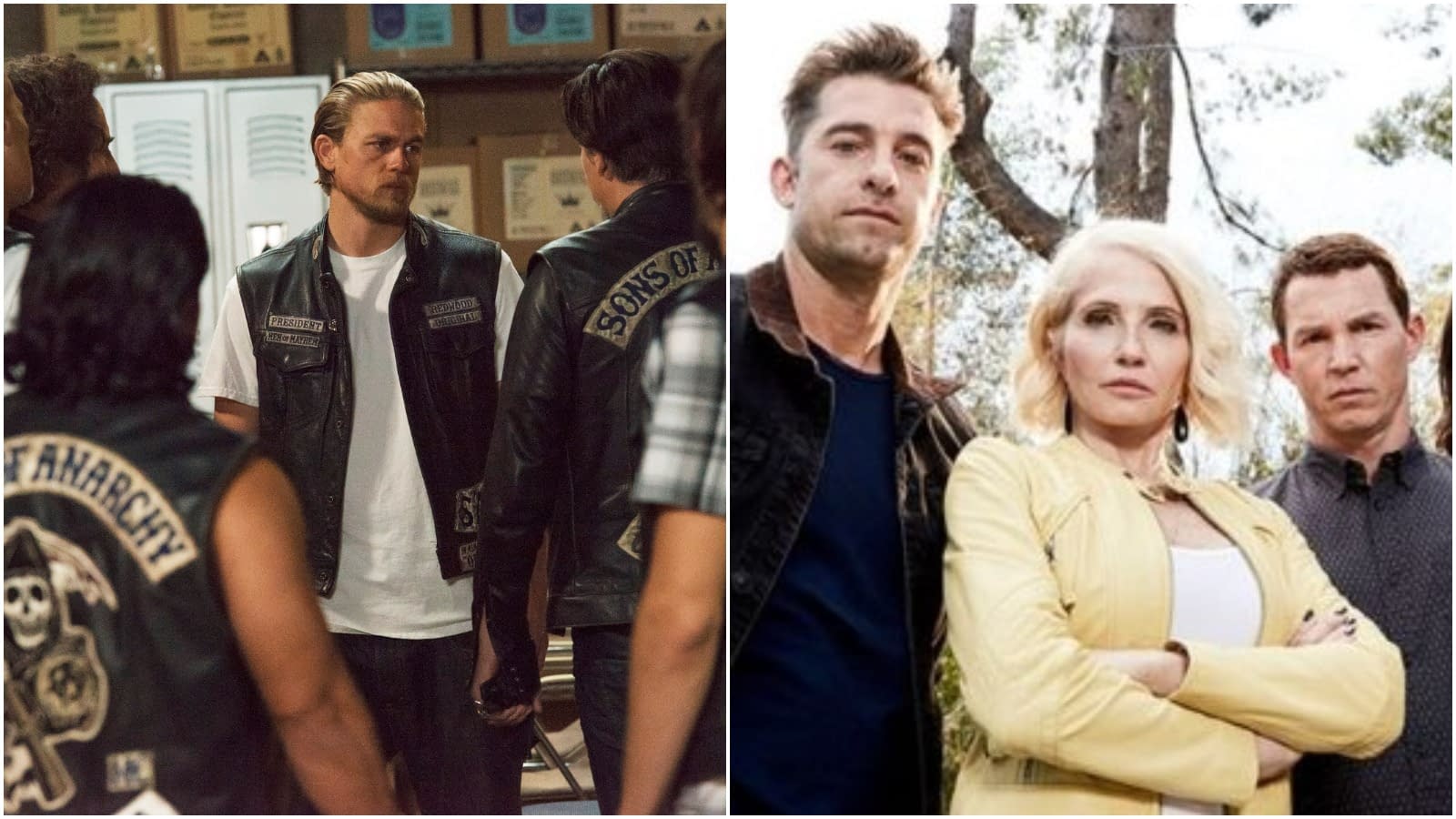 'Sons of Animal Kingdom'? 'Animal Kingdom Anarchy'? 'Sons of the Kingdom'?
Picture it though: Animal Kingdom is set in Oceanside and generally around SoCal and Sons of Anarchy in the (albeit fictional) town of Charming in the Central Valley, NorCal. However – since the Sons are a multi-chapter "social club," their business often has them riding all over the great state of California.
If you were to draw a Venn diagram of both shows, there would be quite a large overlap. I mean, they both have hot men, moral gray areas, hot men, thrilling action sequences, hot men, criminal matriarchs with hands in questionable affairs, muscled shirtless men with tattoos… and did I mention the hot men?
Putting hot men aside for a moment, the shows both depict family (found or blood) in a very ride-or-die manner, with forgiveness and togetherness being key. I'm a sucker for a good heart-warming family who sticks by each other's sides, damn what the rest of the world thinks or does! With or without the leather and/or surfboards, it's quality family bonding time.
Sure most of their bonding is technically illegal… but hey, at least they're supporting each other!
Since the Sons have *ahem* not fared well since the series ended, we're going to set our story in the recent past: 2004 or so. Oh yes, this means that on the Cody's side, Pope is pre-prison and not quite as unhinged as we currently know him, while Baz is still very much alive and trying to prove to Smurf that he can be in charge in a professional capacity.
So you might be wondering, "how do these burly tattooed muscle-y outlaw men cross each other's paths, and how does everyone not end up dead by the end of the hour?" Well, strap on your helmet and hop on my Harley, because we're about to cover a lot of territory where no man (or criminal matriarch) has gone before.
Jax and SAMCRO Have a Job to Do…
Let me paint you the picture: it's 2004, in the blistering heat of summer – SAMCRO is led by sitting President Clay Morrow, newly minted Vice President Jax Teller – and of course, matriarch Gemma Teller-Morrow is pulling all the strings behind the scenes. The club is running guns for the IRA – and due to the unfortunate nature of coast guard interference and upstanding dock workers, the Sons' have to ride down to Oceanside to pick them up.
Why? Because our friendly neighborhood Mayans are buying some serious firepower on their way to Tijuana, so if our SAMCRO boys aren't there to make the sale in person… well… let's just say it would be bad.
And so, the road trip commences for our leather-clad Charming boys – with Gemma holding down the fort and trying to talk Wendy into settling down with Jax "forever-not-over-Tara" Teller. Unfortunately for them, the Cody family got wind of a sweet ass score to be made from ripping off some bikers who are riding with some serious cash.
Meanwhile, Smurf and Her Boys Have Gotten Wind of a Serious Score…
From the Oceanside end, Smurf and her boys have been pulling some complicated but less risky jobs in between big bank heists. Smurf's bribed "friend" down at the docks heard some intel and Baz has been given point on this, for the first time – much to the chagrin of the other boys.
But wait! What is Smurf up to during all of this, you may wonder? Of course! Julia has figured out that her family is pretty messed up, responsible for killing a couple people, and she won't raise her young son to have any contact with them. She has a massive fight with Smurf and moves out, determined to be better than her family. Sadly, her best laid plans went astray in the end… but don't they all?
The Crossover
Back on the docks, the Sons' deal goes off without a hitch… until after the Mayans are halfway to Mexico and our boys are gearing up to head back. With the money in the van and most of the muscle on easily-crashable bikes, the Cody boys have their target.
Deran and Craig are on bike detail, which they do with pleasure, gleefully running every single Harley off the road on their (far sexier) imports; this leaves Baz and Pope with the task of hitting the van and grabbing the payday.
On their end, everything goes off without a hitch… except for the part where it's far less of a payday than they expected. Apparently, somebody didn't think to take the standard illegal firearms "half up front, half on delivery" method into account.
Guess who gets the blame for that one? Hint: it's not gonna be Smurf.
With the Sons, everything is pretty damn far from peachy. They quickly rendezvous with the kind kids over at SAMDINO (the San Bernardino charter) to start tracking down whoever ripped them off for a little payback.
Just when it looks like they're closing in on the Cody family, they manage to squeeze out of the clutches of gang violence at the last minute by pinning the robbery on another gang for the Sons take their full wrath out on. Needless to say, the only club those guys are a part of now is the one six feet underground.
So the Sons have their money owed and the Cody family is off the hook, and we wrap up our saga with a giant party on the beach where everyone parties together, drinks beer, and takes their shirts off.
No, wait. That last bit is in the flashback, where the original 9 end up at a party with Smurf and her old crew. The 70s were certainly a wild time in a small world…
And that, my friends, is the story of how the Codys met the Sons. What? It could have happened! I mean, it totally did. Honest truth – I mean, would I lie about outlaws, murderers, and bank robbers?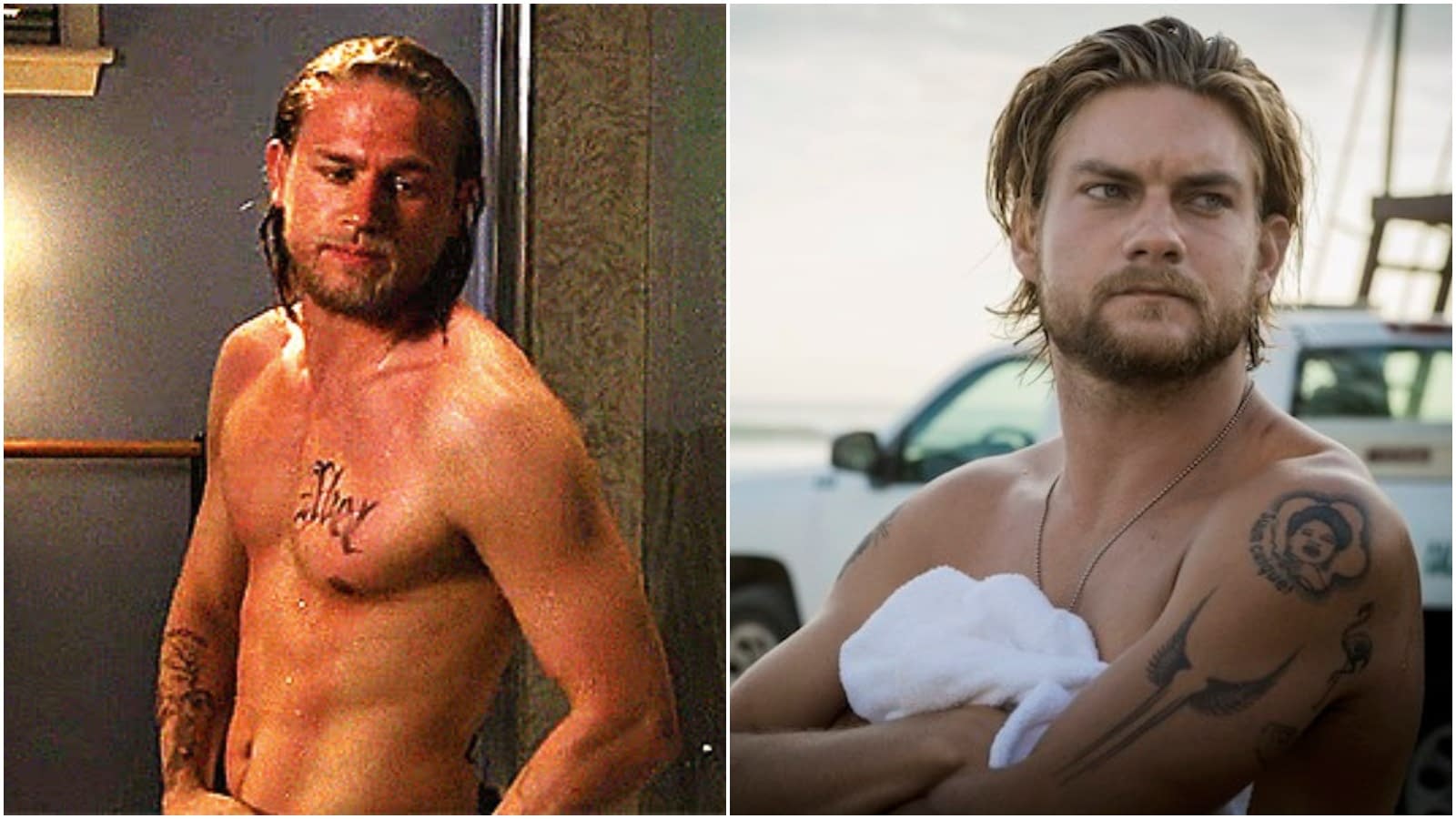 Did Someone Say "Follow-Up Fantasy Crossover"???
If you liked that, be sure to tune in next time when the Cody boys have to blend in at a male stripper convention, a'la Magic Mike. To add to the shenanigans, the Sons storm the place in search of a human trafficker douchebag ringleader who went after some fine ladies of Charming. Lucky for them, the boys had their backs.
Uh-oh, somebody picked the wrong boys to mess with. Looks like he's about to meet Mr. Mayhem…let's just hope the Cody boys don't get on the wrong end of all the leather-clad chaos. Or maybe the right end, depending on what chaos that is.
No shirts, no rules, no problems. Well, none that can't be solved with copious amounts of violence, at least.
Not giving anything away, but there may or may not be an epic striptease dance battle somewhere in there. Just think of it: Jax vs. Deran: showdown of the blonde muscled outlaw men.
Of course, Smurf and Gemma are probably in the crowd together drinking bottles of rosé and enjoying the show. Hell, they probably have each other on speed dial, given how similar their playbooks are.
Tune in next time for the next chapter in the Sons of Anarchy / Animal Kingdom saga… "Magic Heist"!
Just say the word, FX / TNT. You know you want the magic and mayhem that ensues when the Sons of Anarchy family meets the Animal Kingdom family… I know I do.