Pearl Mackie Stars in New BBC Sci-Fi Show, Forest 404
Doctor Who star Pearl Mackie already starred in one sci-fi-ish BBC radio show earlier this year, Prepper, which was a parody of a podcast.
Now she is starring in a BBC podcast – that is also a sci-fi thriller.
Set in the 24th Century in a world where forests have been erased from history, Forest 404 is an environmental sci-fi thriller starring Pearl Mackie, Green Wing, Bodyguard and Brittas Empire's Pippa Haywood and Neverwhere's Tanya Moodie. It has theme music by Bonobo
Alongside each episode of the thriller is a talk exploring themes from the podcast and an immersive natural soundscape.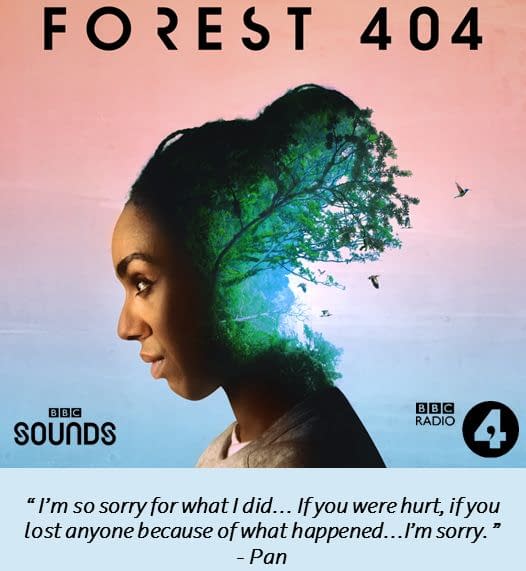 Forest 404 is a 27-part podcast series, accompanied by a national experiment looking at how listening to natural sounds could boost wellbeing.
A first for BBC podcasts, Forest 404 has a three-tiered structure creates a new listening experience to draw the audience deeper into the world of the podcast. At the heart of the project is a sci-fi thriller, which depicts a world where the earth's forests have been erased from history. Each episode of the thriller is accompanied by a factual talk which guides listeners through different themes of the drama and an experimental soundscape.
It is produced by writer Timothy X Atack (Bruntwood Prize Winner), BBC producer and director Becky Ripley (Third Coast Award, Prix Europa Award), sound designer Graham Wild (Blue Planet II, Planet Earth II) and commissioned for BBC Sounds by Radio 4's Digital Commissioning Editor, Rhian Roberts.
Set in the 24th Century following a data crash called The Cataclysm, Timothy X Atack's thriller follows Pan (Pearl Mackie), a sound archivist who uncovers some sound recordings from the early 21st century that haunt her. They are recordings of rainforests, places which no longer exist, and Pan feels compelled to hunt down the truth about how the forests of the old world died.
Each of the nine talks is delivered by a wide range of speakers including musicians, biofuturists, bioethicists and anthropologists. They delve into the themes which inspired the drama, such as: "Why should I listen to trees?", "Would you vote for an AI government?" and "What is death in the digital age?" to explore the real-life ideas which inspired the drama.
The soundscapes designed by Graham Wild and Becky Ripley, which bring each episode of the thriller to life, are mixed in binaural to create an immersive 3D experience for the listener. A rainforest symphony, an orchestra of frogs, a montage of whale song and a sonic woodland walk make up some of the sounds of nature which sit alongside more experimental soundscapes as the narrative unfolds.
Rhian Roberts, Digital Commissioner for Radio 4 says:
"Podcasting gives us the chance to play with sound and form away from the classic radio schedule, it allows the whole shape and format of Forest 404 to be genuinely experimental. Podcasts also have that ability to pull us into a very close relationship with a story, we wanted the layered approach to draw listeners even more deeply into this twisted futuristic world.

With this multi-layered podcast we're building on Radio 4's track record of commissioning innovative, different sounding digital-first dramas and acclaimed podcasts like the award-winning conspiracy thriller Tracks, The Case of Charles Dexter Ward and How to Burn a Million Quid. Forest 404 pushes our drama in a new direction again. It weaves the best of Radio 4 together; a rollercoaster of a story that's unnervingly timely, with talks that bring footnotes to life, providing the insight and facts behind the drama. These go along with the third element of bespoke soundscapes – so you can try out what effect the mixes have on your own brain."
Launching today and running alongside the podcast is one of the biggest national investigations conducted into the therapeutic effects of sound. Forest 404: The Experiment, led by Alexander Smalley, a Virtual Nature Researcher at the University of Exeter, hopes to develop a unique insight into how the British public respond to nature-based sounds. The experiment is an nQuire survey built in collaboration with the University of Exeter, University of Bristol, funded by The Arts and Humanities Research Council and hosted by The Open University.
Alex Smalley, lead researcher on Forest 404, The Experiment:
"A large body of evidence shows that spending time in natural environments can have positive effects on people's wellbeing. But we know very little about the importance of sound in this relationship. Could simply listening to birdsong or waves lapping on the beach be enough to help people recover from a stressful situation? The effects won't be the same for everyone, so we want as many people as possible to take part in this study, helping us uncover what works and why."
BBC Radio 4's Forest 404 will be available as a podcast box set on BBC Sounds from Thursday 4 April. To take part in the Forest 404 Experiment, complete the online survey at www.bbc.co.uk/forest
Here are the 27 parts, broken down into three strands…
Ep1: LIFE IN THE FAST TIMES
When Pan finds a 21st century recording of a rainforest, she has no idea what it is…
T1: Why should I listen to trees?
Alex Smalley on the mental health effects of being in nature.
S1: Rainforest Symphony
The Sumatran rainforest recording that Pan finds.
Ep2: THE FUMETOWN PRIEST
Pan goes on the run from Daria and The Hands to find answers deep down in Fumetown.
T2: How is the sound of the world changing?
Cosmo Sheldrake on how humans are changing the sound of the world.
S2: Frog Chorus
The chorus of frogs that Pan plays to the Interlocutor.
Ep3: INTO THE INNER
Pan finds an illegal brain shop to uncover how the recordings have changed her.
T3: Could I live in darkness?
Herman Wijnen on life without sunlight.
S3: Whale Songs
A full playout of the whale song that sent Pan to sleep.
Ep4: OF EARTHLY DELIGHTS
Daria and The Hands close in on Pan as they race towards The Oil Lake.
T4: Why do trees live so long?
When Pan sees her first ever tree. James Aldred on ancient trees.
S4: Woodland Walk
A British woodland thick with birdsong.
Ep5: LAST DAYS OF THE SLOW WORLD
Theia tells Pan the story of how the old world came to an end…
T5: Will we all become cyborgs?
Andy Miah on what cyborgs today can tell us about humanity's future.
S5: Woodland Walk
A soundscape for Episode 5. Theia's Hometown, 22nd Century St Petersburg.
Ep6: OF EARTHLY DELIGHTS
In fear of seeing another civilisation self-destruct, Theia uncovers the truth behind Pan's journey.
T6: What is death in the digital age?
Katie Thornton on what happens to our digital selves when we die.
S6: Pan's Dwindling
A full playout of Pan's dwindling as her system shuts down.
Ep7: DREAMS OF THE AUTOPILOT
Daria has a confession to make – a secret from her past that haunts her every night.
T7: Would you vote for an AI government?
Elsa Sotiriadis on whether AI could run the country.
S7: Daria's Nightmare
A full playout of one of Daria's nightmares as she tries to control the sounds of the rupture.
Ep8: FUTURE CONDITIONAL
Pan and Theia have a plan, but it's a sketchy one and it's probably going to go wrong.
T8: How will humans die out?
An ode to Theia. Anthropologist Michael Rivera on human extinction.
S8: The Memory Transfer
Theia's salty memory of her daughter used for the transfer.
Ep9: ENIGMATA
Daria escorts Pan to The Convocation. An era has ended. Can, or should, a new one begin?
T9: Love Letter to the Forest…
A love letter to the forests of the world. Written by David Haskell, read by Pearl Mackie.
S9: Bonobo's Theme
Our final soundscape, a full playout of the Forest 404 theme tune com