Surprise 'Dumb and Dumber' Reunion Happens on Conan
Jeff Daniels continues to get better in his career — The Newsroom and Looming Tower are definitely some incredible freaking performances. That said, one of his most enduring roles (but one that I really wish wouldn't be as celebrated) seems to be Harry Dunne from the Dumb and Dumber films. In a recent appearance on Conan O'Brien's Conan talk show on TBS, Daniels was on hand to speak about the Amazon series Looming Tower.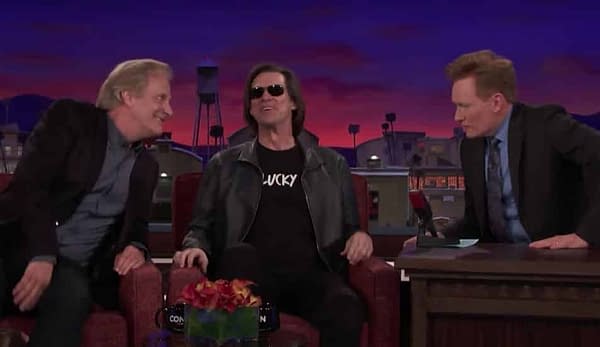 As fate would have it, his Dumb and Dumber co-star Jim Carrey appeared, and the two quickly fell back into their obvious comedy chemistry. The pair were adamant that they still love working together, even though the box office returns on To were disastrous at best.
Also, it turns out that Carrey is a neighbor of O'Brien's, and maybe there will be some upcoming pairs comedy coming. Spoiler: there is. An upcoming video was teased during the segment, which The Nerdist assures fans will hit the internet 'soon'.
Anyhow, you can see the segment here, thanks to the TeamCoco YouTube channel:
Conan airs on on TBS on Wednesdays.