Emily Bett Rickards Talks the Future for Felicity Smoak in Arrow Season 7
We are now well over a week past the season finale of Arrow, so gone are the spoiler warnings (sorry, folks who haven't seen it yet). With Oliver Queen (Stephen Amell) set to start season 7 in the Slabside Supermax penitentiary, there will definitely be some dynamic changes in the fist part of the season. Will John Diggle (David Ramsey) stay with ARGUS or take on the hood again? Will New Team Arrow reconcile with Original Team Arrow? And what will Roy Harper (Colton Haynes) be doing when he returns? And lets not forget that Felicity Smoak (Emily Bett Rickards) is now basically a single mom.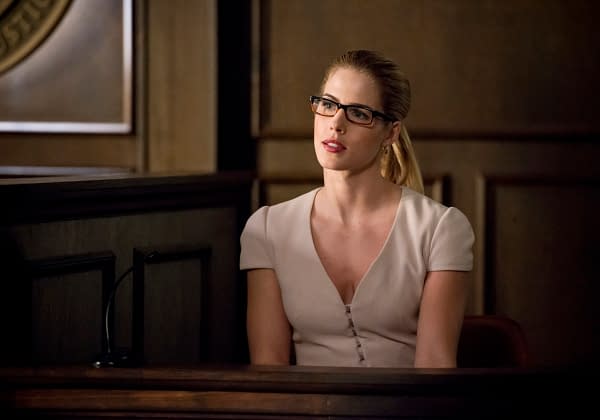 Rickards was asked by TVGuide if this is a chance to bring in an Olicity baby:
I don't know if I would be interested in exploring that storyline right now with Felicity. I feel like she deserves a little something more than that, and I don't want that to be taken the wrong way. I'd just be interested in seeing her, I don't know, like, deal with a villain face-to-face for a consistent number of episodes?
She also has the business she has started with Curtis Holt (Echo Kellum) and the future teased Smoak Technologies:
Because it's been teased in a future world in one of our universes, it's definitely a possibility. But it also is one of those things where we don't have to do it. I think it would be extremely enjoyable to see what's next there. Like is Helix Dynamics going to spur Smoak Tech? What are they going to do with it? What would be their goal, what would be their journey, what would be their purpose? I think that would be an interesting conversation, and it's what Curtis and Felicity are sort of trying to do with Helix Dynamics.
Well find out more in October when Arrow returns for season 7 on its new night, Monday at 9 p.m. ET on The CW.