Eric Andre Has a Problem with COPS and It Starts with the Theme Song
You have to appreciate those moments when Karma conspires with the geek gods to create those "perfect storm" moments of pop culture overlap. Case-in-point? Eric Andre and his first stand-up special Legalize Everything, set to premiere on Netflix on June 23. With slightly less than two weeks before it hits the streamer, Netflix released a clip that hits on another but of timely news from this week: Paramount Network canceling COPS ahead of its 33rd season. In the segment you're about to see, Andre brings to light a disturbingly inappropriate irony when it comes to the show's popular theme song, Inner City's "Bad Boys":
"Is it just me or is reggae the most inappropriate music they could have picked to open the show Cops…You can't slap reggae over police brutality footage and call it a day."
In an interview with Uproxx this week to promote his June 23rd Netflix special Legalize Everything, Andre offered his thoughts on the protests taking place across the country and around the world. And while admitting that things were looking pretty grim for a while, Andre sees some hope as more people step up to push back, "Yeah, I'm trying to be. It is pretty bleak. I mean, before it shut down, it was pretty grim. But this is the largest civil rights protest in world history, as far as members across the globe. Australia, New Zealand, Berlin, Paris, London. This is a global protest. So, that's huge. That is humongous. Now, the politicians are paying attention, and the cops are doing a horrible job! [Laughs]"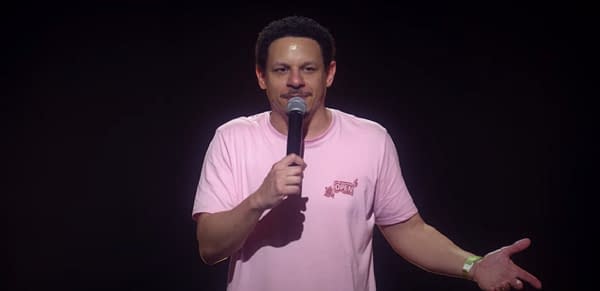 "The one request millennials are making is like, "Hey, let's end police brutality, excessive force, and hold cops accountable for excessive force and murder." And the cop's response is like, "Beat the shit out of people!" Like twee, twerpy millennials… ahhh! Just seeing kids that look like Michael Cera get their faces bashed in by police.," Andre explained. "It's like, "Uh, excuse me officer, have you read the newspaper in the last three days? This is exactly what we're complaining about." So, the cops are showing their true colors… Not all [of them]. I mean, I won't speak in broad generalizations. At the other end of the spectrum, there are cops kneeling for justice. And that one sheriff from Flint, Michigan, that was like, "I put my baton and my mask down. I'm here to help you guys. I'm marching with you." So we get the whole spectrum, but the cops that are bludgeoning unarmed peaceful protestors, I hope that there's somebody cataloging all of that police brutality footage."