Extras in Cape Town Wanted for Terry Pratchett's The Watch from the BBC
The Watch is a fantasy police procedural television series under development by BBC America, based on Terry Pratchett's Ankh-Morpork City Watch stories from his Discworld novels. It is to have an episodic storyline, following the format of a "crime of the week" as tackled by the city's police force under the command of Sam Vimes.
BBC America has announced an eight-episode series written by Simon Allen, Joy Wilkinson, Catherine Tregenna, Amrou Al-Khadi and Ed Hime, directed by Craig Viveiros, starring Sam Adewunmi as Carcer Dun, Marama Corlett as Corporal Angua, Richard Dormer as Sam Vimes, Jo Eaton-Kent as Constable Cheery, Adam Hugill as Constable Carrot and Lara Rossi as Lady Sybil Ramkin.
And it is currently filming in Cape Town, South Africa, with all sorts of opportunities. Such as being an extra on the streets of Ankh-Morpork itself. Here's a flyer: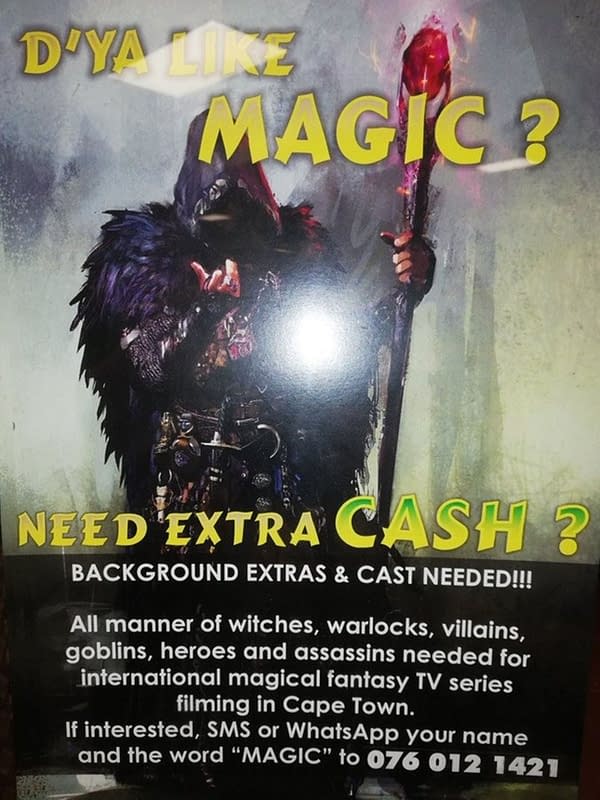 SMS or WhatsApp your name and the word MAGIC to 0760121421 if you are interested – and let Bleeding Cool know how it goes.