'Family Guy': Adam West Wants to Be Our Mayor in Touching Tribute [VIDEO]
Though some time has passed since the town of Quahog lost its great, zombie-fearing, cat-launching "Mayor West," FOX's Family Guy gave late actor Adam West the honor and respect he deserves during its 17th season finale "Adam West High." In the following clip that ran after the episode, West makes his pitch to be the mayor of your town – and he has a disturbingly convincing, Robert DeNiro/The Untouchables-way of making his case.
In the episode, Brian comes up with the idea of immortalizing West by renaming Quahog's high school in his honor (and throwing a well-deserved and not-too-subtle flick to James Woods' ear). When that gains momentum, Brian decides to run for mayor. Small problem: Quagmire's running, too. Not because he wants to. He just wants to deny it to Brian. No policy. All Spite.
So there's that…
Meanwhile, Peter puts together a loving, touching video montage dedicated to the late Mayor West that – as you're about to see – flows with the soulful stylings of Richard Marx and ends with… nothing but net!!!
Family Guy season 17, episode 20 "Adam West High": When Brian's proposition to rename Quahog's high school "Adam West High," to honor the late Mayor West, is successful, he feels encouraged to run for office as Quahog's new mayor. The race takes a turn when Quagmire campaigns against Brian for the open seat.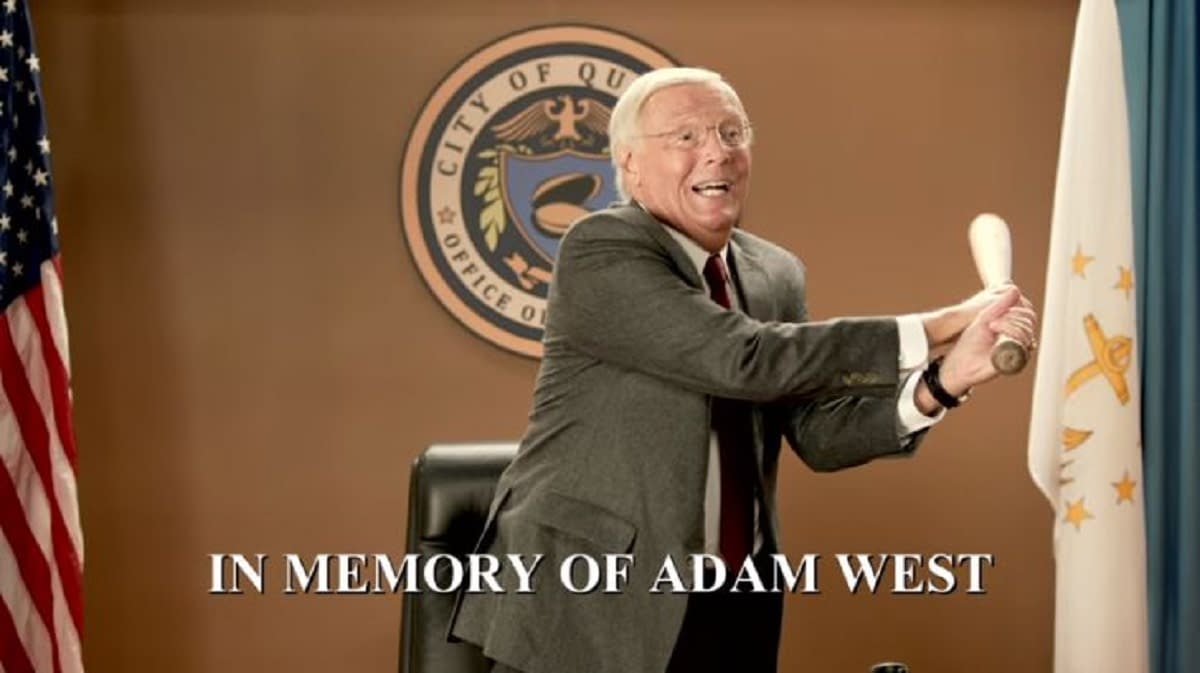 Serving as Quahog's chief executive on Family Guy since 2000 and until his untimely death in 2017, "Mayor" West stood as a hyper-fictionalized version of the actor whose eccentric choices were always putting the town into all types of trouble. West's last appearance was in the second-to-last episode of Season 15, which aired on May 21. A rerun of episode The Dating Game (in which West appeared) was preceded with a "In Loving Memory" picture to honor the late actor at the time of his passing.
"Mayor West makes an appearance at the end of the episode, so the whole episode is bookended by our tribute to him, and there's a sense certainly in the episode that he's not replaceable."

– Richard Appel, Executive Producer