"Fear the Walking Dead" Season 5, Episode 3 "Humbug's Gulch": Dwight Move the Right Move [SPOILER REVIEW]
Coming off a solid yet concerning season premiere, AMC's Fear the Walking Dead "The Hurt That Will Happen" gave us a sense of "forward motion" and a build towards that "something" that was discussed during the show's pre-season. While there wasn't Dwight (Austin Amelio – who we get this week) and Althea (Maggie Grace) was still MIA, we were introduced to "Atomic Walkers" (our wording, obviously).
Unfortunately, so was Morgan (Lennie James) – who was informed by nuclear-expert-and-probably-more Grace (Karen David) that he needed to say goodbye to his walking/fighting stick. We thought Luciana (Danay Garcia) was getting better, but then ww weren't so sure – just like we weren's sure "wind" knocked out the radio. Colman Domingo's Strand and Ruben Blades' Daniel had a painfully awkward reunion – and a fruitless one for Strand – while Alicia (Alycia Debnam-Carey) was still dealing with her guilt and anger over not keeping everyone safe.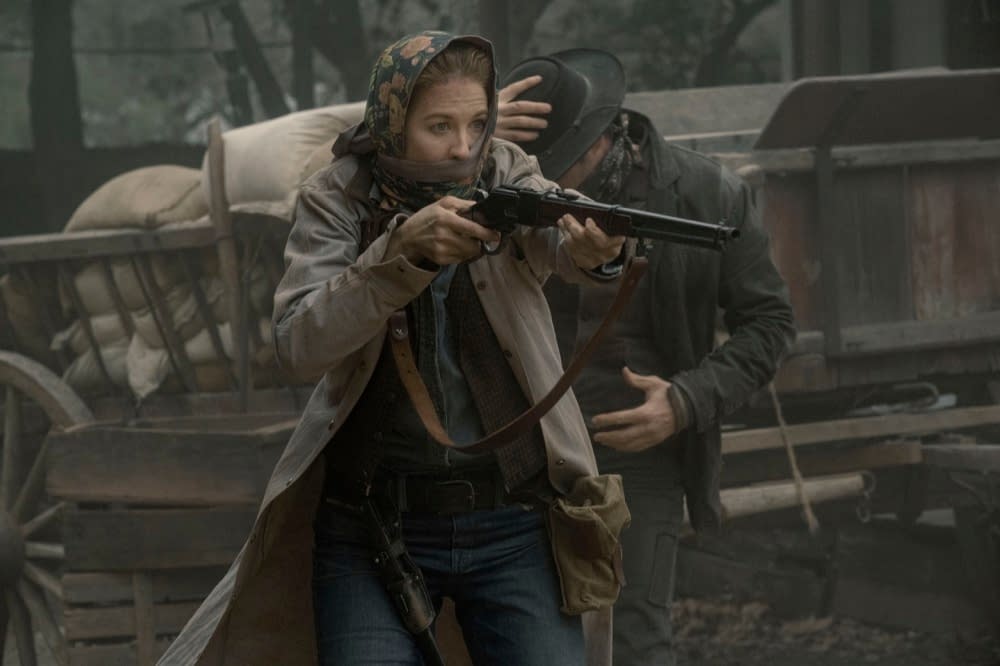 Which leads us into this week's episode "Humbug's Gulch" – and our thoughts on if it lived up to the season's building expectations:
Fear the Walking Dead season 5, episode 3 "Humbug's Gulch": June and Dorie take shelter to hide from a threat, but a misunderstanding with a desperate survivor leads to trouble; Alicia and Morgan face a dangerous obstacle.
● Interesting opening credits sequence: open field with tumbleweeds blowing through, but the wind seem to pick up to some serious dust storm-like levels – so much so that the wind even screwd with the "R" in "Fear" in the show's title.
● The opening minutes were well-paced and presented in a twistedly fun manner, an effective way of showing us that there is a method to the madness of where these roadblocks are located. Seeing Dorie's reaction when he realized they were close to his old stomping grounds was fun, and his tumbleweed-enhanced "western entrance" into town was just the right amount of cheese.
● New rule when dealing with Alicia and Luciana: whatever you need them to do, tell then the opposite. Annie tells them to not come looking for her, Dylan, and Max? So they go looking for them. Morgan tells them to stay where they are when their car crashes after a run-in with some spike strips? They had out anyway. See what I mean? It's borderline "horror movie cliche"-bad decision-making. But not the last… but that said? I liked the exchange between the two about Luciana's injury, and Luciana's attitude about it.
● Dorie and June seem right at home in the old wild west-y town of Humbug Gulch… almost a little too "right at home." Look, I'm a big fan of seeing Dorie in particular in that type of setting, but it also came across a little "fan fiction-y," too. Last thing about Dorie and June? I'm not saying I need them miserable – I'm just saying that I find them a smidge more fascinating when there's tension or a threat. That said? "June bug" and Dorie trying to find the moral high ground in shooting off someone's finger were personal highlights.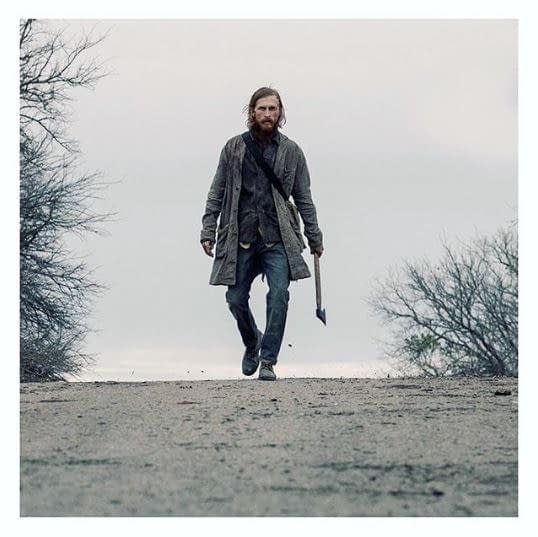 ● I know I'm burying the lead here, but the addiiton of Austin Amelio's Dwight – if this episode is any indication – could end of rivaling the addition of Lennie James' Morgan for smartest casting decision in the Walking Dead universe. While we still recognize Dwight, Amelio portrays him as a man who has clearly changed – and not necessarily for the better. We learn that he's still searching for Sherry, following notes from her to reach her… though I think it would be safe to say that viewers have earned the right to call this into question. After some "brutal reality" from Dorie, Dwight feels his life's hope dashed – and makes the viewers feel every ounce of his pain and (apparent) loss as he raises his gun. Thankfully, June is able to use her story with Dorie to give Dwight back some speck of promise, of possibility. Elfman shines in these moments, and more future scenes between Amelio and Elfman would be a huge bonus.
● I don't care how cornball this sounds: it's never not going to be cool seeing characters crossover and work with one another. The scene where Dwight tells Dorie the he calls them "walkers" was a nice nod to the crossover – and that deflection shot off of Dwight's ax that John "Six-Gun Sam" Dorie took to take out two walkers was righteously smooth.
● If only most of them knew just how much dramatic baggage comes with Morgan's line that he and Dwight "came from the same place." Althea doesn't have enough tape to cover all of those stories…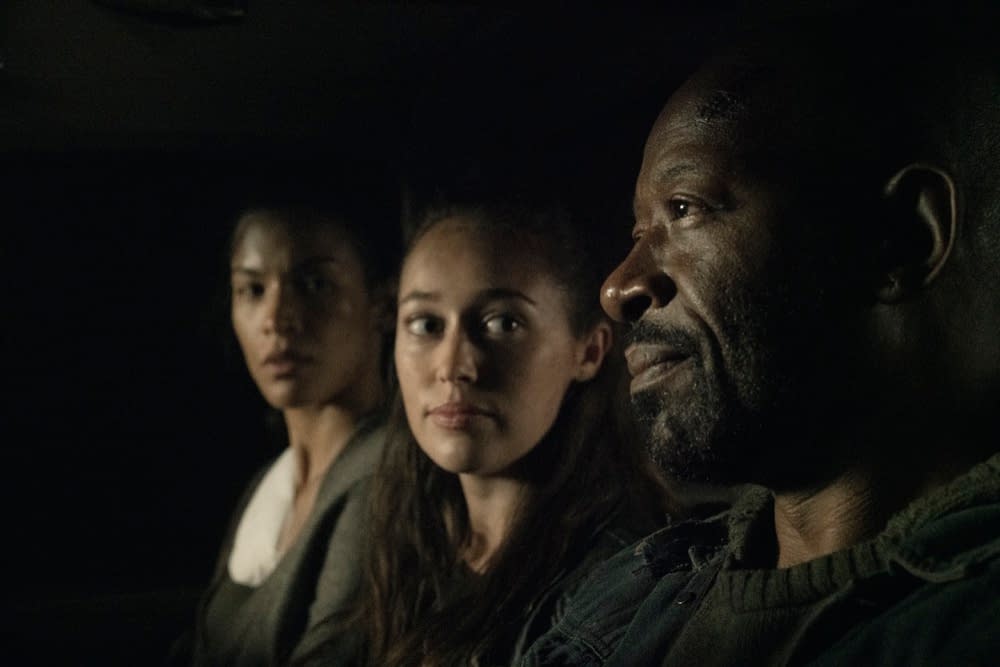 ● Speaking of bad decision making… that move where Alicia and the rest of our survivors show up to the truck stop only to find out it's a trap? That's what happens when the Children of the Corn rule isn't applied to Max, Annie, and Dylan – and it got me wondering: any chance they're connected to that feral clan of children who attacked Michonne (Danai Gurira) in her "X" flashback episode on The Walking Dead? Just a thought…
● Sorry, folks – no Althea this week. Yeah. I know. Boo. Grrr.
With the welcome addition of Dwight, the guilty pleasure fun of a wild west town setting, some interesting double-dealing, and growing mysteries that may or may not be connected, AMC's Fear the Walking Dead "Humbug's Gulch" was an intensely satisfying outing that moved the season forward in ways we were hoping for.

AMC's 'Fear the Walking Dead' Season 5…
Heading into season 5 of Fear the Walking Dead, the group's mission is clear: locate survivors and help make what's left of the world a slightly better place. With dogged determination, Morgan Jones leads the group with a philosophy rooted in benevolence, community and hope. Each character believes that helping others will allow them to make up for the wrongs of their pasts.

But trust won't be easily earned. Their mission of helping others will be put to the ultimate test when our group finds themselves in unchartered territory, one which will force them to face not just their pasts but also their fears. It is only through facing those fears that the group will discover an entirely new way to live, one that will leave them forever changed.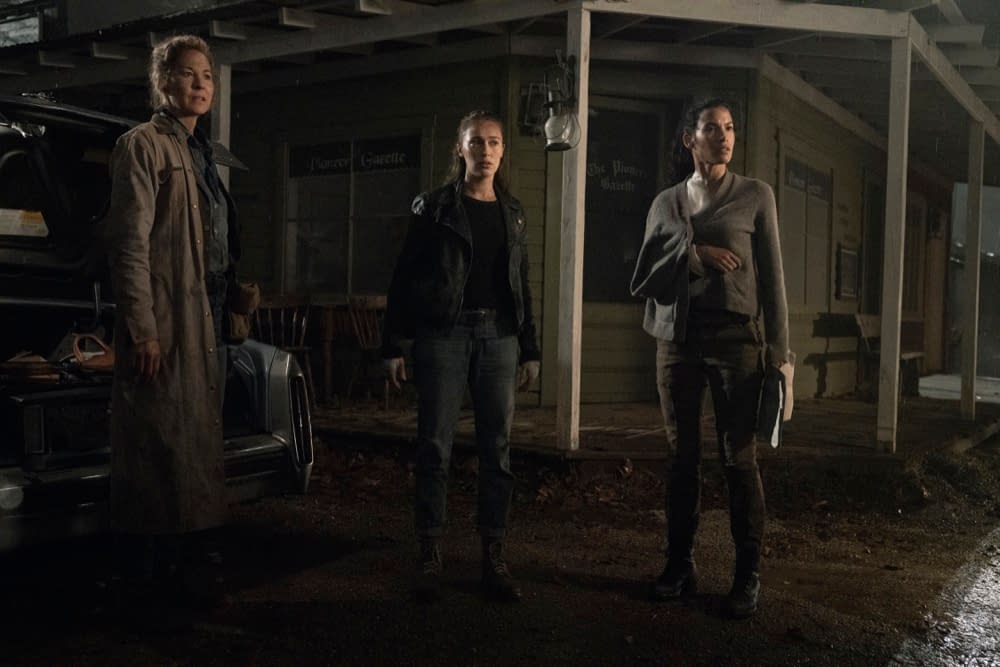 Earlier this year, FTWD cast member Alexa Nisenson (ex-Vulture Charlie) was promoted from recurring to series regular for the upcoming season. Joining Nisenson are Karen David (Legacies, Galavant) as series regular Grace, The Walking Dead alum Austin Amelio reprising ex-Savior Dwight, and the returning Ruben Blades as Daniel Salazar. Bailey Gavulic (Prodigal, At The End Of The Day) will play young survivor Annie, who ends up crossing paths with our crew. Cooper Dodson's (American Horror Story, Preacher) Dylan and Ethan Suess' (Scorpion, Henry Danger) Max are two additional new survivors this season, though what their connection to Gavulic's Annie (if any) is still unclear. Matt Frewer (Max Headroom, The Stand, Watchmen) also joins the cast in the still-kept-under-wraps role of Logan.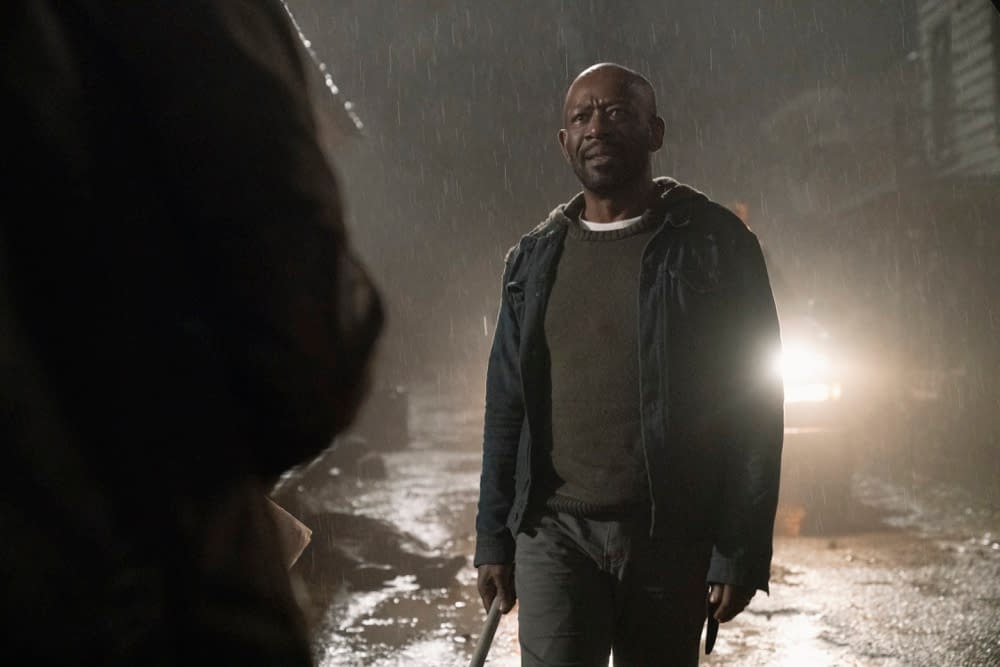 Nisenson, David, Blades, Amelio, Gavulic, Dodson, Suess, and Frewer join Dwight's crossover comrade Morgan (Lennie James) on the upcoming season of The Walking Dead spin-off series, which has undergone some major changes over the past year. Jenna Elfman, Garret Dillahunt, Maggie Grace, Mo Collins, and Daryl Mitchell joined James on the series last season; with Alycia Debnam-Carey, Colman Domingo, and Danay Garcia the only original cast members heading into the fifth season. Daniel Sharman is reportedly reprising his role as Troy Otto, though how his character will come into play during the upcoming season is still unknown.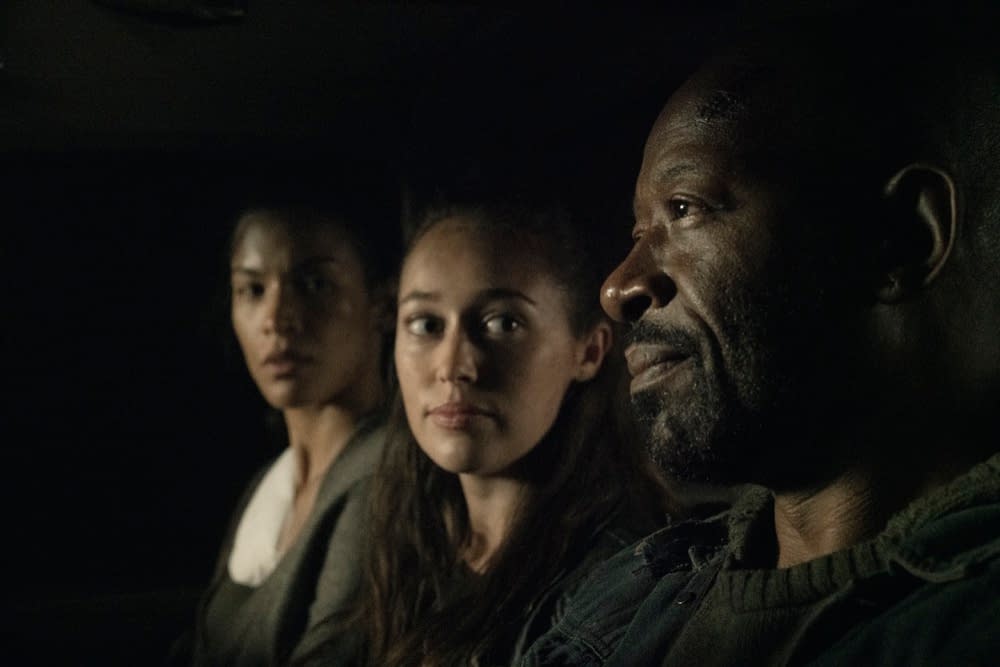 AMC's Fear the Walking Dead is executive produced by showrunners Andrew Chambliss and Ian Goldberg, as well as Robert Kirkman, Scott Gimple, David Alpert, Gale Anne Hurd, and Greg Nicotero, and produced by AMC Studios.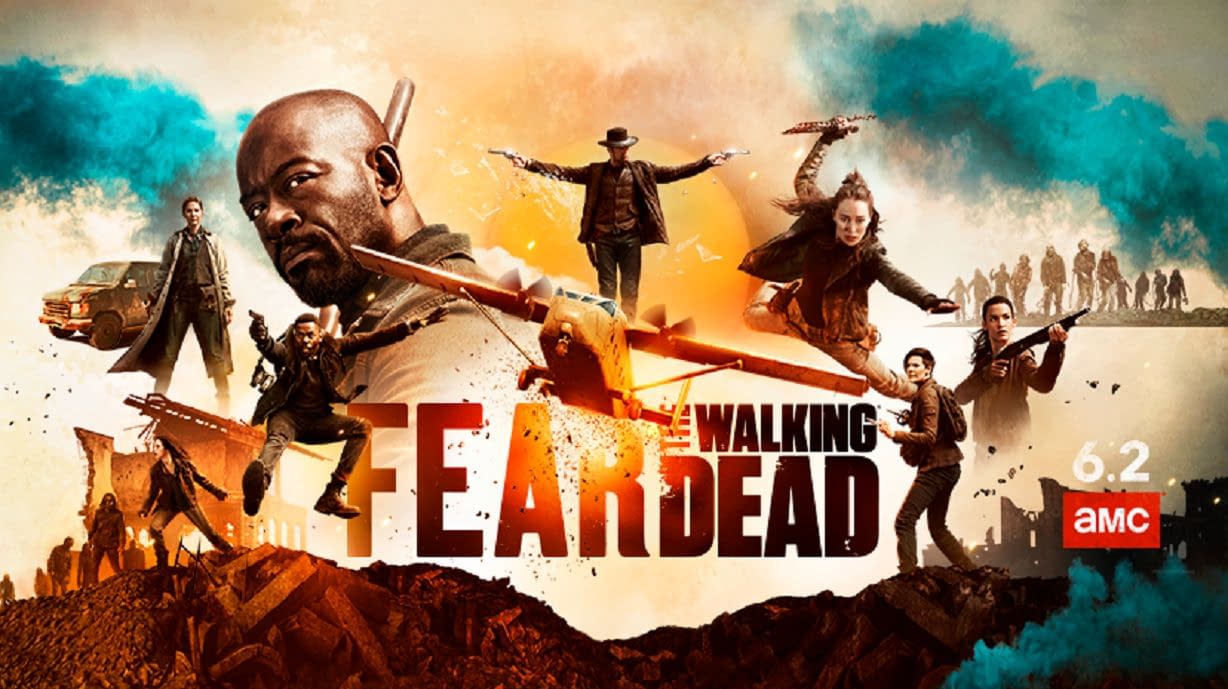 Fear the Walking Dead airs Sundays at 9 p.m. ET/8 p.m. CT – leading fantasy-horror series adaptation NOS4A2, based on Joe Hill's best-selling novel.