Fear the Walking Dead Season 7B: Victor & Alicia Assemble Their Armies
Look, it's not like the seventh season of AMC's Fear the Walking Dead needed any more excitement heading into an already epic-looks second half (premiering April 17, 2022). When you end a midseason finale with Alicia (Alycia Debnam-Carey) formally declaring war on Victor (Colman Domingo) for control of the Tower, you pretty much have us hooked. But apparently, the folks behind the long-running spinoff series wanted to make triply sure that fans were counting the day down. And we have to say that having Kim Dickens appearing on Talking Dead to announce that Madison Clark was coming back was a damn good way to do it. Dickens is set to return as a series regular in the now-confirmed eighth season… but Madison will also be showing up during the current season (with something to say about the Alicia/Victor matter, I'm sure). Now we have our first teaser as well as the official overview for Season 7B- and after checking both out, we can't shake this feeling that we're going to see some very familiar faces making some very "unfamiliar" decisions when sides are drawn in Alicia & Victor's war? Can Madison play a part in ending their war before it reaches its inevitable, bloody endgame? Or will she return just in time to pick up the pieces of who and what is left?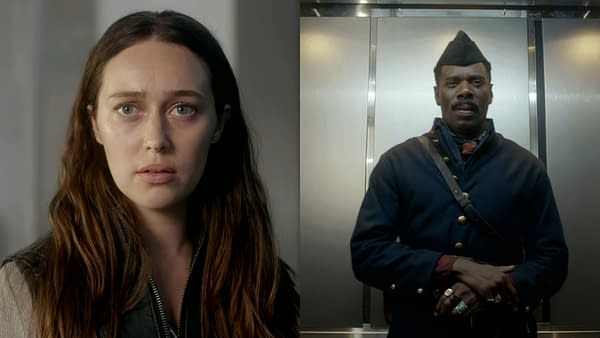 "If there were a Mt. Deadmore, Kim Dickens' face would be on it. Madison Clark is a foundational character to TWDU — heroic, complex, an every-person who becomes a warrior and then a force of benevolence," said Scott M. Gimple, content chief of "The Walking Dead" universe, in a statement when the news was officially announced on Sunday night. "Kim Dickens' raw talent, strength, and brilliance will electrify TWDU once more and we couldn't be luckier to have her back."
In the second half of Season 7, months have passed after the nuclear blast and the only one thriving is Victor Strand (Colman Domingo). Having built a fiefdom, he callously selects who will have a chance at life. The other members of the group have suffered immensely, but out of that, has come a fierce determination to live, even if it means taking Strand's Tower by force and continuing the search for PADRE, a mythical place no one is sure really exists. Alicia (Alycia Debnam-Carey,) now the reluctant leader to Teddy's former followers, is plagued by a mysterious illness and the repercussions of her past actions. Morgan (Lennie James,) trying to maintain hope that he will be reunited with his family, knows Alicia is key to their survival. With Alicia declaring war, Strand's paranoia and personal vendettas grow, and with that, new threats emerge from all sides.