First Look at YouTube Red's 'Origin' Starring Tom Felton and Natalia Tena at SDCC
Got a bad reputation? Tough luck? Are things just not working out? These are the kinds of questions the main characters of the upcoming YouTube Red drama Origin were asking themselves before they agreed to leave Earth by spaceship to start a new life on the planet Thea, where the Siren Corporation promised them a fresh start and clean slate on a colony there.
For a small group of passengers, it all sounded nice and great until an asteroid hit their ship and woke them up prematurely. To make matters worse, they discovered that most of the other travellers had bailed the ship and left them behind. Other survivors remain, but a mysterious affliction and other dangers creep up that complicate matters. Our protagonists quickly learn that some of those among them can't be trusted, and even the Siren Corporation itself may have made false promises to begin with.
That's Origin's cryptic, dramatic premise, and the cast and crew visited the Hilton Bayfront's Indigo Ballroom Thursday afternoon to shed more light on their upcoming show for attendees at San Diego Comic-Con.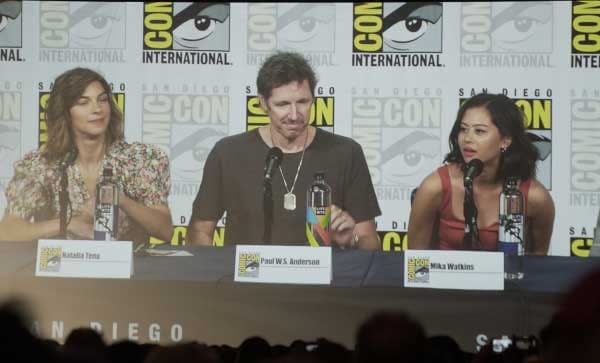 Panelists included stars Tom Felton (Logan), Natalia Tena (Lana), Sen Mitsuji (Shun), Fraser James (Henry), Nora Arnezeder (Evelyn Ray), executive producer Mika Watkins, and director Paul W. S. Anderson (Event Horizon, Resident Evil), who'll direct the show's first two episodes.
According to Anderson, 60% of each Origin episode is onboard the ship, and 40% delves into a character's backstory to reveal their damaged past. The show seemed to have as much in common with Lost, another drama with a similar split-narrative format, and Event Horizon, Anderson's first notable sci-fi horror film.
Both elements became clear to the audience during a 12-minute clip that premiered during the panel. In the spaceship portion, the horror came into play quite vividly: awakened crew members discover another passenger in need of help, but the man's body twists, turns, and spams jerkily at inhuman angles, almost as if an unseen force was pressing down on him. His eyes burst with blood before he dies. In the human backstory portion, the show explores Shun's (Mitsuji) history in future Japan. He plays a yakuza member whose criminal activity gets his brother, a cop, killed.
Anderson explained that Origin's multinational cast allowed the show to explore the future development of various countries, including the United States, Ireland, and others. The cast spent a significant time filming in South Africa.
Although the characters come from different geographic and cultural backgrounds, they all have one thing in common: they want to leave damaged lives. But as the show reveals, people take their baggage with them wherever they go.
"I thought it was a wonderful idea for a show," Watkins said.
She also thought it was wonderful to blend sci-fi horror elements in space with tortured drama back on Earth in people's pasts. "I wouldn't write a space show that's exclusively people on a ship."
Tena plays Lana, who appears to be the show's main character. She becomes a makeshift captain leading beleaguered crew members when they discover that they've been abandoned in a dangerous environment. According to Tena, Lena is as damaged like the others but she has a good heart.
"[Lena] only smiles like twice in the whole thing," she said of the character, who has post-traumatic stress disorder. "Her favorite partner is a gun. She loves guns."
Felton also claimed that his character, Logan, has a good heart, even though he's the main antagonist. He described Logan as an American scallywag who's not comfortable in groups and sometimes unpleasant to be around. That was about all he could say, even about such a prominent villain, since the panelists appeared to want to keep many things about Origin close to the vest.
Arnezeder plays Evelyn Ray, a French engineer. She said that many cast members didn't like being away from their families for filming, including her. Their loneliness mirrored characters' loneliness on the show.
"It was a great analogy for our real situation," she said.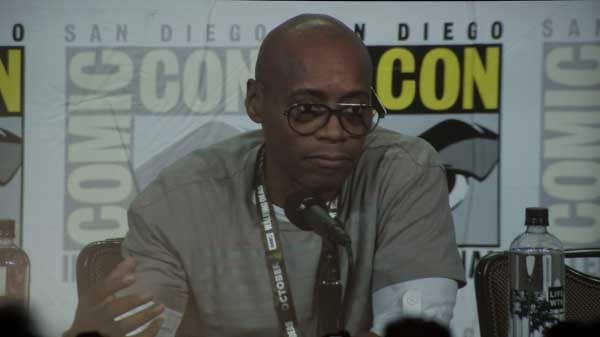 Fraser James, who plays the doctor Henry, implied that characters don't get the happy endings they hope for. Everyone's running from something, and the trip to Thea seems like a chance to leave troubled pasts behind. "Living happily ever after," he said. "But as you know, it never ends like that."
But the cast certainly had good times filming. Felton joked that people called him Draco on set instead of his real name, and Tena said that she would never go to space to colonize anything unless she could bring certain things with her.
"Musicians, coffee, [and] goats, so there could be cheese," she said.
Origin will premiere sometime later in 2018.