Sunday afternoon in Hall H at San Diego Comic-Con, Kurt Sutter, creator of the popular crime drama Sons of Anarchy, debuted footage from his upcoming SoA spinoff Mayans M.C. Sutter set the gritty biker drama of Sons in the fictional city of Charming, California, but with Mayans, he's shifted the motorcycle mayhem to the California-Mexico border.
The panel kicked off with 13 minutes of the first Mayans episode, which opened with a shot of main character E. Z. Reyes (played by J. D. Pardo) riding down a dirt road. Then it cuts to the Mayans in a factory, and their operation makes dresses stuffed with drugs to smuggle the narcotic contents on drug runs. The Mayans' leader, Bishop Losa (Michael Irby), tells his man Angel (Clayton Cardenas) that they'll need protection for the upcoming Vegas run, so they enlist Reyes. The remainder of the clip focuses on Reyes's interactions with his father Felipe (Edward James Olmos) and flashbacks to his youthful days in high school with his then-girlfriend Emily (Sarah Bolger).
After the run begins however, the Mayans are ambushed and robbed by another group. Losa warns these assailants that the Mayans are backed by the fearsome Galindo cartel, who will seek vengeance. The mysterious attackers are unfazed and ride off, having destroyed the Mayans' vehicles and stolen their goods.
And with that cryptic ending, the Mayans panel opened with Sutter, co-creator Elgin James, and several cast members taking the stage. They included Pardo, Olmos, Cardenas, Irby, and Bolger, as well as Carla Baratta (Adelita), Antonio Jaramillo (Riz Ariza), Richard Cabral (Coco Cruz), Emiila Rivera (Marcus Alvarez), Frankie Loyal (Tranq Loza), and Danny Pino (Miguel Galindo).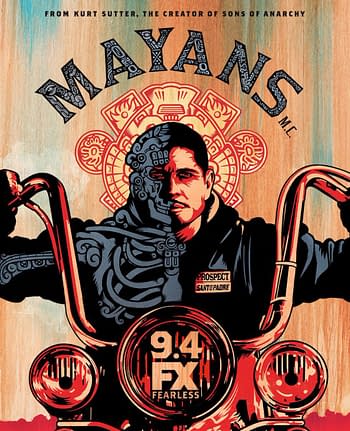 Mayans debuts this fall on FX, four years after Sons of Anarchy's last season in 2014. It will cross over with Sons eventually, but for now it's staying self-contained.
Sutter appreciated the break between his two projects. "It's always good for me to have a little space between everything," he said. Sutter also created 2015's The Bastard Executioner.
When asked how he landed the lead role, Pardo was vague on details but mentioned that it took a lot of work. He had to "jump through hoops to meet the main man," referring to Sutter. "It all came down to a little face to face."
Pardo impressed Sutter in the audition with his commanding portrayal of Reyes.
"He just said what he needed the character to be," Pardo said of Sutter.
Many of Mayans' cast and crew came from "the life," as Sutter put it. They had experience with incarceration, gangs, and bad run-ins with the law. This created authenticity in performances and an appreciation of the rich opportunities working on Mayans brings. According to James, the show gives them the opportunity to tell their own stories their way.
"It creates the sense of everyone's there to do the work and do something special," Sutter said.
Loza was enthusiastic to join the show, but he had trouble joining when he first heard about it. He wanted his agent to get him an opportunity there, but the agent "kept dropping the ball," so Loza fired him.
Loza approached Sutter with flowers, a bottle of wine, and said hello. He was elated when he got the call to audition for Tranq. "I kind of punched myself because I really didn't believe that it happened," he said.
For the most part, the cast couldn't tell the audience much about their roles. But some divulged a little. Baratta said her character Adelita was strong, driven, and wanted to take care of her people. Bolger said that her character's life, Emily, revolved around the Mayans gang, and that getting to kiss Pardo was enjoyable.
Irby said flat out that his character Bishop wasn't a good guy at all, but the character had a goal. "Sometimes you got to do bad things to get to the bigger picture," he said.
Certain cast members went to Harley Davidson school to learn how to ride the bikes, but just the men. For authenticity's sake, no women will ride in the gangs on Mayans because that's how it is in reality. In those kinds of biker gangs, according to Sutter, all members are male. James did say however, that most of the Mayans story writers were female.
"If that was part of the subculture, then it would be in the show," he said. "Women do ride, but in those outlaw clubs, there are not women members."
Mayans M.C. premieres September 4th on FX.
Enjoyed this article? Share it!