The Flash Season 4: Two Arrow Actors to Guest Before the Finale
We had a good idea of some of the upcoming guest stars that are scheduled to pop up over the final five episodes of The Flash. With the release of episode synopsis and official photos, three different stars were guaranteed to return in one way or another… but thanks to executive producer Todd Helbing, we can now add a fourth. Spoilers below.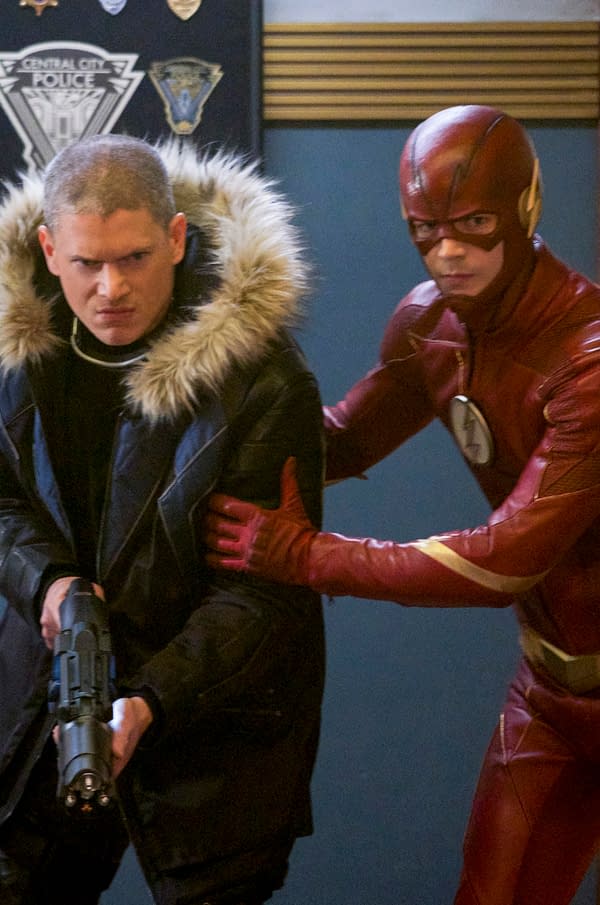 The photos give away one of them, but he was the most obvious and has been in the trailers and everything. That is Wentworth Miller in the role of Leo Snart, aka Citizen Cold, a variation on his original character. This Snart first popped up in the Crisis on Earth-X crossover and then hung out with the Legends of Tomorrow for a while before heading back home to ask The Ray (Russell Tovey) to marry him. The Flash calls on Snart's help to move Fallout (Ryan Alexander McDonald) this week.
Photos from the episode also revealed that Katie Cassidy would be coming over from Arrow, but not in her current role as Black Siren, but rather as Siren-X. Helbing described her to TVLine as "the last remaining fighter of the Nazi regime, so she's got a big chip on her shoulder." She's very similar to Black Siren, except "there's one new thing that she can do with those powers that we've never seen any version of her do before," which sounds very interesting.
And we know that Gypsy (Jessica Comacho) is returning to help the team in later episodes this season.
But the surprise was in the same conversation with Helbing where it was said that David Ramsey would be appearing on The Flash as John Diggle. On Arrow, Diggle has left Team Arrow and looks to be accepting a job with ARGUS. It doesn't say in what capacity he appears in the series or even which episode, but you have to wonder if it involves his new role rather than his alter ego Spartan.