The Flash Season 4: If Danny Trejo is Back, Can Gypsy Be Far Behind?
The Flash returns tonight after a hiatus with the episode 'Null and Annoyed', directed by Kevin Smith. In the episode we get a cameo by Smith and his friend Jason Mewes. We also get the return of Danny Trejo as Breacher. The synopsis for the episode reads:
DANNY TREJO RETURNS AS BREACHER; KEVIN SMITH DIRECTS — Barry (Grant Gustin) and Ralph (guest star Hartley Sawyer) take different approaches to finding the remaining bus metas before DeVoe gets to them. However, Ralph's cavalier attitude frustrates Barry and the two clash over what it means to be a hero. Meanwhile, Breacher (guest star Danny Trejo) returns to ask Cisco (Carlos Valdes) for a favor. Kevin Smith directed the episode written by Lauren Certo & Kristen Kim (#417). Original airdate 4/10/2018.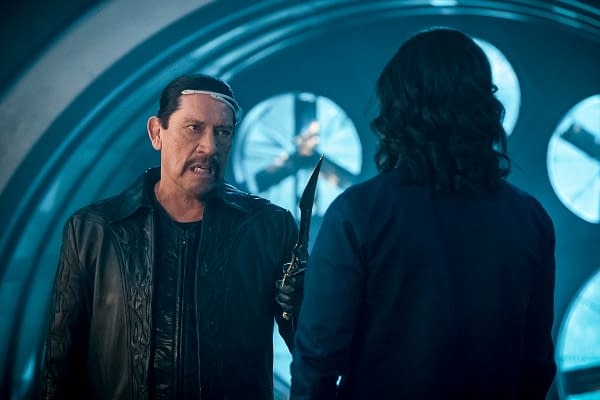 What favor could he need from Cisco? And does it involved Gypsy (Jessica Comacho)? Hard to say. But with the return of Breacher it seems very likely that Gypsy will be returning at some point. And according to Matt Webb Mitovitch over at TVLine, "Cisco's girlfriend Gypsy herself will resurface a bit further down the road."
'Null and Annoyed' is the 17th episode of the season, meaning there are six more after that including the season finale, which will air on May 22nd.
The Flash returns tonight at 8 p.m. ET on The CW.