This articles contains spoilers for the Flash season 4 episode 'True Colors'.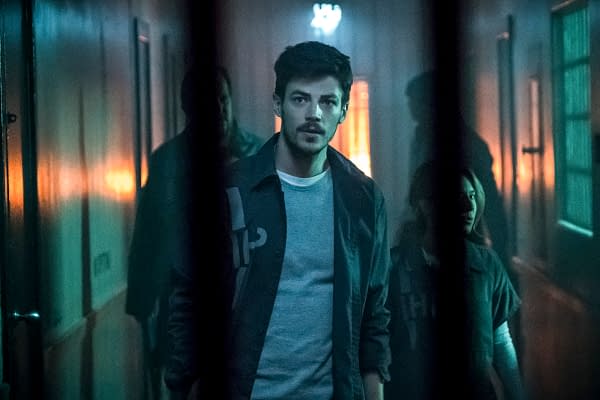 This episode had some great moments and a couple head-scratchers. Warden Wolfe (Richard Brooks) figures out that Barry Allen (Grant Gustin) is the Flash and has him moved to a special section of the prison that's off the books so he can sell him and four bus metas to Amunet Black (Katee Sackhoff). The other prisoners are Kilg%re (Dominic Burgess), Hazard (Sugar Lyn Beard), Dwarfstar (Derek Mears), and Black Bison (Chelsea Kurtz). Team Flash finds out because Cecile (Danielle Nicolet) is able to read Wolfe's mind.
Meanwhile, an old "friend" of Ralph's (Hartley Sawyer) comes by to offer him sleazy work, but he passes. But the guy puts doubt into Ralph's head about him disappointing his friends and them leaving. He gets so upset he unconsciously shape-shifts into the guy. This gives Iris (Candice Patton) the idea to have Ralph pose as Wolfe to cancel the deal with Amunet.
Then, Barry suddenly remembers that he's kind of smart and Macgyvers his way out of the cell, frees everyone, and leads them to an exit. He has to convince Hazard to go and he has to keep Dwarfstar and Kilg%re from killing a maintenance worker. The ruse to stop Amunet fails because Ralph's doubts keeps him from holding the form together.
We switch over to see there is trouble in paradise as Marlize (Kim Engelbrecht) is worried that Barry might escape, but Clifford DeVoe / Dominic Lanse (Kendrick Sampson) seems almost amused by the idea. Team Flash talks about going to help Barry, but Ralph passes, saying he would just screw things up. Killer Frost (Danielle Panabaker) ends up giving him a pep talk that really helps, and gives Ralph an idea of how to fix things.
Barry and the bus metas get out only to find Wolfe and guards waiting. Barry gets a dampener shot onto his ankle. When they're about to fight back, Wolfe reveals that Barry is the Flash, making the metas turn on him instead… except Hazard, who uses her powers to take out the metas and protect Barry. Amunet shows up and is about to attack and Hazard turns her luck on them. Then the Thinker arrives, shoots the guards — Amunet runs away — then he uses his tendrils to sucks the life and ability out of the four bus metas. Barry tries to save Hazard, but without his powers he can't. DeVoe ends up taking over Hazard's body and then leaving. Frost and Vibe (Carlos Valdes) arrive in time to take the dampener off of Barry's ankle, then he races back into his cell.
Cut to the court — it's the day of Barry's appeal. Cecile has no new evidence and the judge is about to deny the appeal when DeVoe (Neil Sandilands) rolls in in his original body. He claims to have suddenly woken up again. Cecile proposes that unbelievable things happen all the time in Central City and Marlize can't explain it. This is Ralph posing as DeVoe. Barry is the set free, and while they're celebrating, they realize that the Thinker obviously wanted those powers and could've taken them at any time. And that Ralph could be next. Cut to the real Thinker in Hazard's body talking with Marlize, who is upset and seems to be growing more distant. DeVoe spikes her drink and the two dance together.
I loved seeing Barry as the scientist again. He is too often dumbed down because of the people around him. Also, seeing Richard Brooks playing as Ralph was very funny. But there are a lot of convenient things going on this season, like Cecile's telepathy and Ralph learning to shape-shift. And some big questions from the episode, like how did a Warden have a whole section built onto a prison and no one said a word? Why was there no D.A. at the appeal? Why was the judge willing to believe that DeVoe came back to life, but no one suggested it might be an impostor? Ralph ran off to "fix" things, but it didn't fix the immediate need of saving Barry from Amunet. And everyone who just found out that Barry Allen was the Flash is now dead? And why would the metas turn their back on the armed guards trying to recapture them to take on a powerless Flash? Too many coincidences.
With Barry out of prison they can get back to looking for the other bus metas and it looks like they've come up to another comic book villain, The Fiddler. But they're own take on the classic villain. Knowing that the Thinker is collecting powers, will that be enough to help figure out how to stop him? At this point he has the powers to read minds, control luck, control electronics, alter size and density, and bring effigies to life along with being super smart. How much more powerful does he need to be?
https://youtu.be/_jnoTC8PMPw
Enjoyed this article? Share it!