Remember last season when all the Arrowverse shows were in line, showing the same episode numbers each week? Yeah, not this season. Legends of Tomorrow is done, Black Lightning is done, Supergirl is way behind, and Arrow is one episode ahead of The Flash. So when they put out the synopsis for episode 22 of Arrow yesterday, they also put out the synopsis for episode 21 of The Flash — and since it's not the penultimate episode, they can still get a bit silly. Spoilers ahead.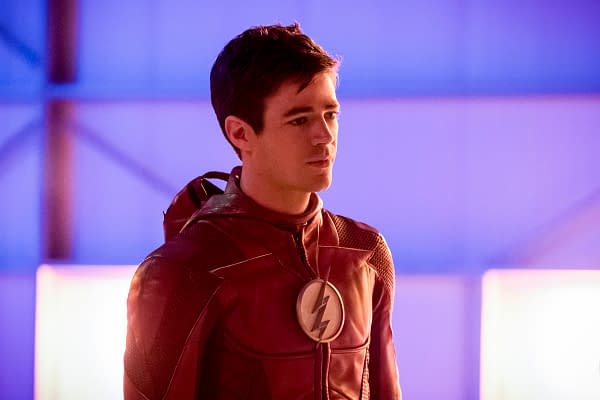 Coming out of this week's episode it seems like things are about as bleak as you can get. The Thinker (Neil Sandilands) got 11 of the bus metas, including Ralph (Hartley Sawyer), and removed Killer Frost from Caitlin (Danielle Panabaker). Plus, we don't know for sure the effects of what Wells (Tom Cavanagh) did to himself. But this doesn't seem to be a good time to be Barry Allen (Grant Gustin).
Next week we get an episode called 'Fury Rogue', which has the team asking for help from Citizen Cold (Wentworth Miller) and introduces Siren-X (Katie Cassidy), as the team tries to move Fallout (Ryan Alexander McDonald) to safety. Then we get an episode called 'Therefore She Is…', which has the team working with Gypsy (Jessica Comacho) to go after the Thinker. We can only guess that doesn't go well from the synopsis for the 21st episode of the season, 'Harry and the Harrisons':
THE TEAM TURNS TO AMUNET BLACK FOR HELP — With DeVoe's Enlightenment device nearly complete, in order to disable it The Flash (Grant Gustin) and his team must put their faith in an unlikely ally – Amunet Black (guest star Kattee Sackhoff). Meanwhile, Harry (Tom Cavanagh) hits an all-time low when the "Council of Wells" kicks him out but then Cisco (Carlos Valdes) introduces him to the "Council of Harrisons." Kevin Mock directed the episode written by Judalina Neira & Lauren Certo (#421). Original airdate 5/8/2018.
Bringing back Amunet Black is very cool; she has been a fun character this season. The whole idea of Harry being kicked off the Council of Wells goes along with the idea that the Dark Matter overflow may have fried part of his brain, making him not so smart anymore. Curious to see if the dark matter did anything positive to the character, like turned him into a meta. They seem to like to change Wells every season, so they may be setting up Wells for season 5 already.
The Flash airs Tuesdays at 8 p.m. ET on the CW.
Enjoyed this article? Share it!