Ex-America's Got Talent judge Gabrielle Union is taking her harassment, discrimination, and retaliation complaints against the show's producers to court, filing a complaint on Thursday in the state of California against FremantleMedia, Simon Cowell's Syco, and NBCUniversal (with reports that Union will also file a separate suit against Cowell). While the complaint covers many of the same matters addressed by the actress/producer publicly in the past, it also includes a new allegation against NBC Entertainment Chairman Paul Telegdy that he tried to "silence and intimidate" her from speaking out. Union's attorney Bryan Freedman filed the complaint with California's Department of Fair Employment and Housing (DFEH), with NBCUniversal, Fremantle, Syco, and Cowell offering no comment at the time of post. The filing comes after an internal investigation concluded that while there was "room for process improvement," there was so evidence of racial bias. Journalist Yashar Ali first reported on the news via social media and has done an amazing job tracking Union's battle with AGT since the story first broke (check out the reporting thread here).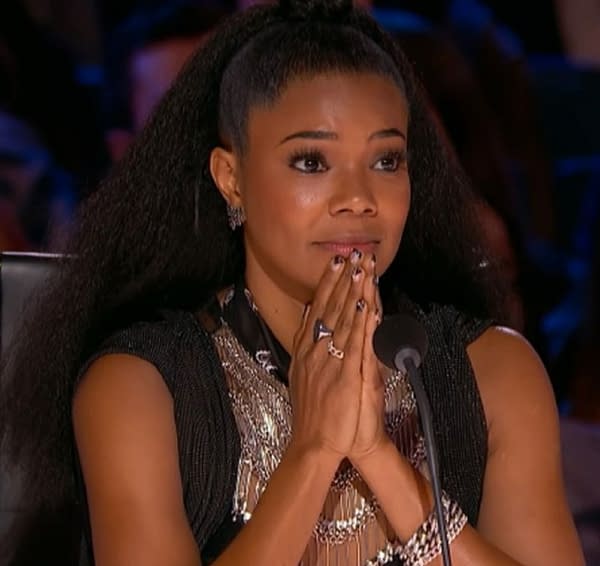 Freedman issues the following statement on behalf of Union earlier today:
"When Gabrielle Union informed NBC of racially offensive conduct during the taping of 'America's Got Talent,' NBC did not 'stand' with her in 'outrage at acts of racism. Instead, NBC did not care enough to either promptly investigate Ms. Union's complaints or even ask HR to get involved. Rather, NBC stood against her and directed its 'outrage' at Ms. Union for whistleblowing about the racially offensive conduct she experienced while working for NBC on 'America's Got Talent'. In sharp contrast to NBC's recent statement on race, what was truly an 'outrage' was the fact that Paul Telegdy, Chairman of NBC Entertainment, actually threatened Ms. Union in an attempt to silence her from telling the truth about racist actions that took place on the show. There is no place for this type of racial bullying in the workplace, and it is going to take more than a Tweet from NBC to demonstrate that NBC intends to create an environment free from racism."
Enjoyed this article? Share it!