Posted in: Amazon Studios, Preview, streaming, Trailer, TV | Tagged: amazon, gen v, preview, prime video, the boys, trailer
---
Gen V: Vought Offers a Virtual Student Tour of Godolkin University
With Prime Video's "The Boys" spinoff Gen V arriving on September 29th, here's how you can take a student tour of Godolkin University.
---
With only ten days to go until Michele Fazekas & Tara Butters' Gen V hits Amazon's Prime Video screens, we're getting a very interesting way to preview the upcoming spinoff from Showrunner Eric Kripke's The Boys. Up until now – including yesterday's student orientation video – we've learned a lot about Godolkin University and how it's basically Vought's academic training facilities for the next generation of supes – whether they're bound to join The Seven or walk the mean streets of Wichita, Kansas. But now, we're getting a chance to take a virtual tour of "GodU" to see what the school has to offer firsthand.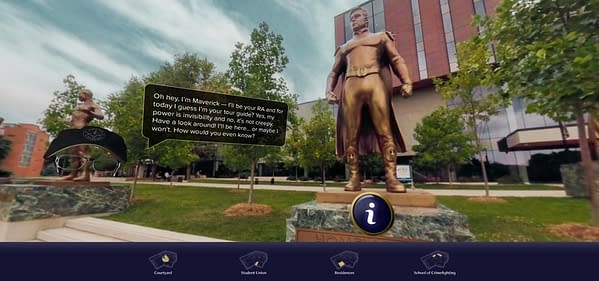 To check out the tour (with more areas of the tour/map expected to open up once the series arrives on September 29th), head on over the campus' main website. And here's a look at the announcement tweet from Vought showing off the new "GodU" virtual tour:
And let's not forget the official orientation video that was released earlier this week, where we got to hear from such famed academicians as Professor Rich "Brink" Brinkerhoff (Clancy Brown), renowned professor of crime fighting at "GodU" who taught A-Train, Queen Maeve, and The Deep. But "GodU" is about so much more than just academics – just don't go looking too far into what the campus has to offer…
Gen V: A Look at "The Boys" Spinoff Series
Taking on the roles of the next generation of supes are Jaz Sinclair, Chance Perdomo, Lizze Broadway, Shelley Conn, Maddie Phillips, London Thor, Derek Luh, Asa Germann, Patrick Schwarzenegger, Sean Patrick Thomas, and Marco Pigossi. Joining them are guest stars Clancy Brown, Jason Ritter, and Derek Wilson – with Jessie T. Usher, Claudia Doumit, Colby Minifie, Chace Crawford, and P.J. Byrne reprising their respective roles from the main series. With class officially in session beginning September 29th, we've got the official "RED BAND" trailer for Amazon's Prime Video spinoff series to unleash upon your unsuspecting lives. Following a look at the series overview, we have both the "RED BAND" & original versions of the previously released teaser trailer and a rundown of who you need to know:
Set in the diabolical world of "The Boys," "Gen V" expands the universe to Godolkin University, the prestigious superhero-only college where students train to be the next generation of heroes—preferably with lucrative endorsements. You know what happens when supes go bad, but not all superheroes start out corrupt. Beyond the typical college chaos of finding oneself and partying, these kids are facing explosive situations … literally. As the students vie for popularity and good grades, it's clear that the stakes are much higher when superpowers are involved. When the group of young supes discover that something bigger and sinister is going on at school, they're put to the test: Will they be the heroes or the villains of their stories?
Gen V: A Look at Who's Who in "The Boys" Spinoff
Jaz Sinclair plays Marie Moreau, an 18-year-old superhero with the ability to control and weaponize her own blood. As an incoming freshman at Vought-run Godolkin University, she is eager to prove she has what it takes to join The Seven but is sidetracked by a mystery she begins to unravel at the school.
Chance Perdomo plays Andre Anderson, a junior at Godolkin University with magnetic powers. He's Golden Boy's best friend and the son of the famous superhero, Polarity; Andre has big shoes to fill as he's set to take over the Polarity name once his dad retires. When Andre realizes that something is afoot at the school, he takes it into his own hands to try and figure out the mystery.
Lizze Broadway plays Emma Meyer, who is also known by her superhero name, Little Cricket, for her ability to get super small. Though insecure and naive, which often leaves her in compromising positions, she becomes close friends with her freshman roommate, Marie, and together they navigate the mysterious dangers at Godolkin University.
Shelley Conn plays Indira Shetty, the dean of Godolkin University. She doesn't have powers, but her background in superhero psychology and her peerless ability to analyze what makes supes tick make her indispensable to the school. Her goal is to transform Godolkin University into the most elite college for supes, and she takes a special interest in Marie when she arrives on campus.
Maddie Phillips plays Cate Dunlap, a junior at Godolkin University who is good friends with Jordan and Andre. Cate is able to push people to do anything she commands using the touch of her hands, which she uses to her advantage. Powerful and confident, she's also Luke's girlfriend, making her one of the most popular supes on campus.
London Thor and Derek Luh play Jordan Li, a competitive student at Godolkin University who will do anything to get to the top. They have a unique ability to change between male and female forms, through which different powers manifest— the man is dense and indestructible, while the woman is agile and can launch energy blasts. Their distinct sets of powers make them a standout TA at Brink's School of Crime Fighting.
Asa Germann plays Sam, a troubled supe who is desperately trying to escape his unfortunate circumstances. He's extremely powerful, with super strength and invulnerability. Despite having a good heart, he's plagued by his hallucinations, which sometimes make it hard for him to discern between what is—and is not—reality.
Patrick Schwarzenegger plays Luke Riordan, who is also known by his superhero name, Golden Boy, because of his ability to light his entire body on fire. He is a senior at Godolkin University and is in the top rank, having the brightest prospects of joining The Seven.
Sean Patrick Thomas plays Polarity, Andre's father and largely celebrated Godolkin University alumnus and trustee. Polarity expects his son to follow in his footsteps by taking over the Polarity name when he retires. He believes Andre is destined for The Seven and will stop at nothing to make his dream become reality.
Clancy Brown plays Professor Rich "Brink" Brinkerhoff, a renowned professor of crime fighting at Godolkin University who taught superheroes such as A-Train, Queen Maeve, and The Deep. He is dedicated to finding the top new talent at Godolkin University to join The Seven and believes Golden Boy has what it takes to be next.
Marco Pigossi plays Dr. Edison Cardosa, a gifted doctor with ties to Godolkin University.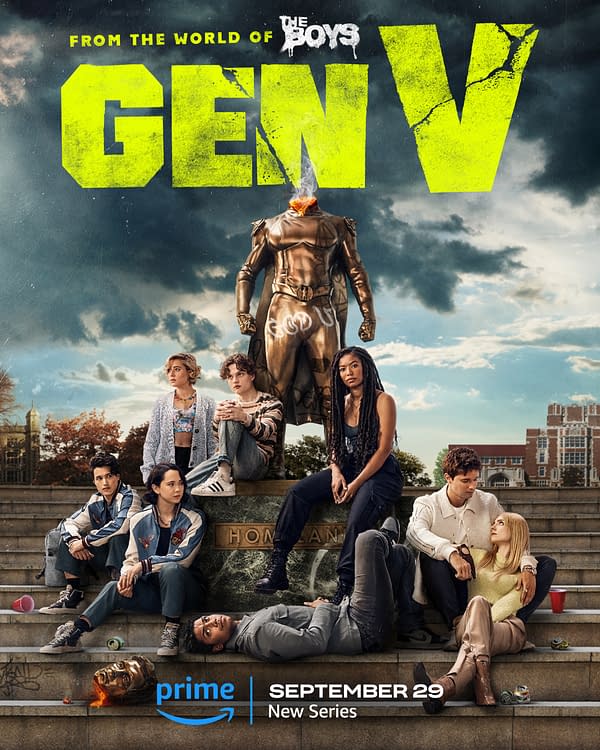 Michele Fazekas and Tara Butters serve as showrunners and executive producers. Eric Kripke, Seth Rogen, Evan Goldberg, James Weaver, Neal H. Moritz, Ori Marmur, Pavun Shetty, Ken Levin, Jason Netter, Garth Ennis, Darick Robertson, Craig Rosenberg, Nelson Cragg, Zak Schwartz, Erica Rosbe, and Michaela Starr also serve as executive producers on the spinoff series. Serving as co-executive producers are Brant Englestein, Sarah Carbiener, Lisa Kussner, Gabriel Garcia, Aisha Porter-Christie, Judalina Neira, and Loreli Alanís. The series is produced by Sony Pictures Television and Amazon Studios (in association with Kripke Enterprises, Point Grey Pictures, and Original Film).
---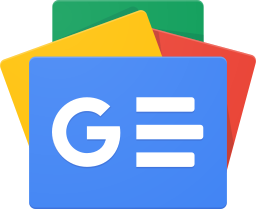 Stay up-to-date and support the site by following Bleeding Cool on Google News today!