Ghosts: Rose McIver Video Confirms Season 2 Wrap; S02E14/S02E15 Titles
CBS' Ghosts star Rose McIver shared a video of the team celebrating wrapping Season 2; we have preview images, updated episode titles & more.
---
Along with a look at the overview and preview images for February 2nd's return episode (S02E13 "Ghost Hunter"), we have two cool updates on CBS' Rose McIver (Sam) & Utkarsh Ambudkar (Jay)-starring Ghosts to pass along. First up, we know the titles for the next two episodes (S02E14 "Trevor's Body" on 2/9 & S02E15 "A Date to Remember" on 2/16) though we're still in a hovering position when it comes to overviews and preview images. And speaking of the second season (with a third season already locked in), McIver took to Instagram to share a video of the team properly honoring the end of filming on the current season.
Here's a look at McIver's video that went live heading into the weekend, confirming a filming wrap on the second season in a way that Ghosts fans can truly appreciate:
Ghosts Season 2 Episode 13 "Ghost Hunter" Preview
Ghosts Season 2 Episode 13 "Ghost Hunter": Written by Rishi Chitkara and directed by Alex Hardcastle, the episode finds Sam and Jay's assistant, Freddie (Mike Lane), purchasing ghost-hunting equipment when suspicious activity leads him to theorize the B&B is haunted. Also, Sasappis risks losing his relationship with Jessica (Nichole Sakura) when Freddie (Mike Lane) sells his car. Here's a look at the preview images for the episode, set to hit screens on February 2, 2023 (followed by a look at the blooper reel from the first season):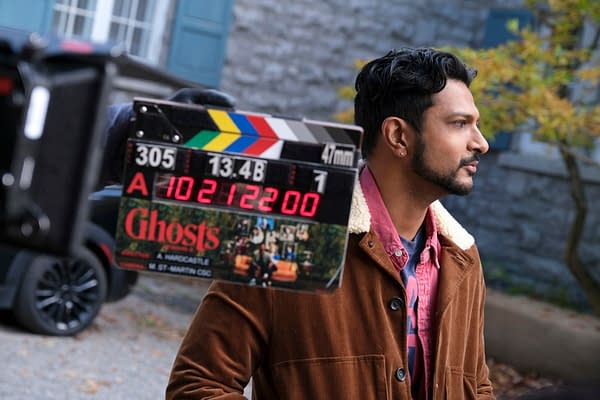 Produced by CBS Studios, in association with Lionsgate Television and BBC Studios' Los Angeles production arm, CBS' Ghosts stars Rose McIver (Samantha), Utkarsh Ambudkar (Jay), Brandon Scott Jones (Isaac), Richie Moriarty (Pete), Danielle Pinnock (Alberta), Asher Grodman (Trevor), Román Zaragoza (Sasappis), Sheila Carrasco (Flower), Rebecca Wisocky (Hetty), and Devan Chandler Long (Thorfinn). Executive producers include Joe Port & Joe Wiseman, Mathew Baynton, Jim Howick, Simon Farnaby, Laurence Rickard, Ben Willbond, and Martha Howe-Douglas; Alison Carpenter, Debra Hayward, and Alison Owen (Monumental Television); Angie Stephenson (BBC Studios); and Trent O'Donnell (pilot episode only).