Ghosts Scares Up Season 3 Green Light; Season 2 Ep. 12 Sneak Preview
CBS' Rose McIver (Sam) & Utkarsh Ambudkar (Jay)-starring Ghosts will be back for a third season. Plus, a sneak preview of tonight's episode.
---
Before we take a look at an extensive preview for tonight's episode (S02E12 "The Family Business"), fans of CBS' Rose McIver (Sam) & Utkarsh Ambudkar (Jay)-starring Ghosts can start celebrating early. Yup, that's right… CBS has renewed the popular supernatural sitcom for a third season during the 2023-2024 cycle. "This season, executive producers Joe Port, Joe Wiseman and the brilliant cast delivered episodes that far surpassed our expectations. From the opening of the Woodstone B&B to epic Halloween and Christmas episodes, we have thoroughly enjoyed getting to know our GHOSTS even better. Much like our viewers, we love them more each and every week," said Amy Reisenbach, president of CBS Entertainment. "As the series continues to win fans on broadcast and streaming, we're thrilled to bring back this touching and hilarious comedy for a third season." Now here's a look at what's in store for tonight…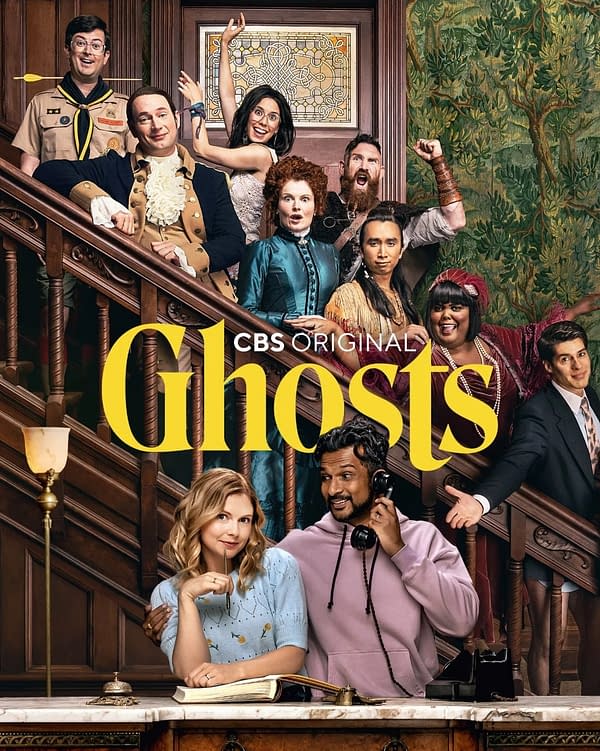 Ghosts Season 2 Episode 12 "The Family Business" Preview
Ghosts Season 2 Episode 12 "The Family Business": Sam gives relationship advice to her and Jay's assistant, Freddie, ignoring Hetty's warning not to get too close to "the help." Also, Sasappis strikes up a romance with Jessica, the ghost who lives in Freddie's car. Written by John Timothy and directed by Matthew A. Cherry, the episode guest stars Mike Lane (Freddie), Nichole Sakura (Jessica), Toby Berner (Ted), Shaleen Hudda (Olivia), Adam Cawley (Alan), Daniel Rindress-Kay (Thomas Woodstone), and Geoff Rutherford (Denny). Here's a look at the preview images for the episode:
Produced by CBS Studios, in association with Lionsgate Television and BBC Studios' Los Angeles production arm, CBS' Ghosts stars Rose McIver (Samantha), Utkarsh Ambudkar (Jay), Brandon Scott Jones (Isaac), Richie Moriarty (Pete), Danielle Pinnock (Alberta), Asher Grodman (Trevor), Román Zaragoza (Sasappis), Sheila Carrasco (Flower), Rebecca Wisocky (Hetty), and Devan Chandler Long (Thorfinn). Executive producers include Joe Port & Joe Wiseman, Mathew Baynton, Jim Howick, Simon Farnaby, Laurence Rickard, Ben Willbond, and Martha Howe-Douglas; Alison Carpenter, Debra Hayward, and Alison Owen (Monumental Television); Angie Stephenson (BBC Studios); and Trent O'Donnell (pilot episode only).