'Good Omens': Cast, Crew Reveal Their Plans for The End of The World [PREVIEW]
It's the end of the world as we know it… but from the looks of Amazon Prime Video's Good Omens, it doesn't plan on going quietly. In fact, it's safe to say that the road to "The End Times" is gonna' be a right messy one. Based on Neil Gaiman's (American Gods) and Terry Pratchett's (Colour of Magic) novel and written by showrunner Gaiman, the six-part adaptation introduces us to angel Aziraphale (Michael Sheen) and demon Crowley (David Tennant) as they try to find the Anti-Christ… and try to figure out the logic behind ending the world.
But with a little more than a month to go before the Earth shuffles off this universal coil, see how the cast and crew worked to bring Gaiman and Pratchett's work to life:
https://youtu.be/hUJoR4vlIIs
The End of the World is coming, which means a fussy Angel and a loose-living Demon who've become overly fond of life on Earth are forced to form an unlikely alliance to stop Armageddon. But they have lost the Antichrist, an 11-year-old boy unaware he's meant to bring upon the end of days, forcing them to embark on an adventure to find him and save the world before it's too late.
With Armageddon just days away, the armies of Heaven and Hell are amassing and The Four Horsemen are ready to ride. Aziraphale, an angel, and Crowley, a demon, agree to join forces to find the missing Anti-Christ and to stop the war that will end everything. Based on the best-selling novel by Terry Pratchett and Neil Gaiman, Good Omens follows an unlikely duo and their quest to save the world.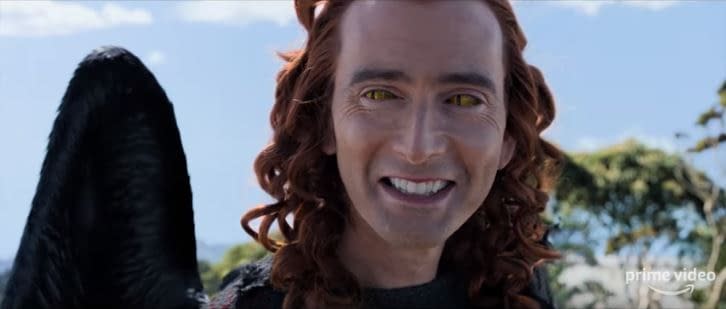 Launching on Amazon Prime Video in over 200 countries and territories on May 31, Good Omens also airs later this year on the U.K.'s BBC Two.
Directed and executive produced by Douglas Mackinnon (Sherlock, Doctor Who), the cast of Good Omens includes: Tennant, Sheen, Jon Hamm, Miranda Richardson, Nick Offerman, Adria Arjona, Nina Sosanya, Jack Whitehall, Michael McKean, Ned Dennehy, Ariyon Bakare, Mireille Enos, Anna Maxwell Martin, Lourdes Faberes, Yusuf Gatewood, Sir Derek Jacobi, and David Morrissey. Frances McDormand, Benedict Cumberbatch, and Brian Cox are also on board as the voices of God, Satan, and Death, respectively.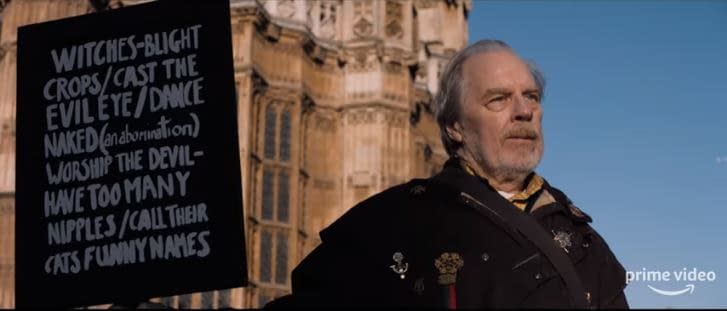 Good Omens is co-produced by BBC Studios with Narrativia (Rhianna Pratchett's production company) and the Blank Corporation in association with BBC Worldwide for Amazon Studios and the BBC. Gaiman, Mackinnon, Caroline Skinner, Chris Sussman, Simon Winstone, and Rob Wilkins as executive producers.