Grant Gustin, star of The CW series The Flash, was a guest at this past weekend's ACE Comic Con in Seattle and did a panel that was hosted by Kevin Smith, who has directed three episodes of the series so far. With the new season beginning soon, here are some of the highlights from the panel.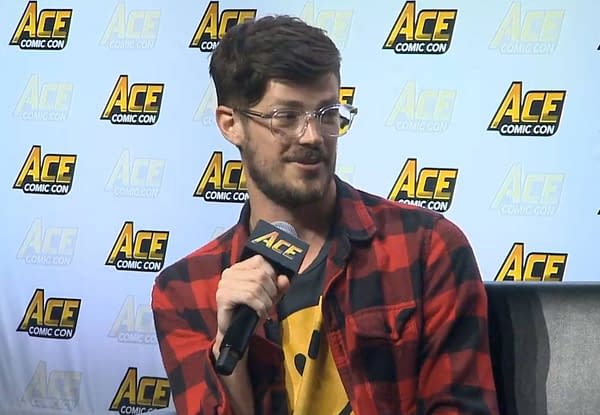 Gustin will be back at work on the season in a week, likely Monday, July 2nd. This means we'll probably get some juicy information and maybe some footage at SDCC.
He didn't want to go to the initial audition for the role because he didn't think he had a chance to get it, not seeing himself as a buff, blonde superhero.
The actor doesn't do well with attention, describing his reaction as "getting squirmy" and commenting that this is only the third convention he's done. We can assume he's not counting SDCC when he says that.
Gustin talked about how Smith brings a huge amount of energy to an episode when he directs, revealing that Smith actually cried when he first saw Gustin in the suit. He also talks about how the cowl on and the cowl back are two different cowls and that when he puts his mask back, everyone on set has to freeze while a costume person comes in and changes the cowl.
They also explained the word "Zoop", which is the effect of the Flash entering or leaving a room at superspeed. It's done by the director yelling "Freeze," then Gustin walking off set and everyone being hit with an air blower that looks like a flamethrower. Then name comes from David Nutter, the director of the pilot, who kept referring to the Flash moving at super-speed as "Zoop" or "Zooping" and it became a thing.
When asked who his favorite villain/Rogue is, Gustin's first response was Wentworth Miller as Captain Cold, who is now more of a frenemy in the actor's opinion. He also mentions Liam McIntyre as Weather Wizard, who he thinks they haven't seen enough of, and, of course, Mark Hamill as the Trickster.
He also talked about how he never actually runs for the series. They used to film him on a treadmill against a green screen, but they since learned that his legs are never in the shots, so now he just stands and moves his arms to appear to be running.
His favorite episode and the one he's most proud of is the season 1 finale.
When the fan questions started, Gustin was asked about the new season. He admitted he didn't know much about the new season, not having had the talk with executive producer Todd Helbing yet (that's happening today). But he said that Nora Allen (Jessica Parker Kennedy) is trapped in our time, and Barry is going to help her get back to her time. That's an interesting revelation in that we knew she did something bad, but not that she was actually trapped in this time. He talked about Barry and Iris (Candace Patton) having to interact with their adult daughter and getting to see a new speedster.
The subject of him possibly directing an episode came up — he wants to try directing but sees directing an episode of The Flash as nearly impossible (probably due to the amount he's on screen in an episode), but it's something he wants to do. He mentioned perhaps doing it in the series' final season.
There is more in the interview, but these are the highlights. The Flash returns this fall on Tuesdays at 9 p.m. ET on The CW.
Enjoyed this article? Share it!