His Dark Materials S02 Casts Terence Stamp, Jade Anouka & Simone Kirby
Just because this year's San Diego Comic-Con will be taking place from the comfort of our homes and don't require long bathroom or Hall H lines doesn't mean there's not going to be a steady stream of breaking news and previews. Case-in-point: Deadline Hollywood is reporting exclusively that Terence Stamp (Billy Budd, The Adjustment Bureau), Jade Anouka (Cleaning Up), and Simone Kirby (Artemis Fowl) are joining the cast of His Dark Materials for the second season. Set for later this year, the second season of the HBO and BBC drama will use The Subtle Knife as its source material, the second novel in Philip Pullman's trilogy of novels that focus on the adventures of Lyra Belacqua (Dafne Keen).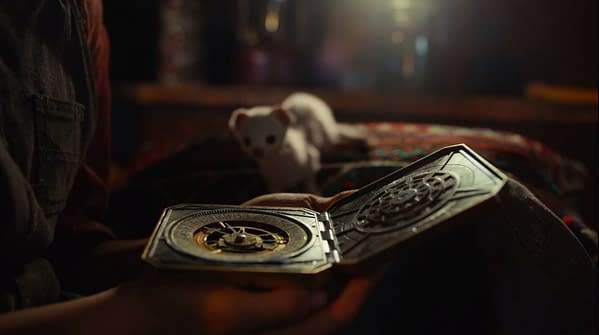 With the series set for a panel at Comic-Con@Home on Thursday, Deadline Hollywood also released which characters the actors will be portraying. Stamp is joining the cast as Giacomo Paradisi, the bearer of the Subtle Knife who lives in the Torre de Angeli (Tower of the Angels) in Cittàgazze. Anouka will play witch queen Ruta Skadi, who joins forces with Serafina Pekkala against the Magisterium. Kirby features as Dr Mary Malone, the head of a Dark Matter Research Team at an Oxford University in our world.
Stamp, Anouka, and Kirby join returning cast members Dafne Keen, Ruth Wilson, Andrew Scott, Amir Wilson, and Lin-Manuel Miranda on the series, written by Jack Thorne. When the series returns, viewers will see what happened after Lord Asriel (James McAvoy) ventured into a new world with Lyra. When the new season begins, Lyra finds herself in the mysterious abandoned city of Cittàgazze, where she meets Will.
His Dark Materials stars Dafne Keen, James McAvoy, Ruth Wilson and Lin-Manuel Miranda. Adapting Philip Pullman's award-winning trilogy of the same name, which is considered a modern masterpiece of imaginative fiction, the first season follows Lyra, a seemingly ordinary but brave young woman from another world. Her search for a kidnapped friend uncovers a sinister plot involving stolen children, and becomes a quest to understand a mysterious phenomenon called Dust.

As she journeys through the worlds, including our own, Lyra meets Will, a determined and courageous boy. Together, they encounter extraordinary beings and dangerous secrets, with the fate of both the living — and the dead — in their hands.