Last Man Standing star Tim Allen has a soft spot for his former ABC sitcom, Home Improvement. Since the series' end in 1999, Allen remained relevant in doing some films, especially in the animated Toy Story franchise as Buzz Lightyear. He ultimately stayed on television. The actor-comedian, who's in his eighth season on the FOX sitcom, spoke with TV Line on a possible revisit to the Taylors.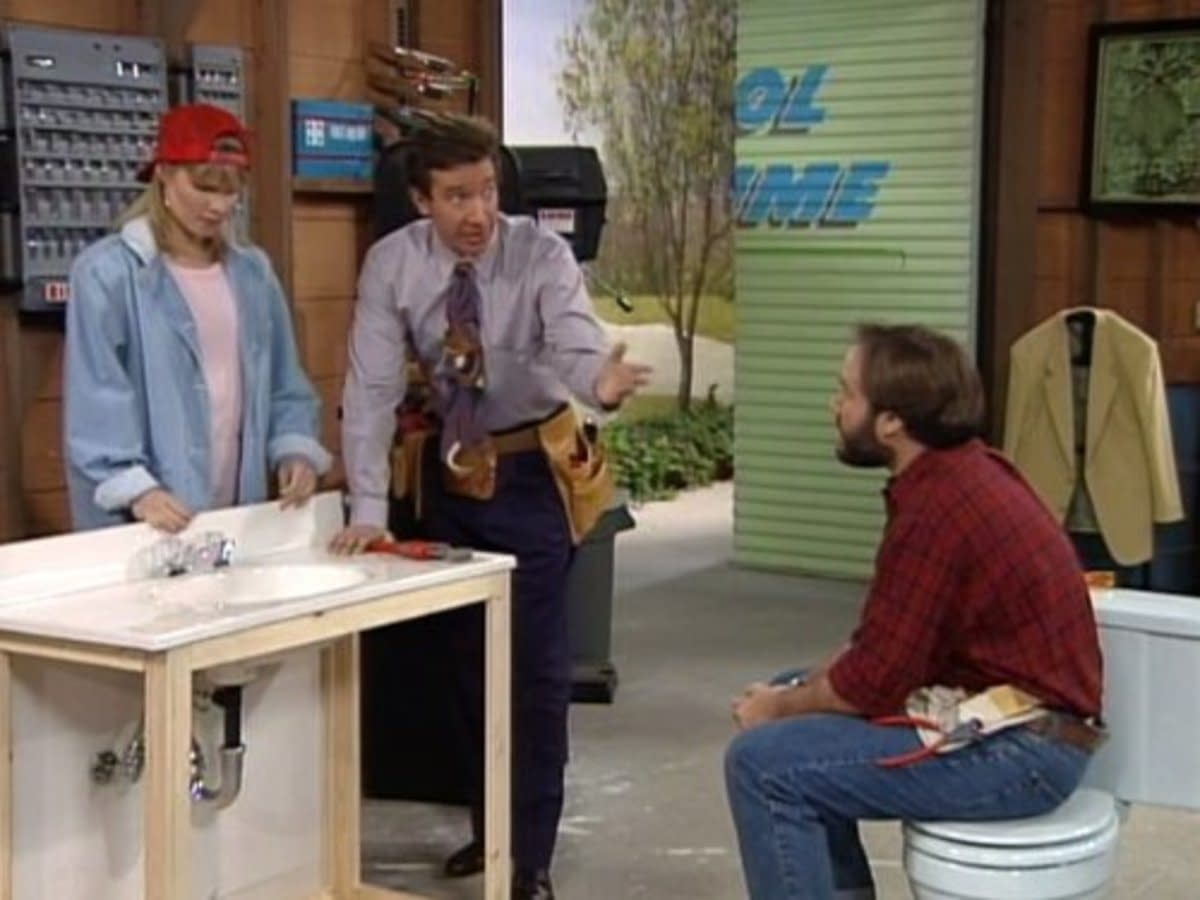 "I always think about it, because I still talk to everybody involved. The question I had was, 'Is it still relevant? Is Tim Taylor relevant in the [Last Man Standing] Mike Baxter world?' Because Mike Baxter is like a real version of Tim Taylor; he's not such a joke. And the [Outdoor Man] vlogs are like Mike's version of Tool Time done as a web series."
"Home Improvement" Synopsis
Home Improvement (1991-1999) is about a TV personality (Allen), who tries to balance between his professional life as host of "Tool Time" and personal as family patriarch. for eight seasons and 204 episodes for ABC. The series managed seven Emmy nominations. Allen won a Golden Globe for his performance as Best Actor in a Comedy Series. The actor had some ideas on how he'd bring back the series.
"I like the idea of doing it as a one-off, like a one-hour movie [versus a full-fledged revival series]. I like the idea of finding out where the boys are now, and where… Tool Time would be in today's world. I just think it's a marvelous idea, and all the actors think it's a great idea."
When it came to the idea LMS may surpass his former series in seasons, the revelation shocked Allen. The milestone is more surprising since LMS was on the brink of cancellation from ABC before FOX picked up the series. With Disney's acquisition of FOX, everything came full circle.
"I can't even describe how cool it is, but I don't want to take away from [Home Improvement's legacy]. It's, like, 'Who would've thought?' I just can't believe it."
"Where Are They Now?"
Given the success of the Roseanne, now The Connors revival, it wouldn't be far-fetched to make an attempt at reviving the blue-collar Home Improvement.
As far as the remaining cast members, Patricia Richardson, who played Allen's wife Jill on Home Improvement and Helen Potts on LMS, stayed active in films and TV. She was recently in NBC's Blindspot, the Lifetime film A Very Vintage Christmas, and the indie film Cubby.
Earl Hindman, who played the Taylors' wise neighbor Wilson, made a few more TV appearances until his passing in 2003. His final project was a documentary on the long-running sitcom.
Richard Karn, who played Taylor's co-host on the series "Tool Time" Al Borlan, is in the Hulu series PEN15. He was also in the Hallmark film Check Inn to Christmas and the family series Horse Camp: A Love Tail.
Pamela Anderson, who played original "Tool Time" assistant Lisa, remained active on TV and B-movie scene. She's turned her attention more towards activism in recent years with her last credit in 2018.
Debbie Dunning joined the cast after Anderson left playing Heidi. She remained active on TV until 2007. In 2017, she hosted a reality program called Debbie Dunning's Dude Ranch Roundup for two seasons for RFD-TV.
Jonathan Taylor Thomas, who played middle Taylor child Randy, remained active on TV and even joined Allen on LMS until his departure in 2015 though he did direct an episode in 2016.
Zachary Ty Brian, who played eldest Taylor son Brad, kept his career primarily on TV until 2009. He decided to take a more active role behind the camera producing various projects.
Taran Noah Smith, who played the youngest Taylor son Mark, retired from Hollywood after the series' end and a voiceover appearance on the animated Batman Beyond in 1999.
Enjoyed this article? Share it!