'The Rookie' Season 1 Finale "Free Fall" Saves Los Angeles, But Can It Save The Show? [SPOILER REVIEW]
What do you do if you are the season's best new show, but you reach your season finale without having been renewed for a second season?
You bring in the big guns…
Walking on shift in the beginning of ABC The Rookie's season 1 finale "Free Fall," rookies Nolan (Nathan Fillion), Chen (Melissa O'Neil), and West (Titus Makin Jr.) thought that the written and oral examination at the end of the day was their biggest problem. They are even ordered to take it easy for the first half of the day. However, when Nolan and Bishop (Afton Williamson) stumble right into a terror plot out of a Michael Crichton novel, the test becomes the least of their worries. Throughout the action packed episode, the rookies and their training officers must use every skill they know and take the biggest risks of their careers in order to save their city. Maybe, just maybe, with a little help from old – costar – friends, our favorite LAPD rookies can save the day. However, even winning the day could mean an eventual loss. Warning, a plague of spoilers below.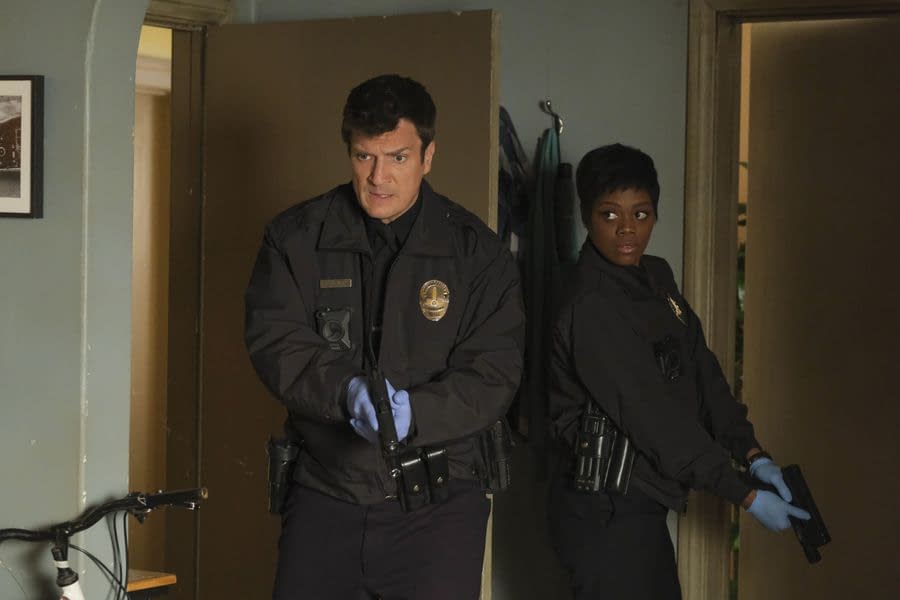 (ABC/Tony Rivetti)
The plot of "Free Fall" is centered around a home-grown terrorist plan to infect Los Angeles with a weaponized hemorrhagic fever that has a 90% kill rate. It is up to the LAPD, in conjunction with Nolan's DHS terrorism expert girlfriend Jessica Russo (Sarah Shahi) and CDC scientist Dr. Morgan (Fillion friend and former costar Felicia Day) to stop to attack. While the episode is filled with action and suspense, the challenges each of the main characters face make it great television.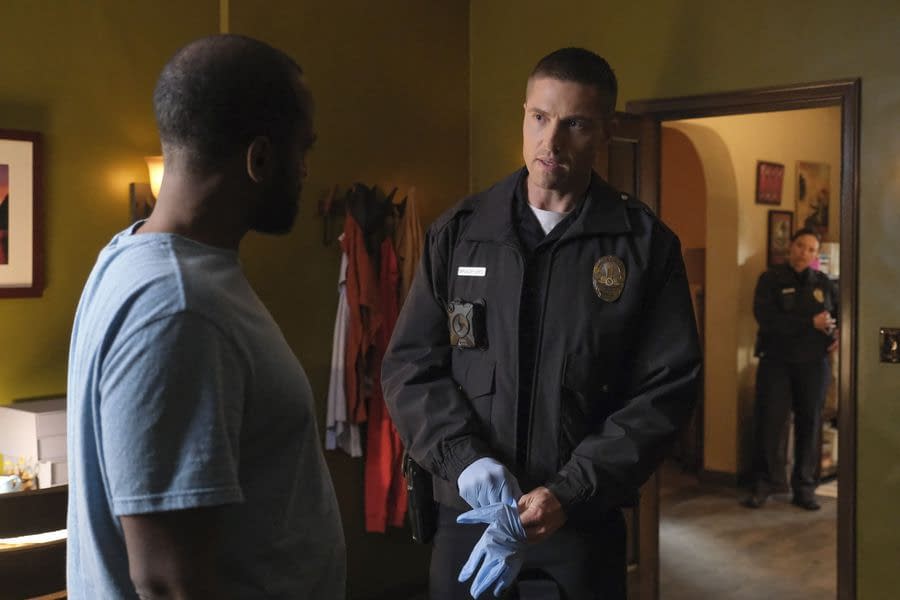 Rookie Jackson West is coming off of a rough couple of weeks. He lost faith in his hero father and lost his mind and motivation as a result. In "Free Fall," West is trying to prove to Lopez (Alyssa Diaz) that she didn't fail at training him. Lopez has West act like the day is his substitute "Plain Clothes Day," and puts him in charge. Throughout the episode West is making smart decisions, showing good judgment, and making the right calls. However, he still seems to be drifting a bit. West finally seems to find his peace and his confidence when facing death in the form of a terrorist on a bus with a deadly virus. It was a great moment for the character and I found myself sighing "finally" at my television when it happened. I would have preferred if he hadn't forgiven his father so quickly… but baby steps.
Lopez and her boyfriend Wesley (Shawn Ashmore) once again face off over their differing views on civil liberties. While their relationship is a bit unrealistic, I do like how the writers are not having either one of them change in order to make the other happy. Unable to trust him not to spill the terrorist attack beans, Lopez even arrests Wesley and carts him around in the back of the car for the rest of the episode (and through a firefight). Their make-up at the end of the episode was pretty awesome, in that it involved a very adult change in attitude and apology.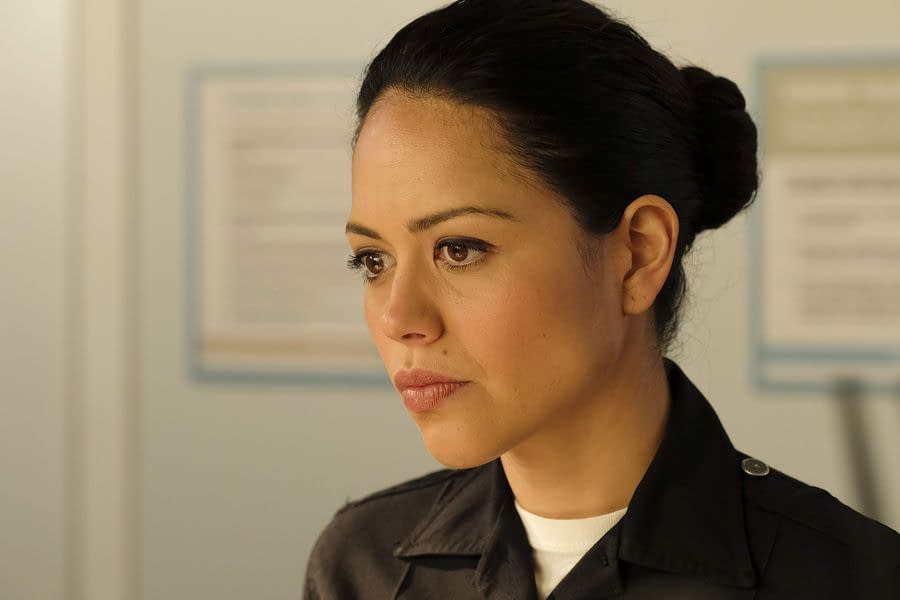 Talia Bishop continues to kick ass and take names – and is by far my favorite character on the show. After Internal Affairs Officer Ruiz (Valerie Cruz) threatens to hurt Bishop unless Talia spies on her precinct, Bishop hits back. Instead of brawn, she uses her knowledge of the department and has Ruiz taken down for misconduct. Getting off with just a letter of reprimand, Bishop is free to tackle terrorists next. I can't express how much I loved what they did with Bishop at the beginning of this episode. Rather than turn the issue into a drawn out, drama-induced, soap opera plot, they kept Bishop true to her character. Talia is pragmatic and intelligent, she would see the other officer had just as much to lose and capitalize on that. It was actually surprising in its authenticity and anti-drama.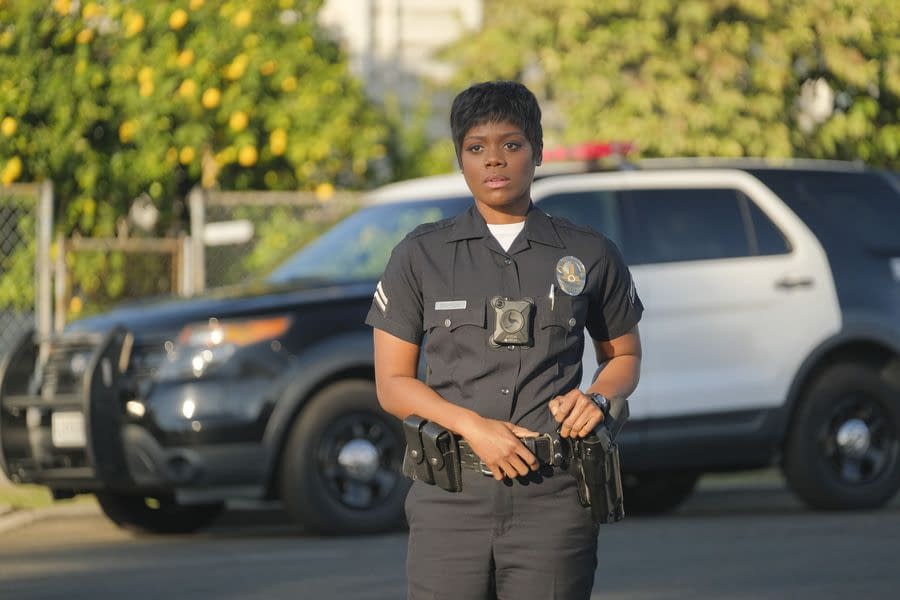 Chen and Bradford (Eric Winter) end up facing their worst nightmares together. While following up on a lead, Bradford is exposed to the deadly virus and must close himself in a room with a man who is gravely ill and bleeding out. The scenes with Bradford, Chen, and Dr. Morgan were graphic, terrifying, and well-acted. Bradford has long been one of the least developed characters on the show, so it was nice to see him vulnerable and out of his comfort zone for once. Chen's failed efforts to cheer the quarantined Bradford were hilarious for their lack of effectiveness. It was a nice way to play out the relationship between Chen and Bradford and I really, really want to see what happens next.
While West is storming busses and Chen is keeping her partner alive, Nolan is learning the pitfalls of working with your significant other. Nolan and Russo must work together throughout the case, causing their personal lives and their professional lives to overlap and blend together. They may work well in the bedroom, but the couple struggle to work together in the precinct. When Russo tells several pretty big lies to Nolan, he is left wondering just what the nature of the relationship is.
I actually appreciated the ambiguity in the interactions between Russo and Nolan here. Russo held back intelligence (understandable) but also her reason for shooting the suspect (less understandable) – and Nolan doesn't know what to think. Plausible reasons for Russo to lie exist in both circumstances, reasons that even support her feelings for Nolan. He is left feeling slightly betrayed but unsure if he actually was betrayed – and now I'm more interested in their seemingly chemistry-free relationship than I ever was before.
Despite the fact that The Rookie is often billed as a procedural cop "dramedy," this week's season finale was all action and drama. In fact, at several points during the episode the show seemed more like Homeland or 24. However, the drama and high stakes action worked for the show and challenged the characters in ways we hadn't yet this season. While the show has been consistently entertaining, engaging, and relateable, the season finale was excellent television.
I just hope it is enough to win the show a second season renewal. If nothing else, we deserve to see what happens to Bradford!