House of Cards Season 6 Promo is Short and Savage
Netflix original series House of Cards released a short and SAVAGE promo yesterday to both celebrate Independence Day in the USA and also, you know, promote the upcoming sixth and final season of the show.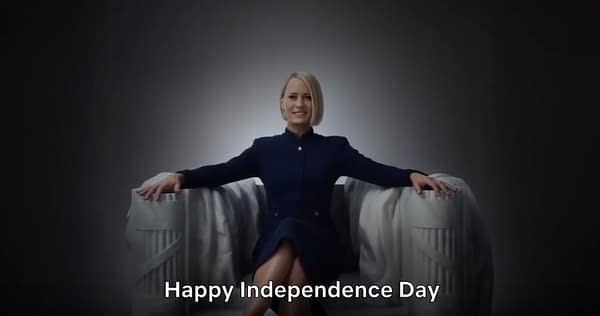 Clocking in at a mere 12 seconds, the simple yet powerful image of Robin Wright sitting in a marble chair not unlike Honest Abe's statue has five words of dialogue.
"Happy Independence Day, to me."
The promo has already been viewed more than 1.26 million times on Twitter alone.
House of Cards star Kevin Spacey was fired from the show following allegations of sexual misconduct, and for a time it looked like the show was dead in the water. But Netflix decided to go ahead with the sixth and final season, upping Wright to the lead role and revamping the story to place her in the spotlight.
The series is expected to hit Netflix sometime in the fall of 2018.