How I Met Your Father: Jason Segel Open to Marshall Eriksen Return
How I Met Your Mother star Jason Segel says he would be open to appearing as Marshall Eriksen on Hulu's How I Met Your Father.
---
Well, it's safe to say that Isaac Aptaker and Elizabeth Berger's Hilary Duff-starring How I Met Your Father is pretty proud of being the spinoff-sequel series to How I Met Your Mother. Look no further than who from the main cast the show has already had on. Cobie Smulders' Robin Scherbatsky appeared in the first season finale, with Neil Patrick Harris's Barney Stinson appearing in the second season opener & set to have more of an impact as it rolls along (more on that below). Earlier this month, Josh Radnor (Ted Mosby) shared that he would be interested in appearing and that he & Duff had emailed about the possibility of a return. Well, we can now add Jason Segel's name to that list based on what he had to share with ET during the premiere of his Apple TV+ series, Shrinking. "I didn't know about that, but those people changed my life, and I would do anything they [Aptaker & Berger] ever asked me to," Segel shared, first hearing about Harris's return and making it clear that he's up for another turn as Marshall Eriksen, too.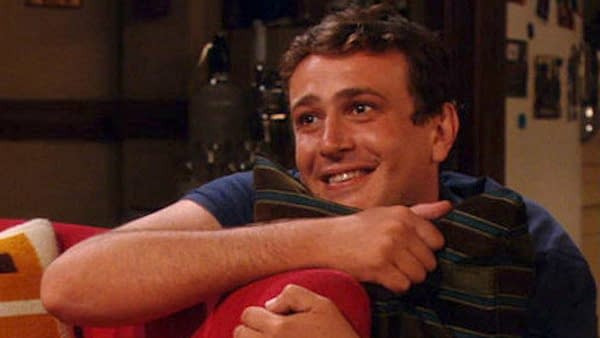 Aptaker & Berger had some thoughts to share with TVLine regarding the return of Harris' Barney and its impact on the remainder of the season. Specifically, they open up about discussing with Harris how to best bring Barney into the sequel series' universe while teasing that Barney will have a much bigger impact on the season moving forward than just "guest-starring."
Berger on Making Barney Work in HIMYF: "We wanted to bring him [Barney] back, and we wanted him to be true to his character and to the fans that loved Barney so much. But we also wanted him to exist on our show, in our time, in a way that made sense, so all of that Zoom was spent talking about how we could blend all those things and service him and the show in the best way possible. We are very excited for people to see the way that turned out."
Aptaker on Purposes for Bringing Back HIMYM Characters: "Whenever we talk about bringing back a member of the original crew, you want it to serve two purposes: You want to give some tidbits about what is going on in their lives, where they've landed, and where they're at, but it's also about how they impact the 'How I Met Your Father' story, and how they send one of our characters in a new, unexpected direction. Similar to Robin last year, we'll learn some more about where Barney's at, but it'll also have a major impact on the trajectory, and main narrative, of our season."