Impact Wrestling 6/23/20 Report – The Return of Aces and Eights?
Impact Wrestling was meant to open with a match between #CancelCulture and Crazzy Steve (plus mystery opponents, who are rumored to have been The Rascalz). However, Impact spent Monday editing the show to remove any reference to Joey Ryan after he had the dubious honor of having the highest number of misconduct allegations leveled against him in the #SpeakingOut movement so far. Michael Elgin, who was suspended from Impact for allegations, was still featured in the "previously on Impact Wrestling" video package at the beginning of the show. Impact may have more trouble removing Elgin from the programming they've filmed since he was set to be part of the main event at Slammiversary.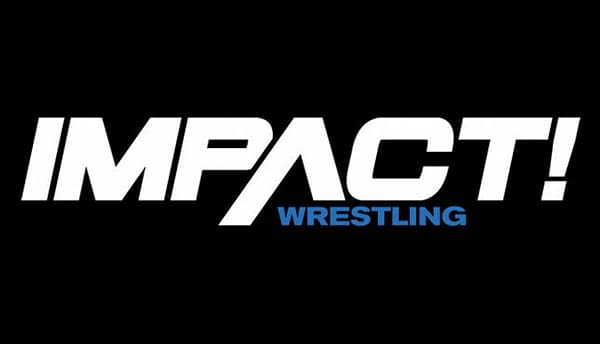 Tasha Steelz heads to the ring with Kiera Hogan to kick off the show instead. Josh Matthews wastes no time shilling for Impact's MicroBrawler toys. Neveah comes out with Havok for the opening match. These two teams have beef with each other, which should make for an interesting match. Unfortunately, not to Josh Matthews, who is trying to convince Madison Rayne to tell him which fired WWE wrestlers are showing up as Slammiversary within the first two minutes of the match. Rayne does her best to put over Tasha Steelz and talk about the story of the match despite Matthews' short attention span.
Steelz was in control for a large portion of the match. At one point, she carefully swept Neveah's hair our of her face before applying a headlock so that the camera could see Neveah sell. Steelz won with a rollup after Hogan distracted Neveah in the middle of trying to hit Sister Abigail on Steelz.
Josh Matthews: "Impact Wrestling continues to make headlines…" Maybe you don't want to mention that, Matthews. It turns out Matthews wanted to segue into a clip of Deanna Purrazzo on Busted Open Radio. Jordynne Grace shows up on the show too to talk trash to Purrazzo and continue their feud. Purrazzo says she's the face of the Knockouts division. Grace says she'll give Purazzo a title match whenever she wants.
In a backstage interview, Purazzo says she didn't come to Impact Wrestling to brawl or fraternize with lower-class people. She'll take on Grace when Grace puts the title on the line. Alisha Edwards interrupts to cut a very awkward promo on Purrazzo that sets up a match between the two. Impact goes to commercials.
When Impact comes back, Rich Swan meets up with Johnny Swinger in the locker room. Swinger wants Swan to join him and Chris Bey against The Deaners and Willie Mack tonight. Swan says he's injured, but even if he wasn't, he wouldn't go up against his friend Willie. Swinger is upset, but he's got a backup plan or two. Now it's time for the Impact Plus Flashback Moment of the Week, which features a match between Bully Ray and D-Von. They fill a lot of time with this segment, which turns into a full-on brawl between the NWO and WCW… I mean, Aces and Eights and the Impact crew. Then it turns into a fight between Joseph Park and Luke Gallows, who puts Park through a table. It will be nice for Impact to have a crowd again one day.
Backstage, The North are jealous of Ken Shamrock, still angry that people were watching his videos last week instead of paying attention to The North's match. Ethan Page rants about it until Shamrock walks up behind him. Shamrock calls Page a "dumbass." Shamrock points out that what he does isn't easy. Well, of course not, a ninety-year-old man shouldn't be taking bumps. Josh Alexender challenges Shamrock to a match and Shamrock accepts. Time for more commercials.
After the commercials, Moose is telling anyone who will listen backstage how he's the real world champion. But Crazzy Steve shows up and says Moose is actually the fake world champion. Steve breaks into song about it. Moose loves his singing so much, he offers him a TNA World Championship match for next week.
Deonna Purrazzo comes out to face Alisha Edwards. It's barely more than a squash, as Purrazzo gets the tap out the victory with an armbar. Afterward, Jordynne Grace runs out to the ring, but Purrazzo retreats. Though Grace is the champ, Purrazzo is the one calling the shots. Backstage, Johnny Swinger tries to convince Suicide to join his tag team, but Suicide ghosts on him. Swinger is great, but he should consider scaling back talk of the "rizzats" for the time being. Impact heads to commercials.
After the commercials, Swinger is still at it. He wants Hernandez to join the team. Hernandez will only do it if Swinger can beat him in arm wrestling. Swinger reluctantly agrees. He loses spectacularly. Hernandez gives Swinger a Rhino MicroBrawler as a consolation prize. As Swinger leaves the room, he runs into Taya Valkyrie and asks her to be his partner. Swinger says it will be the first-ever intergender match. Valkyrie is not interested, but she's looking for "Bravo." Swinger thinks she's talking about Dino, not Johnny.
Ken Shamrock and Josh Alexander is next. Alexander and Page attack Shamrock on his way to the ring and beat him down. The match never starts. Josh Matthews is beside himself as Impact heads to another commercial break.
Taya Valkyrie comes to the ring with Johnny Bravo to face Susie. The match plays out about as you'd expect. Taya bullies a confused Susie until Susie gets mad and fights back, and then the match gets going. Bravo cheats when the ref's back is turned. Valkyrie wins with the Road to Valhalla, getting some heat back after tapping to Jordynne Grace next week. Valkyrie mocks and bullies Susie after the match. Kylie Rae comes out to make the save. Valkyrie throws a tempter tantrum at ringside.
Backstage, Jimmy Jacobs talks to Ace Austin and Madman Fulton. With Fulton on his side, Austin will win the Impact World Championship at Slammiversary. Impact goes to commercials.
After the break, Johnny Swinger meets up with Chris Bey backstage. Swinger says he has a partner. It's Rohit Raju. Bey is not impressed. They head to the ring for their match with Willie Mack and The Deaners. Because I'm not wasting my time watching anything featuring the Deaners, I reach for my remote control and fast forward. It looks like Chris Bey gets the pin on Willie Mack with a Famouser.
Reno Scum harasses D-Lo Brown backstage about being a corporate stooge. TJP and Fallah Bahh confront Reno Scum over telling lies about them last week. Long story short, they're going to have a match next week. Josh Matthews reveals that Jordynne Grace will put her title on the line against Deanna Purrazzo at Slammiversary, and now it's time for the main event. Ace Austin and Madman Fulton head to the ring as Impact heads to commercials.
Eddie Edwards comes out after the break to fight Madman Fulton. It's the strength of Madman Fulton against the heart of Eddie Edwards. For the majority of the match, which runs for about ten minutes once you subtract the commercial break, Fulton's strength proves superior. Edwards makes an effort at a comeback toward the end, but Fulton still ends up with the pin off the End of Days. In a teaser at the end of Impact, D-Lo Brown is talking to someone on a video call. He's tired of being a corporate stooge. He wants to get the band back together. He shuts his laptop and picks up an Aces and Eights jacket.
It was an okay episode of Impact. The main event was decent enough if unremarkable. As mentioned earlier, things had to be rearranged to get rid of Joey Ryan, which disrupted the pace of the show. The good thing is that the lines are being drawn for Slammiversary, which is shaping up to be an interesting PPV. Tomorrow, we've got AEW Dynamite and NXT, so I'll see you then.