'Into the Badlands' S3, Ep13: "Black Lotus, White Rose" Raises the Body Count (SPOILER REVIEW)
This is going to be an all-spoiler review of "Black Lotus, White Rose", because I can't really talk about anything without spoiling a major death from the episode prior. So, here's a picture of the Widow (Emily Beecham) and a spoiler warning before we go on.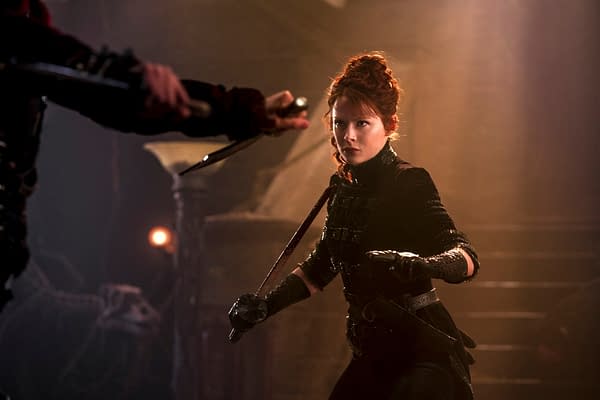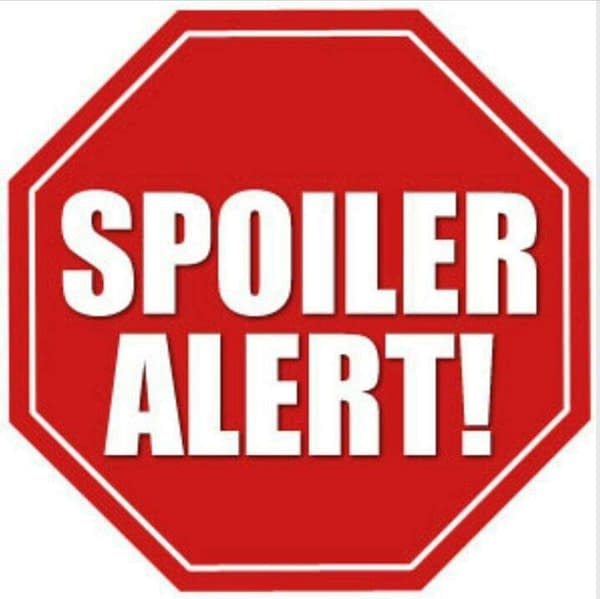 So, the good news from the world of Into the Badlands: Bajie (Nick Frost) is not dead. Sure, he died, but Ankara (Claire Higgins) brought him back with some magical mumbo-jumbo, then promptly keeled over after warning Bajie not to go after the Black Lotus squad that took off with Sunny (Daniel Wu).
So, Bajie hops in the car to promptly chase down the Black Lotus squad that took off with Sunny.
The Widow Minerva, now victorious over Baron Chau, sends Nix (Ella-Rae Smith) and Gaius (Lewis Tan) back to Chau's troops with a grizzly souvenir. Tilda (Ally Ioannides), covered in more blood than usual (only her eyes are really showing), could use her mom right now, so hopefully Minerva will give her some quality time.
Seriously, how many gallons of blood has Ioannides worn at this point? I really think "Bloody Tilda" should be her nickname. And I'm not being snide- Tilda's a badass!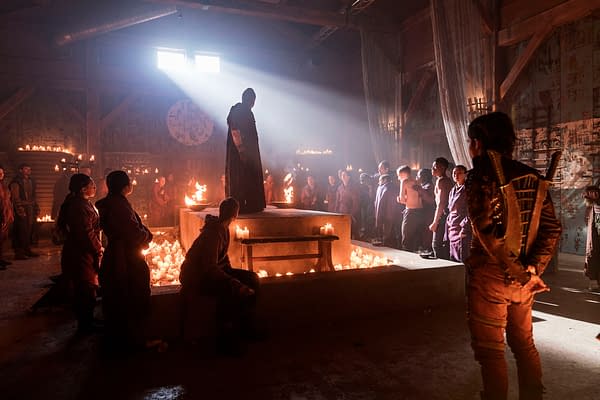 Pilgrim (Babou Ceesay) is coughing up blood from the strain of reviving the Gifted that the Master (Chipo Chung) had silenced. The Master ridicules his agenda before breaking lose and kicking Pilgrim's ass to the ground, but she's run through by M.K. (Aramis Knight), still in full-on Anakin Skywalker mode.
Pilgrim has his Dark Eyed Army now, and is preparing to march on the Badlands.
There's another power at play, too: The Black Lotus have fortresses throughout the borderlands, and use these fortifications to stage attacks against those they deem a threat to humanity.
In one such keep, we meet Magnus (Francis Magee), a Black Lotus officer who has imprisoned Sunny's long thought dead sister, Kannin (Eugenia Yuan). Magnus has conditioned Kannin to believe the creed of the Black Lotus, blaming those with the Gift for the fall of the old world.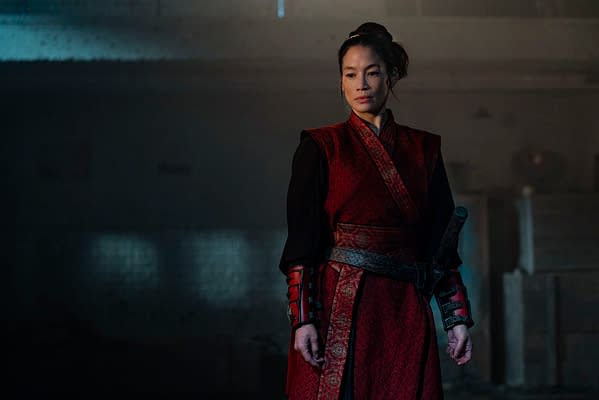 Strangely, Magnus wants Kannin to unlock Sunny's gift, to help Black Lotus fight Pilgrim and his followers.
We're treated to a series of flashbacks to old Azra, with some neat world-building of this society of warrior monks. We also learn that it's largely Sunny's fault that Azra fell, when an act of mercy led to Black Lotus finding a way to bring Azra down.
Into the Badlands has an amazing amount of mythology built in to it, so episodes like this are always a blast to watch- seeing how the little hints and puzzle pieces come together is quite the treat.
There are some amazing battles in this episode, with Sunny, Kannin, and Bajie fighting off most of the Black Lotus garrison. Sunny is chained up, so that fight has some cool dynamics to it, and it's always a delight to see a Bajie fight. Sheer poetry in motion!
Minerva has a moment with the Master, and we see how the Master came into her power. It's absolutely heart breaking, and makes it easy to see how groups like the Black Lotus can come to hate those with the gift.
There is also a fantastic scene with Nix and Gaius, getting the Chau clan troops to swear fealty to the Widow through the last surviving Chau. It's feudal, barbaric, and beautifully shot.
The episode ends with Disturbed's cover of "Sound of Silence", which plays out over a montage of where the major players are at that exact moment, before all hell breaks loose and the Badlands plunge into hell. It's staggeringly good.
So, what's next? "Curse of the Red Rain" hits AMC on Monday, April 22nd, and it looks like it's going to be a whole lot of feet in a whole lot of faces:
LOOK AT THIS SHOT. HELLS YES!