The opening scene of "Chamber of the Scorpion" is an epic, knock-down fight between the Widow (Emily Beechum) and the Master (Chipo Chung) that pulls out all the stops. There are moments where the wire work looks a little silly, but at the same time, this is a show about super-powered kung-fu badasses fighting other super-powered kung-fu badasses, so forgive me for dropping my standard critical facade and shrieking like a gibbon.
That fight was so freaking cool, from the Widow's entrance to the last blow. Into the Badlands is back, kids, and it's going to knock our faces in the mud for one last season.
Here's some of the non-spoilery fun:
Bajie (Nick Frost) fights on of the Pilgrim's (Babou Ceesay) Harbringers, and it's every bit as glorious as you would hope a Nick Frost kung-fu fight would be. Bajie has moves, and can kick a fair amount of ass… but these Harbringers have some pretty intense powers.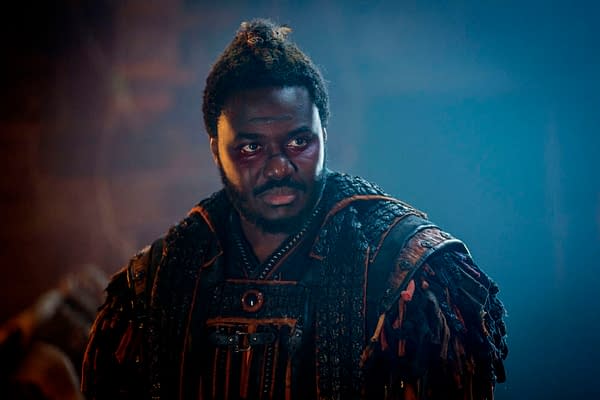 The Master wants the Widow's help in pushing back against the Pilgrim, who has been amassing an army of zealots to fight for his cause.
M.K. (Aramis Knight) is still pretty ticked off at Sunny (Daniel Wu) for turning his back on him while he tried to save his son.
Let's kick some spoilers in the face!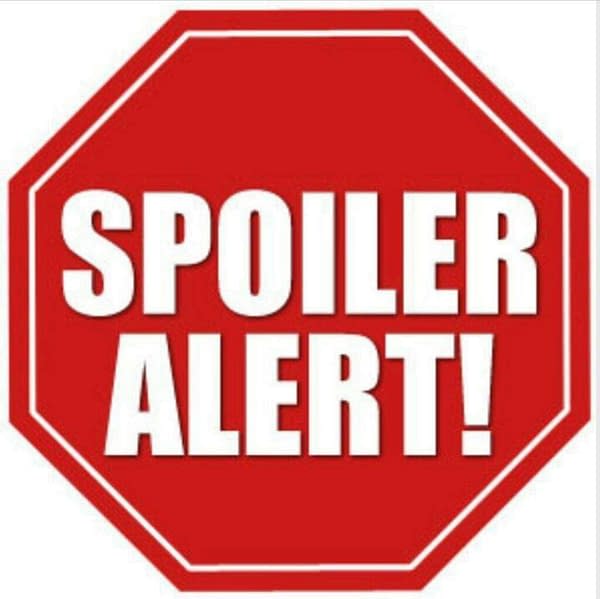 The premise of Into the Badlands allows for plenty of new surprises, so we can end up with a fight between Sunny and the Pilgrim that features dinosaur statues and it all works. By the way, this may be the first time I've ever seen a guy dodge another fighter by running up a T-Rex skeleton… 
The Widow fights the Master in 4 inch heels. This isn't the first time she's fought in impractical footwear, but holy hell, it works. She's a really fun character!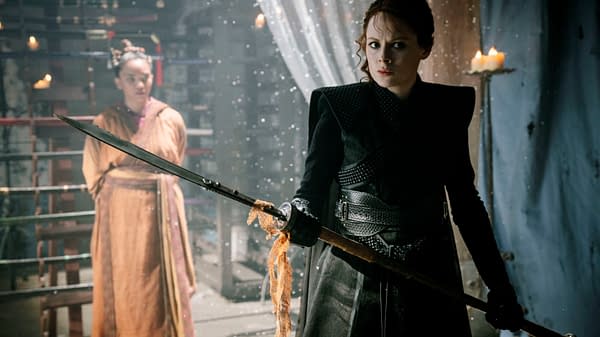 Pilgrim manages to transfer the Gift to a group of his disciples, which goes against the "natural order" of how the gift works. This sets Pilgrim at odds with the Master, and the fate of the Badlands hangs in the balance.
Tonight, there's another new episode of Into the Badlands, "Raven's Feather, Phoenix Blood". Here's a little glimmer of what's in store:
Into the Badlands airs Monday nights on AMC, and is wrapping up its final season.

From AMC Studios, Into the Badlands was created by executive producers, showrunners and writers Alfred Gough and Miles Millar (Smallville) and is executive produced by Oscar(R)-nominated producers Stacey Sher (Django Unchained) and Michael Shamberg (Contagion), along with David Dobkin (The Judge), Stephen Fung (Tai Chi Zero), Michael Taylor (TURN: Washington's Spies) and Wu.
Enjoyed this article? Share it!