"It's Always Sunny In Philadelphia": Charlie-Focused "The Janitor Always Mops Twice" Cracks Season 14 Wide Open [SPOILER REVIEW]
With season 14 currently underway (and off to a strong start – check out our reviews below), FXX's It's Always Sunny in Philadelphia is now tied with ABC's The Adventures of Ozzie and Harriet as the longest-running live-action comedy series.
Now that's a title Mac (Rob McElhenney), Dennis (Glenn Howerton), Charlie (Charlie Day), Dee (Kaitlin Olson), and Frank (Danny DeVito) would be more than happy to hang behind the bar – and one they're expected to hold on their very own very soon.
Safe to say things are pretty good for The Gang from Paddy's Pub – and from the sounds of FX CEO John Landgraf, the network would like things to keep going "pretty good" for two more seasons (at least).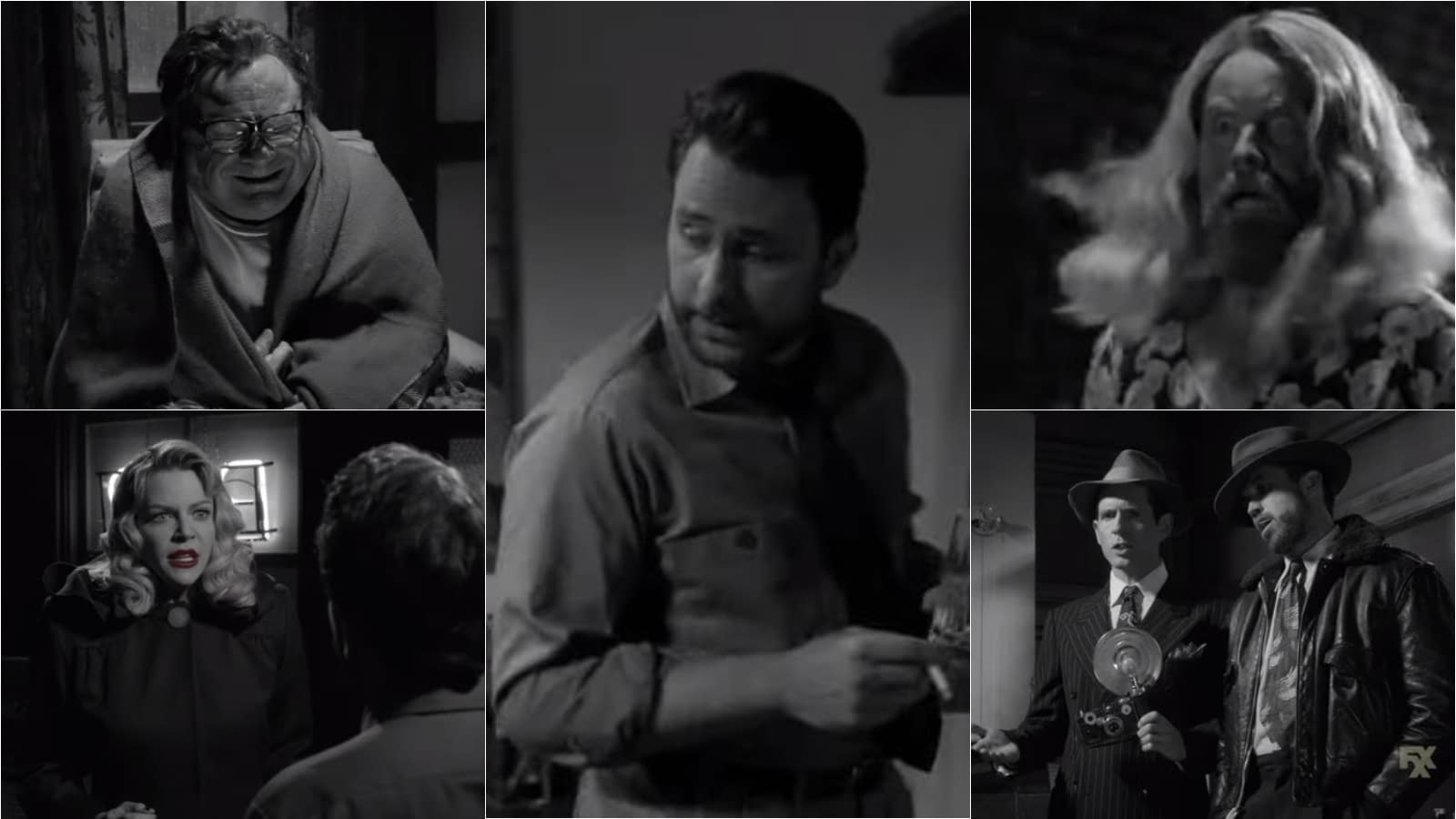 After a failed attempt at finding love (at least for some of them) and a successful (if not "scorched earth"-like) effort to "save" the Thunder Gun franchise, Dennis, Mac, Charlie, and Frank didn't want to waste time getting back to the scheming. Unfortunately for them (but big props to Dee), they ran face-first into the brick wall that was "Dee Day".
From there, The Gang had to deal with "sh*tting the bed" in a righteously bad way, just when Frank needed them most. But all was forgiven as The Gang headed out to the zoo. *cricket sounds*
Which brings us to this week's "The Janitor Always Mops Twice", which takes us back into the twistedly bizarre mind of Charlie Kelly. This time, Charlie's looking to crack the case of who "diarrhea poisoned" Frank – and the only way to do that is by throwing every "detective noir" cliche he can think of at (his mind's) wall to see what sticks.
But did it? MAJOR SPOILERS ahead…
"It's Always Sunny In Philadelphia" season 14, episode 6: "The Janitor Always Mops Twice": In the black-and-white noir world of his memory, Charlie navigates the seedy underbelly of Philadelphia as Frank has been "diarrhea poisoned," and it's up to Charlie to clean up the mess.
Thank you, It's Always Sunny in Philadelphia.
Now while everyone involved deserves a round of fingersnaps, I would be acting like I'd been hit the head with a brick if I didn't single out this episode's MVPs: writer Megan Ganz, director Heath Cullens, cinematographer John Tanzer, Mary Elizabeth Ellis (The Waitress) and (of course) Day.
After beating up a bit on last week's episode – which we felt was an experiment in storytelling in search of a story – "The Janitor Always Mops Twice" succeeded because the foundation of this week's creative undertaking was built on two of the show's strengths.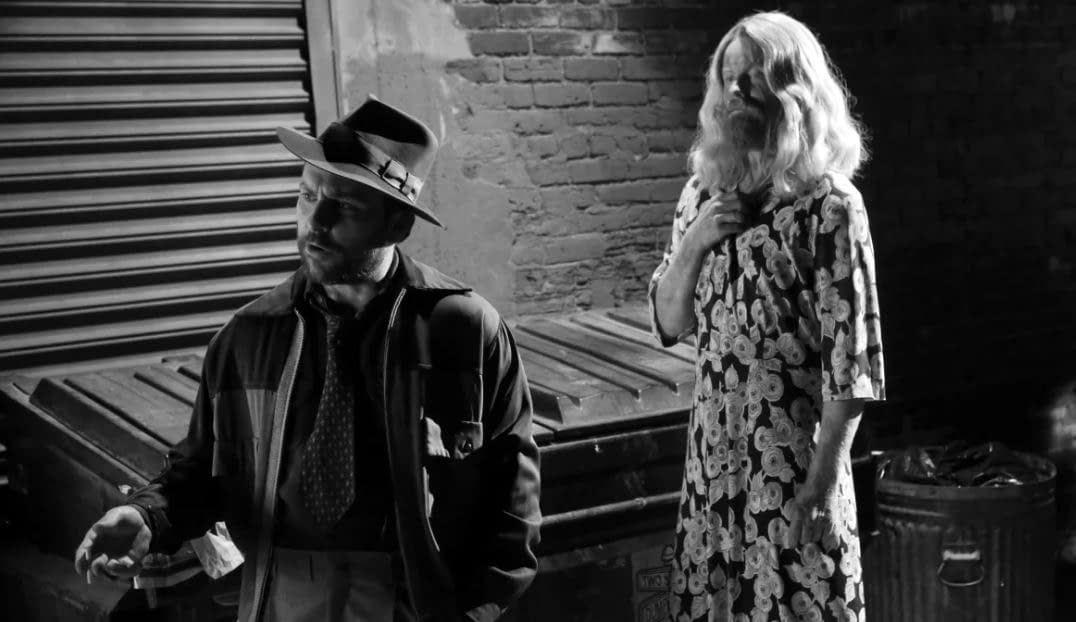 First, there's the character of "grotesque everyman" Charlie Kelly, whose mind's proven to be a "fascinating" place to spelunk in the past (the ending of last season's "The Gang Does a Clip Show" is still screwing with our heads). One of Charlie's aspects that attracted us to the character from the beginning was this hopeful, optimistic streak he has – even as he sees himself looked down upon and treated lesser.
He sees a level of importance, duty and honor to what he does – whether it's killing rats or cracking the case of who "diarrhea poisoned" Frank. Sadly, even in the dreamscape of his own mind he never sees himself as having enough power to get ahead. At best, he maintains to maintain – in a way, an almost numb acceptance of some kind of "inevitability" he actually has the power to change.
Day has never presented this side of Charlie better than he does in this episode, helped in large part to Ganz's words. When a television show goes "noir", they tend to go a little too over-the-top with the cheesy "dime store novel" lines. Ganz's words loving embraced and lightly jabbed the genre – while allowing Day to deliver powerfully hearbreaking lines like "that's the thing about messes… they never go away, just spread around" in a way that speaks volumes about the Charlie we don't see even when the one in front of us is all too familiar.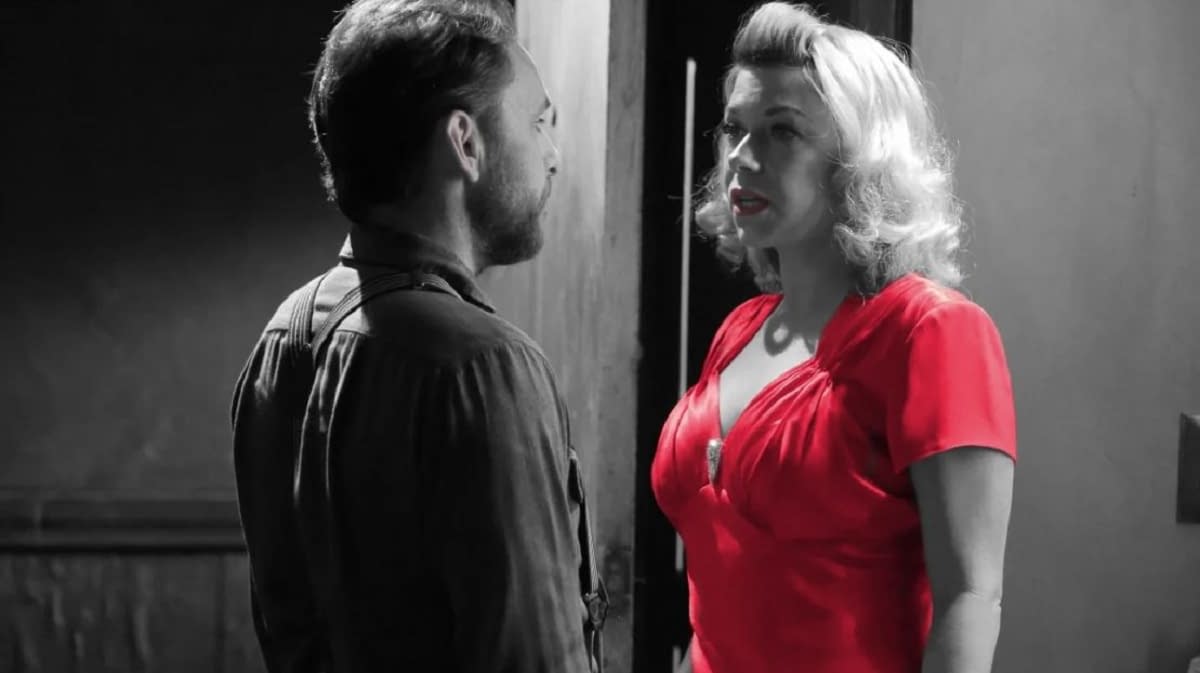 Which brings us to our second strength… what's a "noir detective" without his "femme fatale"? This episode was far from a solo dance number, with Ellis and Day matching each other steps and exchanging leads in every scene they had together. Much has been said about how The Gang contributes to the downward spiral of a number of their supporting characters – and while that could easily be debated on a case-by-case basis, this episode does justice by The Waitress by not making her to be the victim.
From the time we first met her, there was always this feeling that The Waitress was "Person B" trying real hard to be "Person A" – and I always felt like The Gang "helped" her realize her true self. Unfortunately for her, it looks like her "true self" isn't much different from Dee, Frank, Dennis, and Mac – but clearly different from Charlie.
Think about it – is she any less manipulative of Charlie than the rest of The Gang is? Yet, we never get that "family will be family" vibe when she manipulates Charlie as compared to when the other four are at play. But The Waitress manipulates Charlie to get what she wants – the fact Charlie doesn't have the ability to retaliate the same way he can against The Gang making it more painful to watch. In Charlie's mind, their uneven-yet-co-dependent dynamic is boiled down to its basic elements, in what many consider to be a "cheap" genre of literature.
Charlie's the "fireman" trying to rescue her from a burning building, as she tries to keep them there – and sometimes? He thinks about it…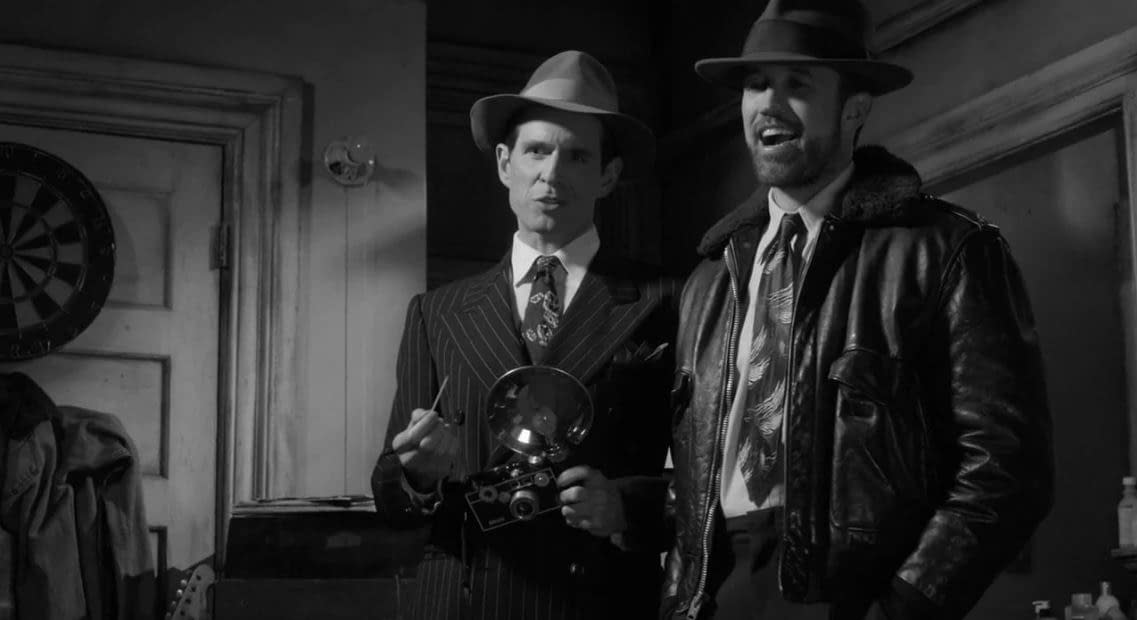 ● McElhenney, Howerton, Olson, and DeVito were all on-point in their respective "noir" roles – with those little "Charlie" moments that either reinforced or enlightened our understanding of how Charlie think – at least in those fleeting moments. That said, David Hornsby's Cricket needs a Thundergun Express-themed episode where he leads an "A Team" of degenerates on a "top secret" mission for Frank. Just a thought.
● The actual storyline itself – involving "Red-40", bootleg maraschino cherries, Dee debating her "goon" status, Cricket in a dress, and a decent amount of double-dealing – was a deeper dive than I was expecting, and brought to real-world-meets-noir life by Cullens and Tanzer's craftspersonship.
● Oh dear lord how far gone is Charlie's brain at this point? I was torn between being scared and laughing my ass off over his list of "suspects" who may have had it in for Frank's butt: THE WAYTOR; PON D; LEE AM MIC POYL; ARRTEMIS; HUH-WANG; REX; BEN THE SOULJA; Z; UNCLE JAX; FISH FACTORY ASIANS; and GAIL (with snail drawing for visual aid).
● At some point, maybe The Gang needs to have an "intervention" with Frank over his business practices – because if people just "assume" you're the type that would be "running underage girls? You have some issues…
Welcome back, It's Always Sunny in Philadelphia! Look forward to seeing you again next week when… "The Gang Solves Global Warming":