"It's Always Sunny in Philadelphia" Season 14 "Dee Day": Charlie, Mac, Dennis & Frank Get Dee-Rolled [SPOILER REVIEW]
With season 14 currently underway (and off to a strong start – check out our review here), FXX's It's Always Sunny in Philadelphia is now tied with ABC's The Adventures of Ozzie and Harriet as the longest-running live-action comedy series.
Now that's a title Mac (Rob McElhenney), Dennis (Glenn Howerton), Charlie (Charlie Day), Dee (Kaitlin Olson), and Frank (Danny DeVito) would be more than happy to hang behind the bar – and one they're expected to hold on their very own very soon.
Safe to say things are pretty good for The Gang from Paddy's Pub – and from the sounds of FX CEO John Landgraf, the network would like things to keep going "pretty good" for two more seasons (at least).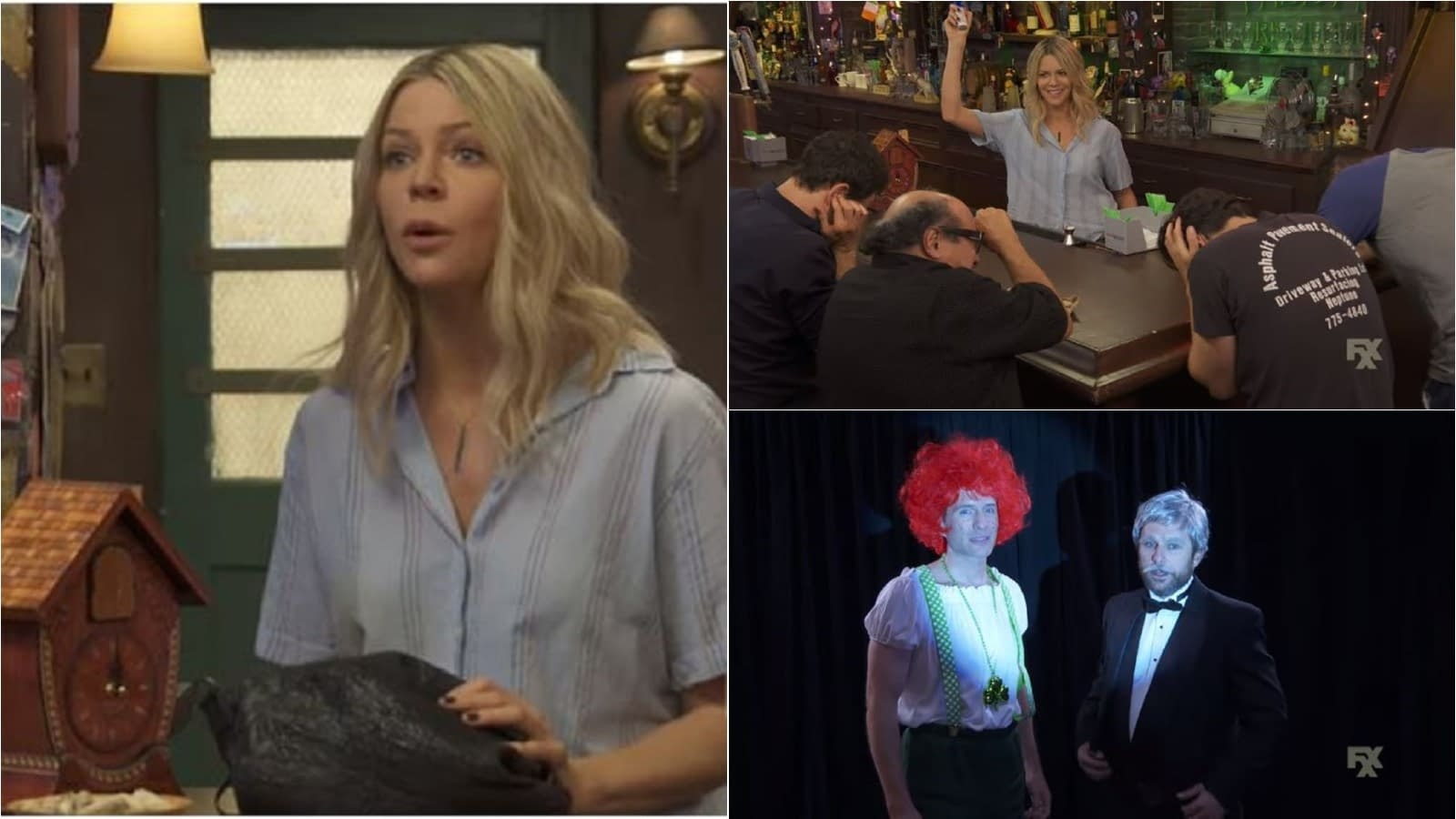 After a failed attempt at finding love (at least for some of them) and a successful (if not "scorched earth"-like) effort to "save" the Thunder Gun franchise, Dennis, Mac, Charlie, and Frank aren't wasting any time moving onto the next plan… the next scheme…
Except Dee has plans and schemes of her own… and those plans and schemes have a name: "Dee Day."
And as we learned from "Mac Day," it's the one day the rest of gang has to do whatever the "Day" person wants them to do… and Dee has some things she definitely wants them to do:
"It's Always Sunny in Philadelphia" season 14, episode 3 "Dee Day": The guys are in the final preparation stage for an unknown scheme when Dee enters to inform them that it is "Dee Day," and they have to do everything she wants without complaint.
As great as Olson has been over the past 13 seasons (and one of the best comedic actresses working television, cable, or streaming today), I would pair this episode with last season's "The Gang Beats Boggs: Ladies Reboot" as the double-feature that best represents what Dee is all about. Without going too deep into "ten-cent psychology," I feel like "Boggs" represented what Dee wants to see and be: a strong woman who can do the same if not better than the men around her can – and be with/inspire other women.
With "Dee Day," we have "The Queen of Paddy's" giving men (in this case, Charlie, Frank, Dennis, and Mac) a better appreciation for what it's like to be her – and it's not easy. Some of it self-inflicted? Sure. A good amount of it done to remind them that she plays on the same playing field they do? Absolutely.
Because in this episode, it appears the boys have forgotten – or maybe taken Dee for granted? Well, without getting into spoilers for the sake of enjoying the episode – even though some of it you can see coming? Let's just say that a swerve, a revelation, and a loud horn later?
It's Dee's world, baby – and she's got a teeny-tiny bladder…
● As much as I was tempted to list Frank's problems with the "clams," this might've been the highlight:
● "Dee Day" is filled with could best be described as a "Trip Down Dee's Memory Lane": one of my favorite references was Charlie mentioning how much he likes barnacles. Even now, thinking about the scene from "The Gange Buys a Boat" where Dee is learning some sick dance movies from an inflatable "moving promotion person thing" (clearly not the exact title) makes me smile.
● Holy Hell is Dennis a mess when he isn't in full "make-up" mode – he looks like his Dorian Gray picture came to life and was looking to get laid. Props to Howerton for pulling off a whole different vibe of creepy.
● Did it really take one of them nearly 14 seasons of It's Always Sunny in Philadelphia to figure out that candy could keep Charlie focused?
● If I had to piss on the show's Corn Flakes just a little, there's a part of me that hoped we didn't actually find out what the guys' plan was at the end – with the viewers having all of the pieces of it but then the dots never get connected. Just imagine what the fans would've come up… kinda' scary.

https://youtu.be/zhbcZluEDNs
In the following preview, viewers get an overview of what lies ahead this season, including more clues on that whole "Casaba" mystery (see below), a demonstration of just how much Frank repects the elderly, and Charlie clearly confused by what an actual "joke" is…
https://youtu.be/z1P-7X29RQM
In this previously-released look at the upcoming season, the disturbing Frank/Casaba melon mystery deepens as an essential question is put forth: What fruit would you "bang"?
https://youtu.be/vfXSLjK5Wr4
That clip followed up on an earlier McElhenney Instagram post that had us seriously concerned about what's going on with Frank and that Casaba:

McElhenney also gave us a look inside the editing room at a scene he referred to "as Sunny as it gets." Without spoiling what you're about to see, here are a few things to keep in mind: Mac is still way too submissive to Dennis, Frank's behind on getting his teeth sharpened, Dee finds herself on the losing end of a comment once again – and a familar face returns:
When filming was officially complete, McElhenney shared a video that shows that even after 14 seasons-and-counting, McElhenney, Howerton, Day, Olson, and DeVito still find ways to make each other laugh – and that speaks volumes for the show's incredible success: