"It's Always Sunny in Philadelphia" Season 14 "The Gang Texts": Our Response? "Weak Ep – Who Dis?" [SPOILER REVIEW]
With season 14 currently underway (and off to a strong start – check out our review here), FXX's It's Always Sunny in Philadelphia is now tied with ABC's The Adventures of Ozzie and Harriet as the longest-running live-action comedy series.
Now that's a title Mac (Rob McElhenney), Dennis (Glenn Howerton), Charlie (Charlie Day), Dee (Kaitlin Olson), and Frank (Danny DeVito) would be more than happy to hang behind the bar – and one they're expected to hold on their very own very soon.
Safe to say things are pretty good for The Gang from Paddy's Pub – and from the sounds of FX CEO John Landgraf, the network would like things to keep going "pretty good" for two more seasons (at least).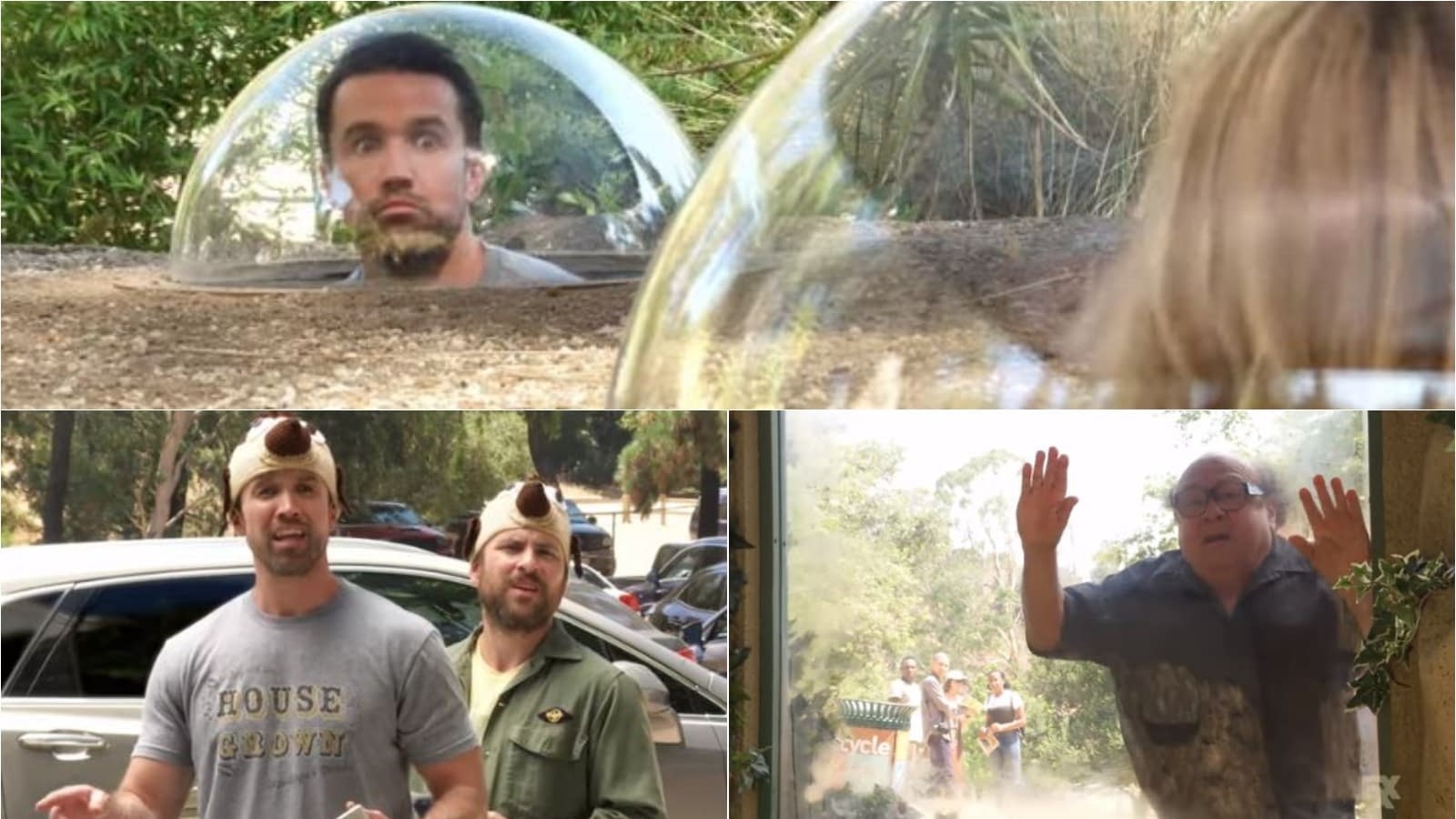 After a failed attempt at finding love (at least for some of them) and a successful (if not "scorched earth"-like) effort to "save" the Thunder Gun franchise, Dennis, Mac, Charlie, and Frank didn't want to waste time getting back to the scheming. Unfortunately for them (but big props to Dee), they ran face-first into the brick wall that was "Dee Day".
From there, The Gang had to deal with "sh*tting the bed" in a righteously bad way, just when Frank needed them most… but now?
The Gang goes to the zoo. Pretty simple, right? They'll keep in contact via text.
Uh-oh…
But was this trip to the zoo one worth taking? Did it measure up to the season's first four outings? SPOILERS!
"It's Always Sunny in Philadelphia" season 14, episode 5 "The Gang Texts": During their trip to the Philadelphia Zoo, Mac sets up a text group chain for The Gang, but confusion sets in and The Gang must learn from the meerkats on how to communicate properly in a group. Written by Rob McElhenney & Charlie Day; directed by Tim Roche.
Yeah, no. No, it didn't. With a premise like that, you would think this would be a no-brainer – especially with McElhenney and Day handling script duties.
But it just didn't work for me. At best, I can call it a "beautiful disaster" (as long as "Frank's Brother" exists, nothing can claim the top honor of being worst) – an attempt to take The Gang on location and play around with "walls" by having their text chats appear on the screen that felt more caught up in "trying something new" than on the characters and stories.
We travelled down too many roads we've travelled down before, but with nothing new brought to the game. Worse, it felt like each of them was playing a little-too-amped-up version of themselves: Dennis was in constant "10" anger mode, Mac was over-the-top concerned about Dennis, Frank's "ugly American" persona appeared one step away from knuckle-dragging, Dee's a bird in case you forgot the 100th time they referenced it, etc.
Then you have a story that plays out exactly how you would expect it to – why? Because it played out like a "sitcom".
I vomitted a little having to write that.
But let's be honest – did any of you not think Frank and the ape's roles would be metaphorically swapped? Or that Dee would have a "rematch" with some sheep? Or that Dennis would miss the lion feeding? Or that The Gang would learn a lesson from the meerkats – only to (surprise!) find them returning back to tech in the end anyway? That last one was just covered – and done better – in "Thunder Gun 4: Maximum Cool," when The Gang returns to watching pirated movies online.
So for me, "The Gang Texts" was a "group chat" I hung out in just to be polite – but not one I got a lot out of…

https://youtu.be/zhbcZluEDNs
"It's Always Sunny In Philadelphia" season 14, episode 6: "The Janitor Always Mops Twice": In the black-and-white noir world of his memory, Charlie navigates the seedy underbelly of Philadelphia as Frank has been "diarrhea poisoned," and it's up to Charlie to clean up the mess.