If you are a fan of Starship Troopers, chances are you've heard some of the rumblings of a possible reboot, and/or tv series adaptation of the sci-fi military tale. Back in January, writer Ed Neumeier teased a LOT of information about what was going on behind the scenes as far as trying to make another chapter happen. And as it turns out, he wasn't the only one having discussions about it.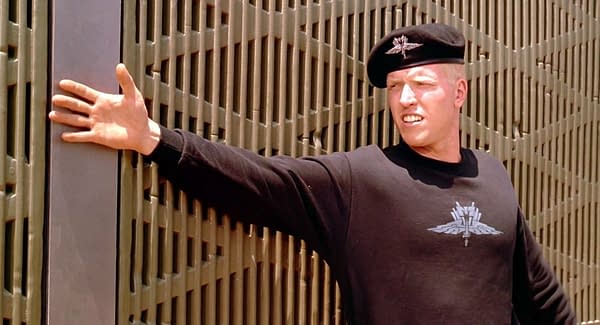 Jake Busey, who played Ace Levy in the 1997 Starship Troopers film, recently spoke with HNEntertainment about the fact that Casper Van Dien (who played Johnny Rico) and Neumeier apparently want Busey involved in the next bug hunt.
BUSEY: "I still train with Casper [Van Dien], we still work out together and if you look at my Instagram you can us working out at the gym.

Casper has told me about conversations he's had with Ed. So yes, I will corroborate that, yes. [Ed] and Casper have been talking about a series and they've both expressed to me that this time they really want me to be part of it, so I think Casper and I would be older men in the battle, in the war room, in the planning room or at the helm of a destroyer but not necessarily boots on the ground.

We're old guys now if you're 45 years old you're not going to be running around doing the boot camp thing. But yeah, a TV series would be great."
They sure look like they're ready, we've gotta say.
We'll let you know what else we hear about a possible new Starship Troopers….something.
Enjoyed this article? Share it!