James Gunn: GOTG Vol. 3 Press Keeping Him From Attending SnyderCon
If it wasn't for having to do press for GOTG Vol. 3, James Gunn was open to checking out Zack Snyder's three-day event next month: "Why not?"
---
Here's the thing. There are a ton of Zack Snyder fans who don't like Warner Bros. Discovery or anyone or anything associated with it. And that includes DC Studios co-heads James Gunn & Peter Safran, who announced their first wave of films and series ("Chapter 1 – Gods and Monsters") comprising their new DCU back at the end of January. Why? Because they're not thrilled with the disrespect that they felt Snyder was shown before WBD's regime change, and their attitudes didn't get much better once David Zaslav took over and named Gunn & Safran to lead the DCU into the future. Some have even gone so far as to believe that the whole Henry Cavill situation was part of some "bigger plan" to essentially erase any trace of Snyder from the DCU. And with all of this "Us vs. Them" thinking comes this almost obsessive need to believe that Snyder & Gunn are also at war with one another. But there's one huge problem with that. Snyder and Gunn keep f-ing up that narrative by actually seeming to like and respect one another. "Shocking," right? Unfortunately, "reality checks" are sometimes still needed.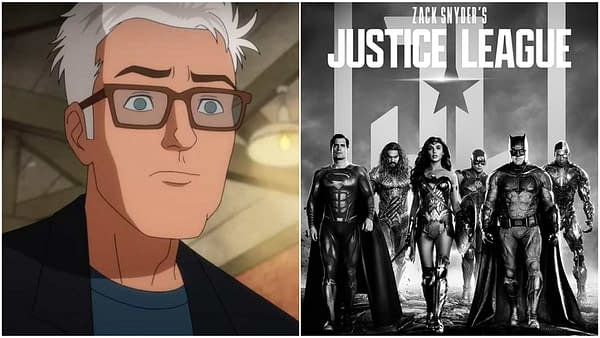 So here's the story. From April 28-30, Snyder is hosting Full Circle, a Special Three-Day Celebration of the Snyderverse Trilogy, a weekend of screenings that will see proceeds going to support the American Foundation for Suicide Prevention in honor of Snyder's daughter Autumn Snyder, who passed away in 2017 at the age of 20. Over the course of three days, Man of Steel, Batman V Superman: Dawn of Justice Ultimate Edition, and Zack Snyder's Justice League will be screened, followed by in-person & live-streamed Q&As featuring Snyder and a number of special guests. A great event and an amazingly worthy cause – a cause that Warner Bros. Discovery is supporting, btw. And yet, even in the midst of promoting what could be an amazingly positive event, the need to invent drama that isn't there doesn't go away. On Twitter, Gunn was asked if he would attend Snyder's event next month, based on a clip that was included that implied that there's "bad blood" between the two and that somehow Gunn would be too afraid to show up. Even at the end of the brief clip, Snyder refers to Gunn being a "buddy." But just in case there's any doubt about what Gunn's intentions would be, Gunn took to Twitter to clarify them. "If I wasn't going to be slammed with [Guardians of the Galaxy] Vol. 3 press, why not? But I'm definitely donating!" Gunn shared in response.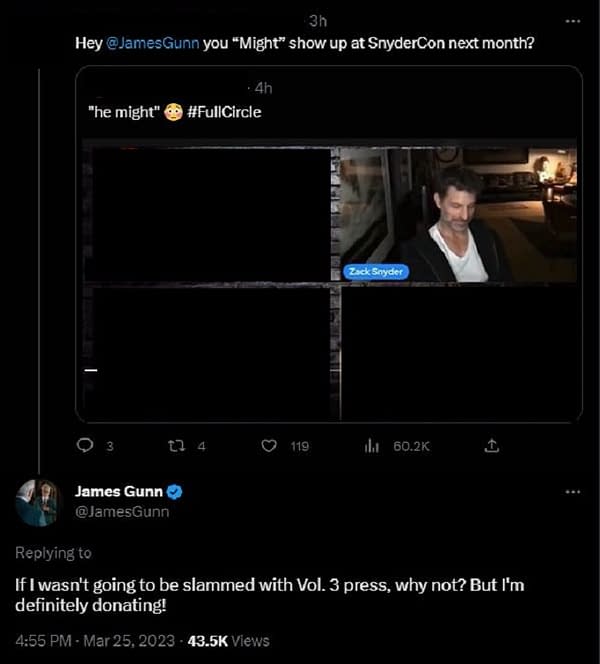 Hijacking what was an otherwise rather enjoyable "Caturday" Instagram post from earlier this month (with some dog guest stars this week), Gunn was asked if they've "sold Snyderverse to Netflix yet?" Well, it appeared the streamer's interest hadn't changed a month after someone last checked in, with Gunn responding, "Netflix hasn't asked for it."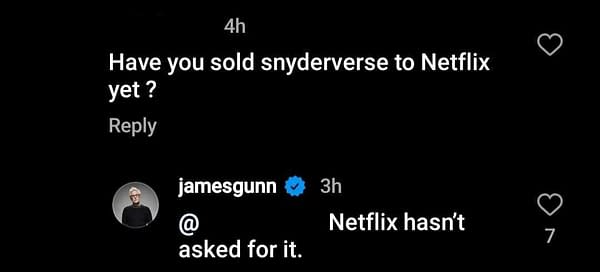 A month earlier, Gunn responded to being tagged with the hashtag #sellthesnyderversetonetflix (it's exactly what you think it would be) by easily making the case for why it might just be the "wackiest hashtag ever."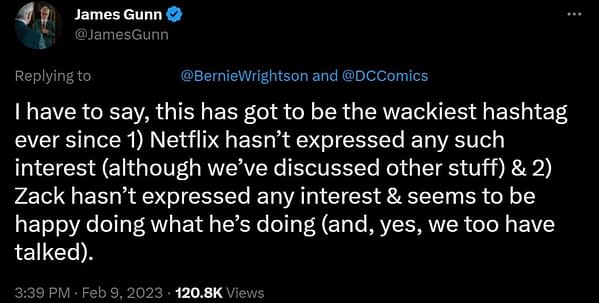 "I have to say, this has got to be the wackiest hashtag ever since 1) Netflix hasn't expressed any such interest (although we've discussed other stuff) & 2) Zack hasn't expressed any interest & seems to be happy doing what he's doing (and, yes, we too have talked)," Gunn wrote in the first of two tweets, once again countering conspiracies with cold, hard facts. In fact, the two have been in contact with one another – and guess what?!? They got along. "He contacted me to express his support about my choices. He's a great guy. Again, he seems really happy with the massive world-building he's doing now," Gunn added with a second tweet. Once again, using the truth as a stake to the heart of utter nonsense.
---
---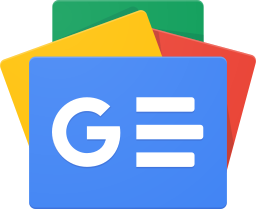 Stay up-to-date and support the site by following Bleeding Cool on Google News today!