Jimmy Kimmel Takes On Quibi, Peacock, MNF & More at Disney Upfronts
With the COVID-19 pandemic running roughshod across the television landscape for the past three months, networks, cable channels, and streaming services have had to rebuild from the ground up how they can promote their upcoming shows to viewers, the media, and (probably the most important) advertisers. That's never been more evident than with how Upfronts are being handled during this time of social distancing and bans on large gatherings. Earlier this week, Disney turned its part of the week-long content-pimping-fest into a virtual one: the Disney Virtual Roadshow. Broadcast to advertisers on Wednesday, May 27 (and available to journalists under embargo restrictions), the online event brought back late-night talk show host Jimmy Kimmel to unleash his comedy on a wide range of topics.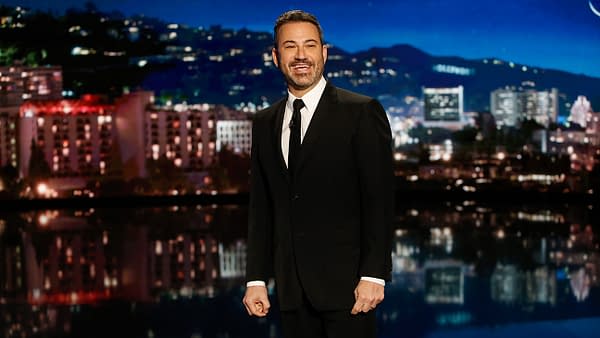 Always willing to bite the hand that gives him the platform to do it, Kimmel didn't stop with ABC: TikTok, Quibi, Peacock, NBC/The Olympics, ratings, broadcast television, and more. Here's a look at our favorite takeaways from Kimmel's roast (which was pre-recorded before the killing of George Floyd and resulting global protests), starting with a quick shot at Quibi: "Here I am, standing like a fool with no one watching. I feel like every show on Quibi right now":
On ABC's ratings: "ABC, our network, was in many ways very well prepared for this pandemic. Our shows have been socially distancing themselves for years, but as you heard earlier, we are back, we are number one in primetime entertainment, which is a category that we made up while we were locked up at home. We're number one if you don't factor in sports, we're number one if you don't factor in the only thing that anyone watches anymore. We are also the number one network alphabetically."
On Monday Night Football: "The exciting news is that for the first time since 2005, for one night only, Monday Night Football has its triumphant return to ABC. This fall, the Raiders will face the Saints in front of a sold-out crowd of inflatable sex dolls. Isn't that perfect, we finally got a Monday Night Game again, and for the first time ever, 'are you ready for some football' is not a hypothetical question, you really don't know."
On Peacock: "Now NBC, after we tested Disney positive, they decided to launch their own streaming service, Peacock. Peacock is if you've ever said 'gee, I can't find that DVD box set of Frasier my sister bought me for Christmas in 2005, I wish there was a way that I could pay for it every month forever'. That's Peacock."
On Television's Financially Tough Times: "You want shrimp, next year we'll give you shrimp, but in the meantime, we need cash. Disneyland hasn't sold a churro in months, and to make up for it, we are going to ream your asses this year so give us everything. Take off your pants and shake them upside down, just do it."