Kathy Bates' Matlock Reboot, "Good Fight" Spinoff Get CBS Pilot Orders
CBS has given pilot orders for a Kathy Bates-led Matlock revival series and the "The Good Wife/The Good Fight" spinoff, Elsbeth.
---
When it comes to CBS and what the network is ordering pilot-wise as well as ordering writers' rooms for, it's all about familiarity. On the pilot side, we have Robert King & Michelle King's Elsbeth, a The Good Wife/The Good Fight police procedural spinoff starring Carrie Preston. Along with that, we have Jennie Snyder Urman & Eric Christian Olsen's gender-swapped reboot of Matlock, with Kathy Bates tapped to lead the modern take on the classic legal drama that originally starred Andy Griffith. In addition, writers' rooms were ordered for two medical dramas: writer Marcus Dalzine & the NCAAP/CBS Studios production, The Pact; and Craig Sweeny & Kapital's Watson (with both projects being eyed for potential straight-to-series orders that would kick in for the 2024-2025 season).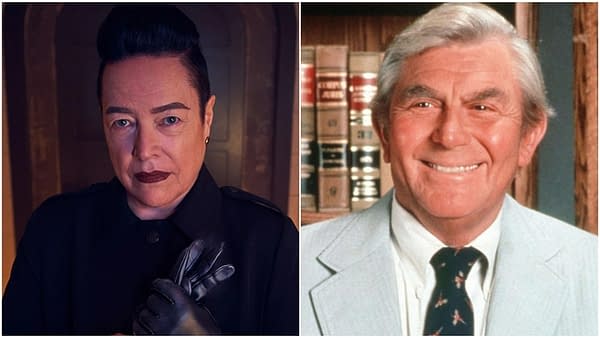 "Elsbeth": After her successful career in Chicago, Elsbeth Tascioni (Carrie Preston), an astute but unconventional attorney, utilizes her singular point of view to make unique observations and corner brilliant criminals alongside the NYPD. Based on the character featured in The Good Wife and The Good Fight.
"Matlock": After achieving success in her younger years, the brilliant septuagenarian Madeline Matlock (Kathy Bates) rejoins the workforce at a prestigious law firm, where she uses her unassuming demeanor and wily tactics to win cases and expose corruption from within. Based on the classic television series of the same name.
"The Pact": After a childhood pact leads three friends from inner-city Newark to become doctors, they reunite in their hometown to open a medical center to serve their community. Based on the book The Pact: Three Young Men Make a Promise and Fulfill a Dream by Dr. Sampson Davis, Dr. George Jenkins, and Dr. Rameck Hunt, with Lisa Frazier Page.
"Watson": Shortly after the death of his friend and partner Sherlock Holmes at the hands of Moriarty, Dr. John Watson resumes his medical career as the head of a clinic dedicated to treating rare genetic disorders, only to uncover a startling secret that puts him in the crosshairs of Moriarty once again. Inspired by the characters from Sir Arthur Conan Doyle's Sherlock Holmes mysteries.