Killing Eve Writers' Room Faces Backlash Over Lack of Diversity
Being nominated for four BAFTA TV Awards is definitely the kind of attention BBC America's Killing Eve likes getting, but the attention its writers' room is receiving is something the team behind the award-winning series should be very concerned about. On Friday, series writer Kayleigh Llewellyn tweeted an image (now deleted) from a Zoom meeting the show's writers had to officially wrap work on the third season. With the message, "15 weeks later, it's the final day of the Killing Eve writers room," the mostly female, all-white writing team raised a glass towards the camera for a toast. Here's a look at a screencap of the tweet: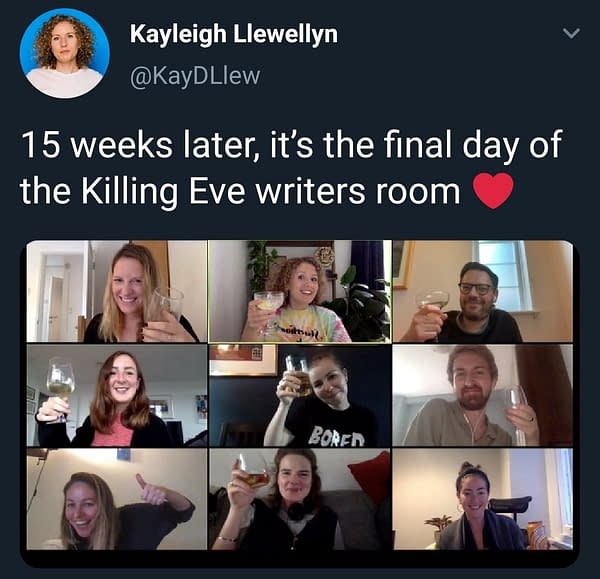 Needless to say, it didn't take long for social media to take notice of just how non-diverse the show's writers' room is. In fact, Variety examined the show's writing credits on IMDB across all three seasons and found that none of the 16 writers that had worked for the show were writers of color. Many fans are taking particular issue with the fact that there is diversity lacking in the writers' room for a series whose co-lead (Sandra Oh) is of Korean heritage.
After the tweet went live, a number of prominent names screencapped or retweeted their issue with how lacking in diversity the writing team was. Academy Award-winning director/producer Matthew A. Cherry (Hair Love), U.K. writer Rachel De-Lahay (Noughts + Crosses, The Eddy), and actor Justin Min (The Umbrella Academy) called out the post for both its poor timing and apparent short-sightedness in light of the move to diversify television on both sides of the camera. As Cherry wrote, "Y'all really be proudly sharing these non diverse writers room screenshots freely on the TL like it's something to celebrate."