Jimmy Kimmel: Sacha Baron Cohen's Borat Goes Trump-Stumping for GOP (VIDEO)
So the midterm elections of 2018 are kinda'-sorta' behind us (barring recounts, slow counts, etc.), and there are some positive and negative takeaways from what felt like two years of constant campaigning. The Democrats took control of the House of Representatives, while the GOP solidified their control of the Senate. Some see the elections as doing nothing more than showing just how divided we are as a nation – while others see the dramatic rise in the number of women and minority candidates and voters as a heartening sign of a promising future.
Sacha Baron Cohen's friend Borat isn't a big fan of the latter.
The controversial actor and comedian joined Jimmy Kimmel on Kimmel's late night talk show to bring back his popular character in the best way possible: as a one-man hype machine going door-to-door In Los Angeles to get out the vote for Donald Trump and the Republican Party. But to prove he wasn't a hypocrite, the Kazakhstan native took to Cohen's Instagram account to share his love of voting (and we're guessing he's doing it on behalf of the person in the ID, too) with the masses: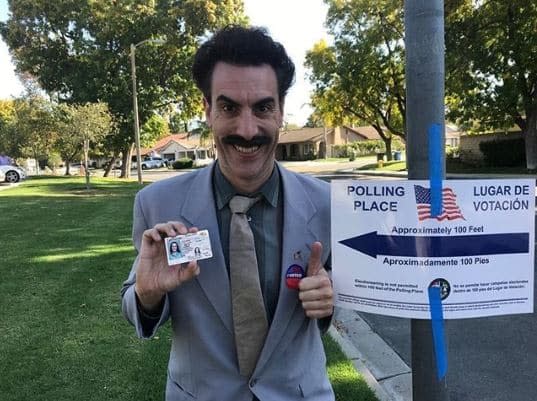 I voted, Great Success. #vote @jimmykimmellive
Here's a look at how Borat's day turned out, courtesy of our friends at ABC's Jimmy Kimmel Live!:
During his interview, Cohen disucssed what it was like when he was first given a bulletproof clipboard while filming the mosque segment during the second episode of Showtime's Who Is America?:
"We had a bodyguard that day, which was a wise idea. (The bodyguard) said they were taking a lot of the guns off people who were coming into the room because a lot of people there like to carry, and he said, 'However, some people might have a gun on them.' He said, 'Don't worry, if somebody pulls out a gun and tries to shoot you, I've actually created a bulletproof clipboard.' So I have a clipboard there."

"I said, 'That's great but what if they pull out the gun? Do I put it over my heart or over my head? And (the bodyguard) said, 'I haven't worked that bit out.' So, in the end, I was imagining if I could cover my head over my heart and somehow protect my groin as well."
---
---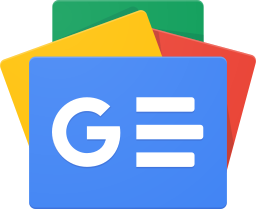 Stay up-to-date and support the site by following Bleeding Cool on Google News today!