Syfy has released the a new episode of Decrypting Krypton, which they turn into Decanting Krypton while they take a look at all of the alcoholic drinks consumed on the series and give some recipes for making some Krypton-inspired drinks at home. You might not think the alcohol is important to the series, but Adam Strange (Shaun Sipos) is stealing drinks all the time — and when Jayna (Ann Ogbomo) asks Dru-Zod (Colin Salmon) if he always drinks before battle, he says only on Krypton because he can't get drunk on Earth. This seems to be a direct conflict with the drunk Superman scene in Superman 3… but the kryptonite may have made him vulnerable to alcohol there.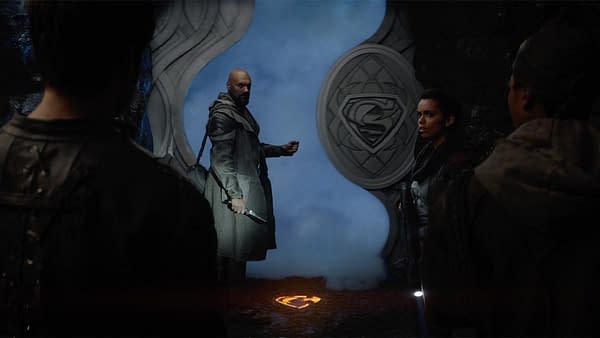 Host Matt Hiscox and guest host Heather Brewer appear to be on the set of Kem's bar and introduce us to three Krypton-themed drinks that they suggest serving at your Krypton season finale viewing party. Both Matt and Heather are wearing appropriate Krypton attire as well.
The episode spotlights artist Jason Shawn Alexander (Spawn, Empty Zone), who works up pieces of General Zod, Seg and Lyta kissing, and Brainiac appearing on the planet. They also talk with Sipos about Adam Strange's drinking and come up with the name of some drinks such as 'Vex on the Beach', 'Fuzzy Seg-El', and 'Sagitari Sling', all three of which they tell you how to make.
The Krypton season 1 finale airs Wednesday, May 23rd at 10 p.m. ET on Syfy.
Enjoyed this article? Share it!